Art and literature have been intertwined since much of recorded human history, and it is no surprise that the art world continues to have an unending appeal of inspiration. Having artists as protagonists, whether fictitious or inspired from real life, is a common trope for authors to flaunt their skills to conjure nuanced depictions of complicated minds, as goes the stereotype.
Apart from most historical fiction dealing with famous artists' lives, the contemporary art world has also been a standing inspiration for interesting novels being published in recent times. These novels are strikingly fresh in their approach towards art and informed by ongoing cultural trends and theoretical perspectives. Featuring an ancillary cast of curators, gallerists, dealers, and critics among many others, and not just concentrated on the figure of artists themselves, these novels filter the art market through the individualist consciousness of the author as an outsider to the same. Without further ado, check out our picks of intriguing novels about the art world!
Chris Kraus's I Love Dick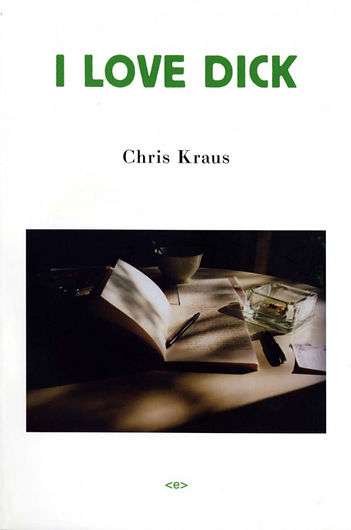 It is a no-brainer that our first choice would be Chris Kraus' massively influential text which significantly contributed in bringing the female antihero into the forefront of cultural imagination. The thin line between reality and fiction keeps shifting in the novel as Kraus practices auto-fiction in a bewildering concoction of art criticism and philosophy informed by feminism and playful experimentation. Apart from the principal plot of the protagonist romantically pursuing and being rebuffed by the titular Dick (real life cultural critic Dick Hebdige), the backdrop of her infatuation is what is complementary and intriguing. Kraus populates her novel with artists, writers, critics, academics, and grad students, bickering over art: what does it mean to be an artist? Further, what does it entail to be a female artist? In the flurry of residencies and MFAs, what is art?
Upon its publication in 1997, the novel certainly attracted much controversy. The art world deemed it gossipy and had more scathing things to say about Kraus' text, but the next two decades saw I Love Dick gaining a cult following. A recent adaptation into an Amazon web series has helped, and newer audiences keep getting introduced to Kraus' intense and fast-talking protagonist who does not let cliquey gatekeepers decide if her art is "good".
Siri Hustvedt's The Blazing World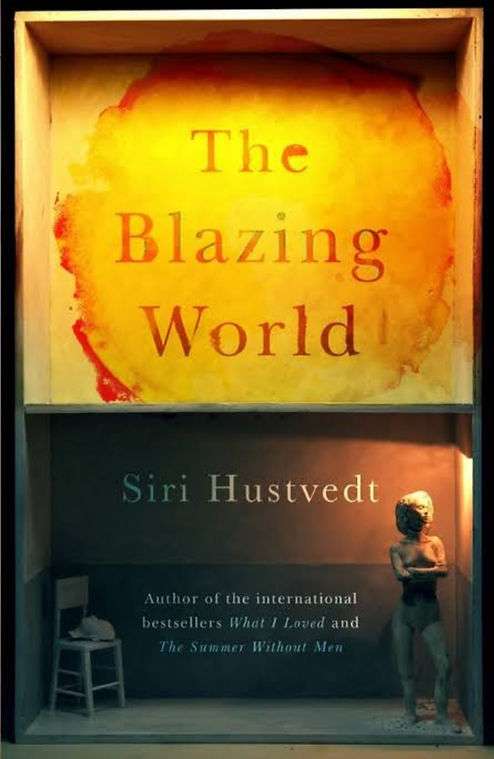 Shortlisted for the Man Booker Prize in 2014, Hustvedt's novel dramatizes the erasure of women in the arts, apart from being an astute meditation upon the very nature of perception. Hustvedt's oeuvre is a long list of accomplishments in academia and literary fiction, along with collaborations and lectures at the Met, the Prado, and the Academy of Fine Arts, Munich, so it is no surprise that in this trailblazing text, her heroine, Harriet Burden, chooses three men to be her pseudonyms for 5 years after she has had no recognition as a female artist otherwise. Her thesis is simple: is her art only valuable if submitted under male names? Apart from critiquing institutionally sanctioned misogyny which characterizes Burden otherwise as "sentimental", "embarrassing", "hysterical", this fictional throwback to JT LeRoy has a number of unlikable and unreliable narrators tied up together in the form of a fictitious academic text about Burden's switch and swap. Her friends, family, acquaintances, and outside observers, all are dredged up in order to portray a woman who was always "too much".
Hustvedt had written an earlier novel drawing up on the experiences of two intertwined families of an artist and a critic in 2003. What I Loved had been an intergenerational saga drawing much attention in literary circles and had been unanimously praised by reviewers. The Blazing World in contrast has simultaneously a narrower focus on a single artist's life while widening the scope of the focus by concentrating on a prominent and recurring problem in professional fields, whether it be STEM or the humanities. The reader feels a pang of sympathy everytime it is revealed that the world has let Burden down yet another time. Ultimately, the best criticism of Burden's art only comes after her death: Hustvedt's bittersweet irony finally has Burden's art described as "alive" and "breathing", and may we add, breathtaking?
Ottessa Moshfegh's My Year of Rest and Relaxation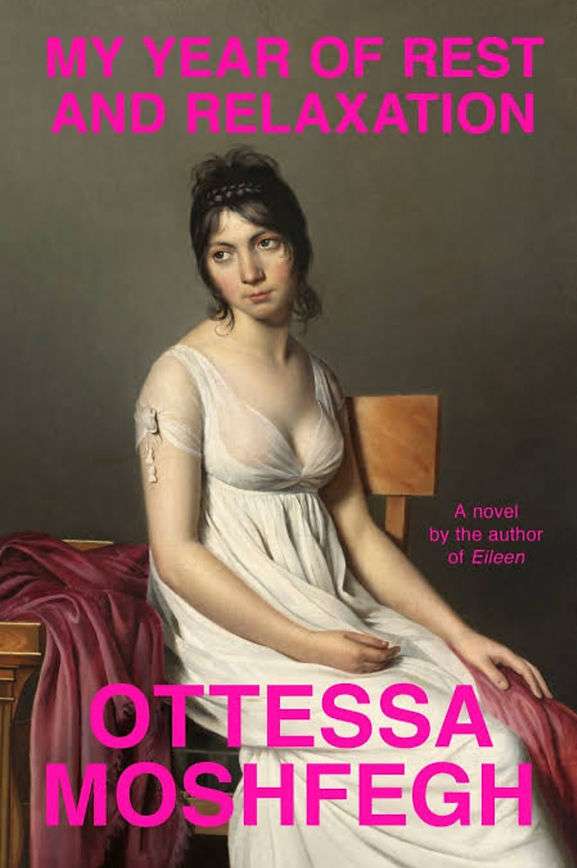 My Year of Rest and Relaxation is an intelligent, satirical hatchet job on the world of contemporary art and art market. A recent graduate from Columbia's art history program, the unnamed protagonist works at a fictitious New York art gallery before 9/11, and slowly escalates her use of prescription sleeping pills in order to sleep for a year. Moshfegh's characterization makes her voice an insidious worm making its way around in the reader's mind as the protagonist irreverently dismisses the exaggerated caricatures of the various artists who her boss claims to have "discovered" and chooses to exhibit at the gallery. Eventually, one of these artists, Ping Xi, becomes a collaborator of sorts when she approaches him to lock her in a room and bring her food and other necessities while she sleeps there. In exchange he gets to make any kind of art project he wants while she is unconscious.
Moshfegh's disdaining, self-aware protagonist is acutely aware of the cumulative forces and personalities running the market. Be it critics, curators, or the artists themselves, Moshfegh has the assumedly pretentious art crowd as her dartboard. Comparing her job at Ducat to working at Wall Street, it is an internal negotiation the reader is privy to as she distinguishes the perceived intrinsic value from the market value of art works, while maintaining that art is sacred to her. Unlike the other texts in our list, the protagonist here actually has a redeeming arc: in the first half of the novel she is self assured that she knows she has to coast off other people's niceties and insecurities in order to coexist- by the end she has made peace within her surroundings by seeking out human relations she had been actively eschewing. Not bad for a year of rest and relaxation, isn't it?
Michel Houellebecq's The Map and the Territory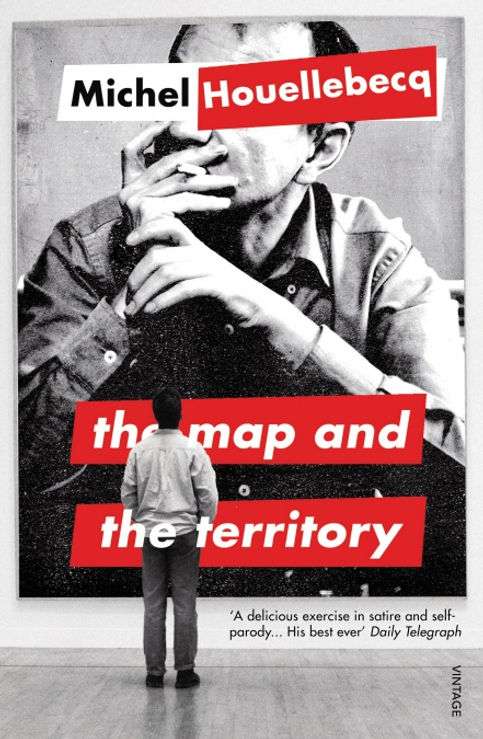 We saved one of the most controversial novelists in recent times for the last. Michel Houellebecq has been the toast and the curse of French literature for some time now. Accused of racism, tax evasion, and plagiarism, he is a provocateur par excellence. His Prix Goncourt winning 2010 novel, The Map and the Territory, explores the relationship between abstraction and representation, especially in the context of art, while juggling male melancholia and estrangement. Jed Martin, the protagonist, is an artist lauded for his photographs of everyday professional objects, celebrities, and Michelin maps, but despite his critical success he is alienated from the world around him. He befriends a fictional version of Houellebecq, also called Michel Houellebecq, and ultimately requests him to write the catalogue for his upcoming solo exhibition, offering to paint his portrait in exchange. In the process, the novel turns into a murder-mystery when Houellebecq (the character) is brutally killed in his childhood house, which looks "like a Pollock painting" with his flesh cut into ribbons and strew about the house with his decapitated dog, and Martin is embroiled in the case to figure out the killer.
The author goes after the high brow French art world with caustic satire aimed at the critics. A run-in with a particularly nasty critic at an orgy, partying in collectors' yatches, and frequent trips to the Art Basel and Venice Biennale are peppered with real life French media personalities who are characterized as exaggeratedly obnoxious. It is no surprise hence when the reader is sneeringly told that a painting is also a manufactured luxury good on the same rung as furniture. Nevertheless, Martin's career is faithfully served as an attempt "to give an objective description of the world", establishing order over chaos in liminal moments. It is upto the reader to determine the degree of success in this endeavor and to decide what is the takeaway in a tale without redemption of any kind: how are we to move on from Houellebecq's depressive realism?
Dick in Chris Kraus' novel famously states he hasn't picked up a book in 10 years since he is "post-idea", we sincerely hope you aren't! You can find our other recommended list of fascinating art books here!