'To buy or not to buy', this is a question that a collector or even a casual buyer of art is all too familiar with. If this wasn't a hard enough dilemma to tackle in the past, in the last year—what with the art market plunging into largely uncharted waters—it's only gotten tougher.
The new virtual presence of auction houses, and the emergence of digital art market platforms, may have opened many doors for collectors and artists alike; but, at the same time, navigating this space to ensure you're making the most of it can be tricky, especially without expert guidance.
Art Fervour talks to curator and art consultant Farah Siddiqui, curator of the Elephant Parade, the world's largest art exhibition of decorated elephant statues held for charity. Farah Siddiqui, who has worked as an art consultant for over 17 years, speaks to us about how the pandemic has altered the art market and the operations of various art practitioners, while also giving some tips for new collectors who are only just testing the waters.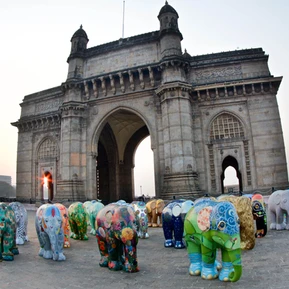 AF: In the past year, online auction events have reportedly led to a rise in new collectors and buyers thanks to these events becoming more accessible. Do you see the pros of virtual auction events outweighing the cons enough for the mode of operation to become a permanent one?
FS: I don't think it's as black and white as auction events used to be physical and now they will be permanently virtual. I think that as we set into a new normal, the charm of a physical auction event will not be forgotten and we will have plenty more experiences of attending an auction event in person. On the other hand, the accessibility that the virtual world can provide to an auction event is noteworthy. Conducting events online removes multiple barriers to participation and encourages an increasingly diverse audience.
AF: The boom in the digital art market space has also led to the rise of a number of emerging artists finding their place under the spotlight. As a consultant, do you think it's advisable to invest in artwork by emerging, lesser-known artists while collecting art online, or is it more prudent to stick to known names and old masters?
FS: I think where you're getting your art from plays a huge role in this. A significant part of my business is connecting emerging artists to young collectors, and I definitely feel that supporting emerging artists, especially right now, is a great thing to do. It's common knowledge that the downside to having everything online is that anybody with an internet connection can attempt to consult on artworks. So it's important to stay cautious as you navigate the art world online and make sure that you are consulting with a credible art consultant who can advise you on emerging artists who are likely to increase in value over the years, thus ensuring that your investment will yield fruitful results in the future. Even from a non-investment standpoint, I think it's very important to support the lesser-known, emerging artists, especially at such a time where emerging artists are so plentiful.
AF: As a consultant, how have you overcome the challenges brought on by the lockdown? Has it resulted in lasting changes in your approach to your work in any way?
FS: Many businesses in various industries faced harsh circumstances during 2020. However, I have to say that because we've had this ability to shift to this virtually constructed art world, many businesses in the art world have managed to bounce back. In my personal business, last year I was hiring more employees during a time where many businesses were letting go of their employees. I have managed to relaunch an initiative that I had started in 2018. And all of this is thanks to the virtual world. People can buy works from me while quarantining in a hotel or from home.
Something that has changed that I think will be a permanent change is that instead of keeping works in my stockroom, I have been working under a system where the artist keeps their works until an acquisition is made. Again, this has been possible because of the convenience that applications such as Zoom and other video call services provide. In this way, I have made the transition of conducting most of my services online, and I do believe that this system is here to stay.
AF: What are some important pointers that you have for new collectors and buyers who are just dipping their toes into art collecting in the current art market (collecting online)?
FS: The first thing I would say is: understand your personal aesthetic. The pandemic has shown us the importance of creating pleasurable personal spaces for our mental well-being. The second most important pointer is to find yourself a trusted art consultant who will help you understand your personal aesthetic and refer you to quality artists who will provide the kind of work you're looking for. Lastly, as I mentioned before, I urge young and new collectors to turn their attention to emerging artists. I have spent 2020 working with a lot of young artists who have immense promise. By acquiring work from a young artist, you're not only finding quality work at a price point that is accessible but you'll also be helping a hardworking, emerging artist receive that much more exposure.
________
As the art market works in tandem both online and offline, collecting art online has definitely allowed for the ease of selection, and the scale at which one can avail these pieces with the click of a button.
If you're looking to learn more about the ins-and-outs of collecting, and how homegrown platforms such as Art&Found have contributed to the growing number of Indian artists that are now part of a new community of digital platform members, do watch this space as we share the informative and exciting talk held at the #AFWeekender over the 5th-6th of February with Farah Siddiqui and Aditya Mehta of Art&Found. Hear them share their expertise on "Collecting in 2020 and Onwards" and many of Art&Found's exciting collaborative projects.