Bhasha Chakrabarti, born in Honolulu is a contemporary artist, her art is known for exploring the relationship between the human form and fabric, as well as their intertwined subjectivities and historical entanglements. Her paintings and prints have been showcased in galleries and museums worldwide. Her works have been featured in prestigious galleries like Jeffery Deitch in New York and Los Angeles, Hales in New York, and M+B in Los Angeles.
Bhasha's first solo exhibition in India, Skin to Skin, curated by Shaunak Mahbubani at Experimenter Kolkata, showcases solitary figures entwined in reciprocal intimacy, taking her practice to new heights.
In an exclusive interview with Art Fervour, Bhasha discusses the conceptualization of her solo exhibition, her inspirations, and her future plans.
Hello Bhasha, congratulations on your first solo exhibition in India! I am glad that we're finally speaking today.
Hi Harshali, thank you so much for taking the time to interview me.
How does it feel to see your work traveling through continents?
I am extremely humbled and feel honoured to have my first solo show in India with Experimenter in Kolkata, which happens to be the city where my parents come from. It feels like a cosmic circle that is completing itself. I consider myself extremely lucky and privileged to have the opportunity to showcase my work and travel.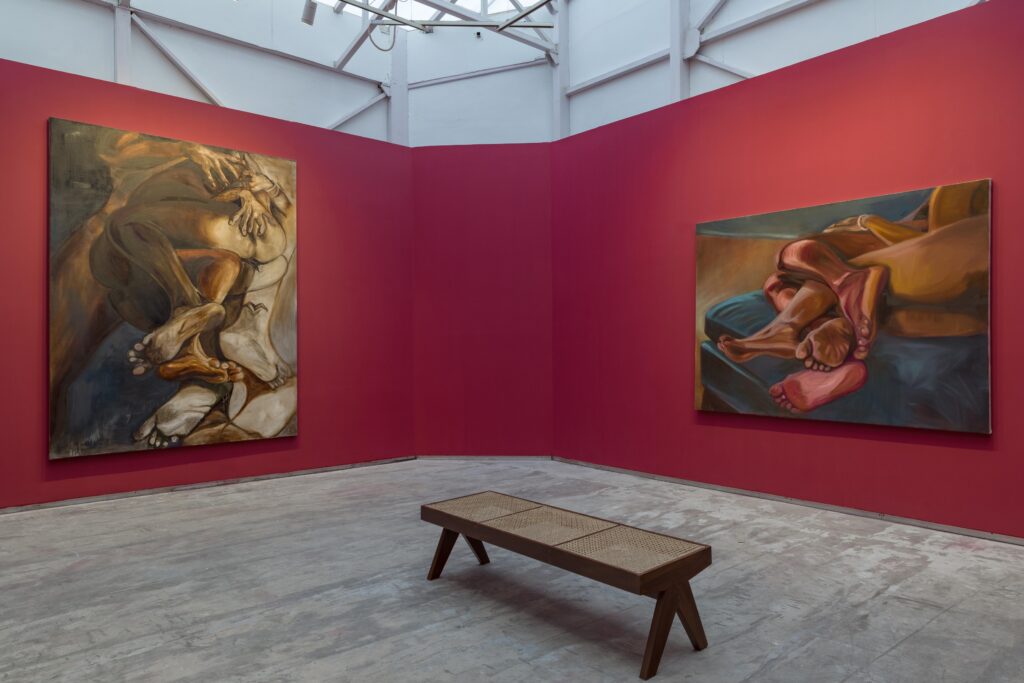 Can you tell us about how Skin to Skin was conceptualised?
For me, the show is really at the heart of my artistic practice because it emphasizes the significance of touch. The concept of Skin to Skin is inspired by the practice of holding a newborn baby against your bare skin, which is now known to strengthen the baby's immune system by sharing the microbiome of your skin. This idea became particularly relevant during the COVID pandemic when we were social distancing and avoiding physical contact to protect ourselves. I wanted to present touch as a means of strengthening us, rather than weakening us, and question our relationship with touch at a time when we are reacquainting ourselves with physical contact. The show is a counterpoint to the notion that touch should be avoided and aims to emphasize the importance of touch in making us healthier and stronger. That's how I conceptualized it.
What inspires you to paint?
I don't necessarily set out with a deliberate inspiration, but my art comes from a place that's deeply rooted in my past experiences. Before I began painting, I started my art practice with weaving, quilt making, and textile. I've always been interested in the ways that painting and textile art intersect, even though they're considered different art forms. If you look at painting closely, you'll see that historically, it's been done on cloth, and painters have always had to negotiate the properties of fabric. Painters often use materials like jute, burlap, linen, and canvas as surfaces for oil painting. There's an intimacy with cloth that I've always had in my work, and it felt like a natural progression for me to move into painting. So, my inspiration for painting comes from the material intimacy that I've always had with cloth.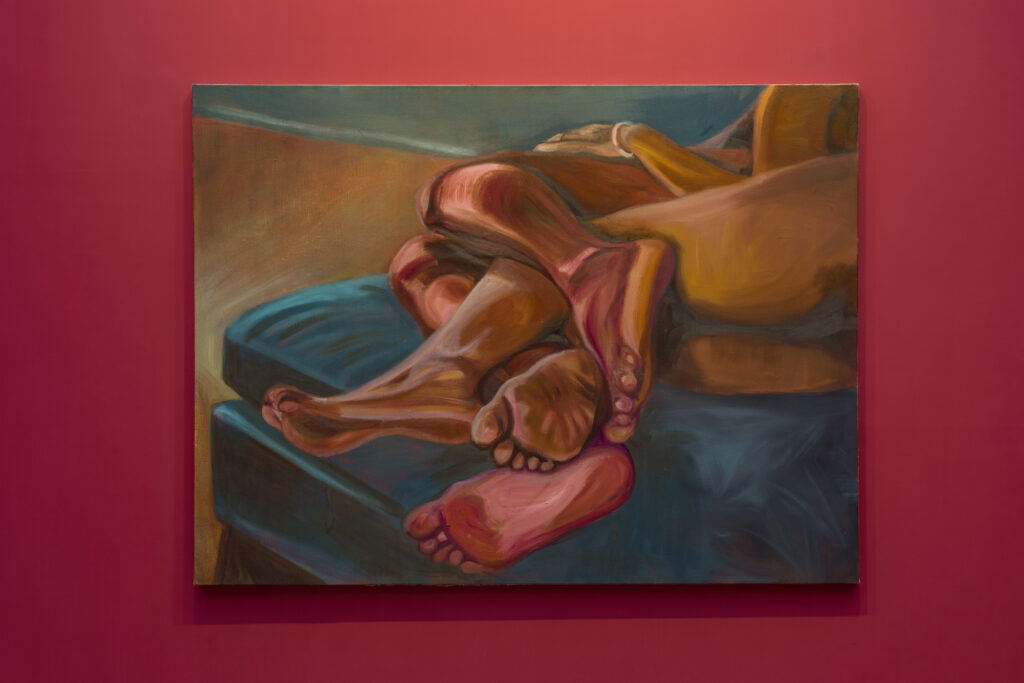 You've recently graduated with an MFA in Painting and Printmaking from the Yale School of Art, has your time over there informed the way you paint today in any way?
Yes, definitely. Having just graduated from the MFA program, I believe that a lot of my time there has influenced my work and will continue to do so. Just as being in any place affects one's work. The MFA program was a unique opportunity to be in an intense and privileged space for two years, where I was surrounded by a group of people who were invested in my work as much as I was invested in theirs. We had conversations and exchanged ideas that were solely focused on our art practices, which is something that is difficult to replicate once you leave the program and enter the real world. Especially with its financial, practical, and familial concerns. So, in that sense, my time at Yale has definitely informed my work, and I have even made works related to Yale's history.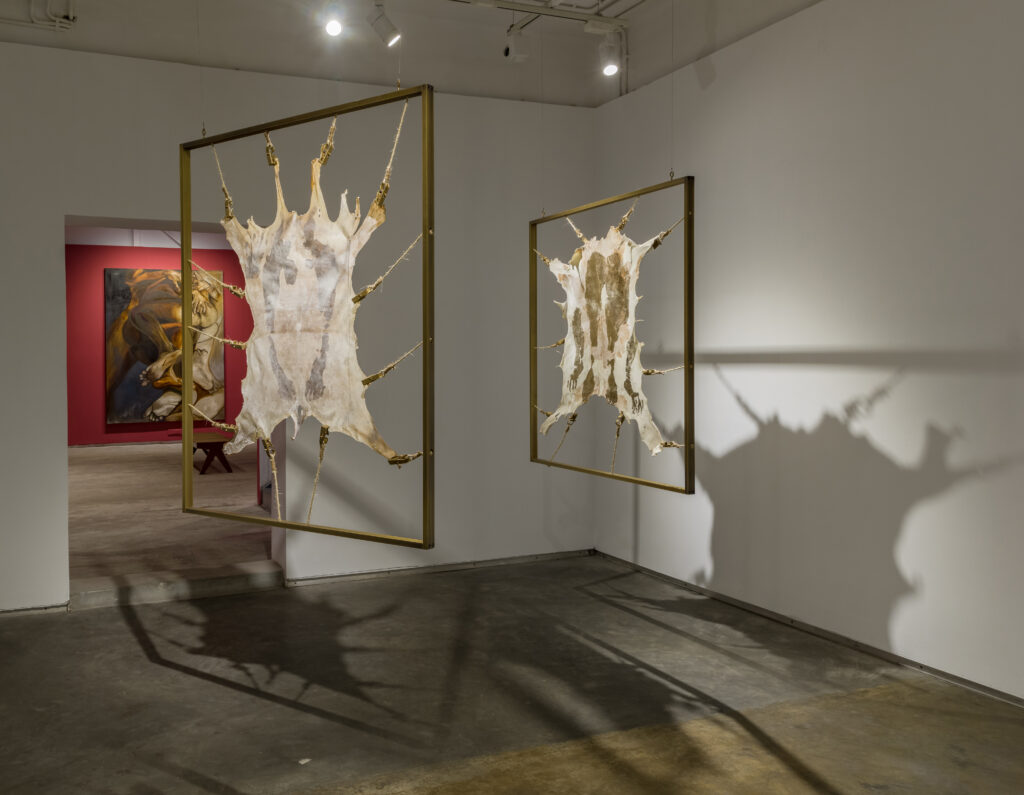 When a story or a theme strikes you, how do you proceed with it?
The way I approach telling a story or thinking through an idea is that I usually begin by being struck by a particular medium or mode of expression. For instance, with my Indigo series, I was fascinated by the historical connections between India and the US through that material, so I knew that was something I needed to explore further. From there, I dive into research – whether it's talking to people, reading books, or going into historical archives. Research is a crucial aspect of my practice and often continues throughout the process of creating a work. So, I guess you could say that the first step is always a deep dive into research, which then informs how I choose to convey the story or theme.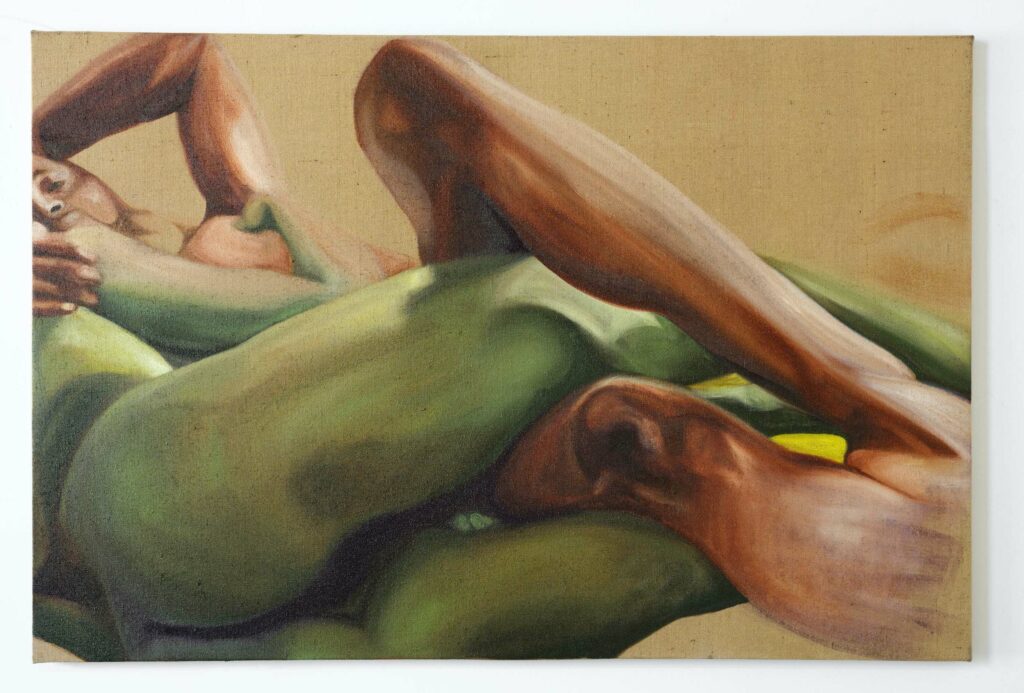 The works displayed in your latest exhibition Skin to Skin hosted by are eclectic, and I am particularly curious about The Intertwining II, can you tell us about the journey of these artworks?
Intertwining II is a painting that depicts me and my lover. The medium used is oil on jute, and I intentionally left a lot of the jute surface exposed in the painting. I did this to emphasize my interest in painting as a medium that takes place on cloth. By doing this, I wanted to showcase the cloth surface of the painting as more than just a support for the paint, but rather as an important element in the narrative and composition of the artwork.
Your art is drawn from intergenerational wisdom and relationships, what inspires you to paint these episodes?
I draw inspiration from intergenerational wisdom and relational knowledge, which I consider valuable sources of knowledge. In my work, I explore the hierarchies of knowledge and question why certain forms are prioritized over others, such as medical science over home remedies or Western medicine over non-traditional approaches. I believe it's important to challenge biases and recognize the value of non-traditional knowledge, while still acknowledging the importance of academic research and scientific inquiry.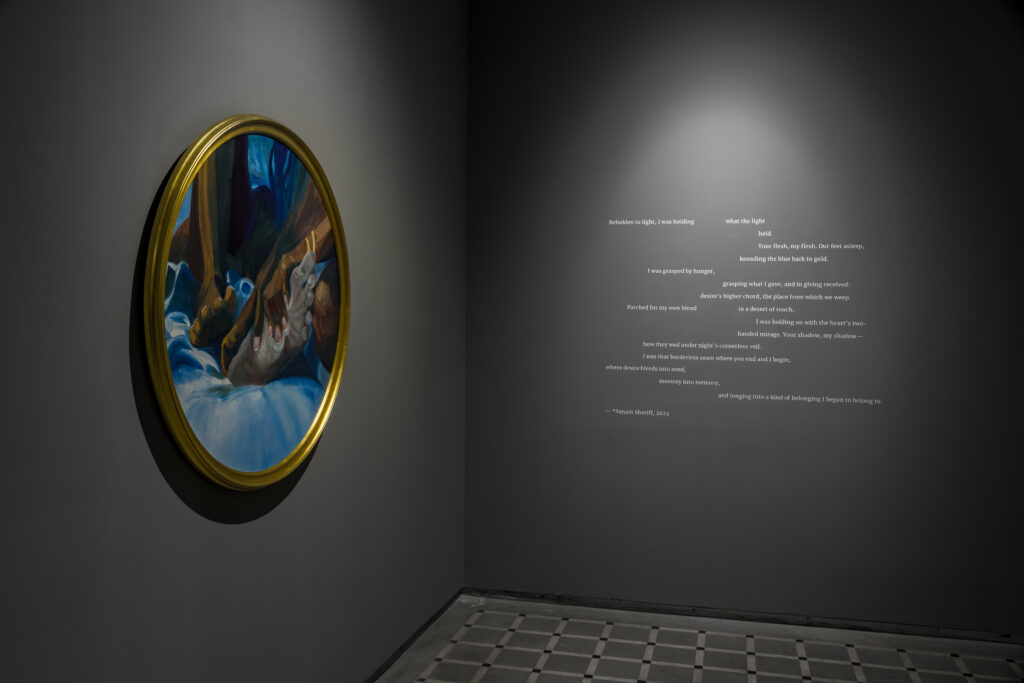 Bhasha, do you read? Just curious– what are you currently reading? Does reading play a vital role in your life as an artist?
Yes, I read a lot, and reading is an important part of my life as an artist. I enjoy reading a variety of things and often conduct research by reading history books and archives of old documents and letters. While working on my current project, I have been particularly focused on reading poetry. Tracy K. Smith is one poet whose work I love and I even have one of her books, Such Color, featured in my show. Another poet who has influenced my work is Audrey Lorde. In fact, my friend Sanam Sheriff has written three new poems for my show in response to my work, and I really enjoy reading their poetry as well.
Do you feel art as a medium is a catalyst for an upsurge in larger communities addressing issues like gender inequality, racial discrimination, etc?
This is a topic that really strikes a chord with me, especially in terms of my work. I totally get that appreciating art can be a really personal and private experience, but I think art creation and appreciation can go beyond that and actually be a way to communicate and connect with others in society. It's fascinating to me to think about how art can serve as a means of discourse that brings people together and sparks important conversations about societal issues like discrimination and inequality. I don't think art should be limited to just a private experience, but rather can be used to build communities and make positive change. Don't get me wrong, I still think the individual experience of art is important, but I believe in its potential to do so much more in terms of shaping society. It's definitely something I'm really passionate about!
What are you currently working on and what's next on your plate?
I've got a lot of projects in the works right now that I'm really excited about. I'm working on a bunch of new art pieces that I can't wait to get back to. As for a specific project, I'm currently getting ready for Dhaka Art Summit where I'll be doing a big installation right after my show opens. Along with that, I'm also working on some new paintings and textile pieces. Luckily, Experimenter has provided me with a great residency space, complete with an apartment and studio, so I've got everything I need to work on my art. There's always something going on here, and I'm thrilled to have so many exciting things happening at once.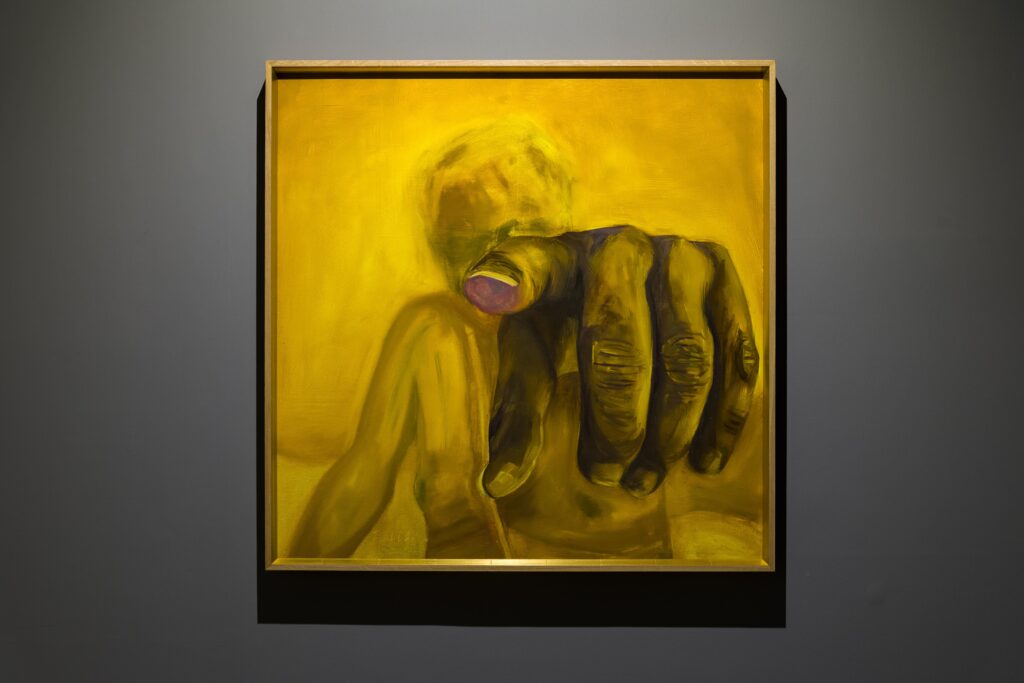 What can art lovers expect when they step into your solo exhibition?
Well, personally, I believe that seeing the show in person will be a very unique experience compared to just viewing the paintings online. I really hope that the tangible qualities of the artwork, like the texture of the paper, linen, canvas, jute, and panels, really come through in the paintings. And not just that, but I want the sense of touch and intimacy to be conveyed to the audience when they enter the space. That's what I wanted to achieve with the show, and with the help of Shaunak, who curated the show with me, and the rest of the experimenter team, we've even created some spaces that extend the painting into the setting. So, I'm hoping that all of this comes across to the viewers and that's what I can offer with this show.
And what would you like to tell people who are unable to visit the show?
Inshallah, we'll meet at the next one!
__________________________________________________________________
We want to express our heartfelt thanks to Bhasha for taking the time out of her busy schedule to chat with us. Her insights into her artistic process were incredibly enlightening, and I'm sure our readers will find them just as fascinating. We also want to extend our warmest congratulations to her on the success of her recent solo exhibition Skin to Skin curated by Shaunak Mahbubani. The show is on view at Experimenter – Ballygunge Place, Kolkata. Plan your visit before March 25, 2023 to experience Bhasha's oeuvre!
We can't wait to see what she creates next. Lastly, we want to express our appreciation to Experimenter Kolkata for enabling this interview to happen. Art Fervour is truly grateful for the opportunity to talk with such a talented and accomplished artist.