Back in 1532 Nicolaus Copernicus said that it is the Earth that orbits around the Sun, a claim that completely contradicted the established religious notion of the time. This idea traveled far and wide until it was taken up by Galileo Galilei who faced life imprisonment for upsetting the prevalent moral sentiments. Words (written or verbal) convey ideas and emotions that have changed the course of history. They have saved lives, taken too, have helped in circulating powerful ideas and also in preserving memories. Words can move mountains they say. 16 year old Greta Thunberg through her powerful words has made us more aware of our present and our future living, bringing us closer to a reality that we often choose to turn a blind eye to.
In this article we take a look at how some of the most famous visual artists use the power of language in their art to communicate emotions, share memories, suggest alternate ways of living and loving; thus becoming harbingers of change.
What is word art or text based art all about?
Language is a powerful tool and many contemporary artists have come to use this as a communicative vehicle for their artistic expression. Though there has been an increase in text-based art since the 60's, this wasn't completely new to the art community. Surrealist painter René Magritte's work 'The Treachery of Images', cubist artist Georges Braque's works, all show us how text-based compositions actually took off from the early 20th century.
Let's take a look at a few visual artists, whose artworks have truly left us lost for words.
Jenny Holzer: The artist who created text-based 'Truisms'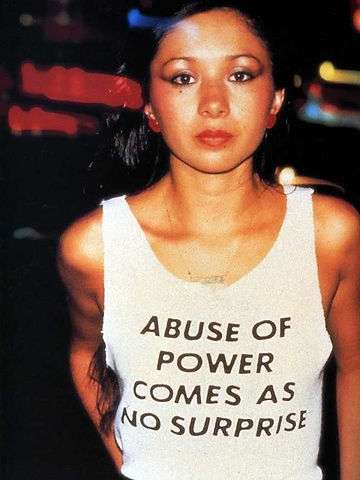 You can find her artwork in many unexpected places! One can chance upon her creation on a stone bench in New York while taking a solitary walk, on billboards,T-shirts and even condoms! Holzer's thought provoking text-based installations make us reconsider the power that words carry in this age of information.
'I used language because I wanted to offer content that people – not necessarily art people – could understand'.
Flickering on electronic sign boards, pasted on a wall or carved in granite, her art is a perfect synthesis of texts and images, transforming language into a visual spectacle. Over a span of 40 years, she has given birth to multiple projects with her work 'Truisms' which remains our all time favorite. Her text-based artworks have a 'breaking news' like immediacy that is very common to mass media and relevant to our times:
' A MAN CAN'T KNOW WHAT IT'S LIKE TO BE A MOTHER'
'PROTECT ME FROM WHAT I WANT'
'ABUSE OF POWER COMES AS NO SURPRISE'
'MEN DON'T PROTECT YOU ANYMORE'
She gives a twist to common sayings, clichés and stereotypes through her art!

Duane Michals: The storyteller
They say that a picture is worth a thousand words. It's worth a thousand emotions too. Duane Michal's photographs and words get a journalistic element as he etches memory and nostalgia all across his compositions. Taking up photography during a time when photojournalism was increasingly gaining prominence, he created a range of photographs with handwritten texts across them. More than being explanatory, his words add another dimension to the images, words that can be seen as poetic, tragic and humorous at the same time. Michals' compositions have a unique power of photographic sequencing. He has taken portraits of influential artists such as Andy Warhol, René Magritte, and Marcel Duchamp, often marking his photographs with poetic scribbling and reflections on his subjects.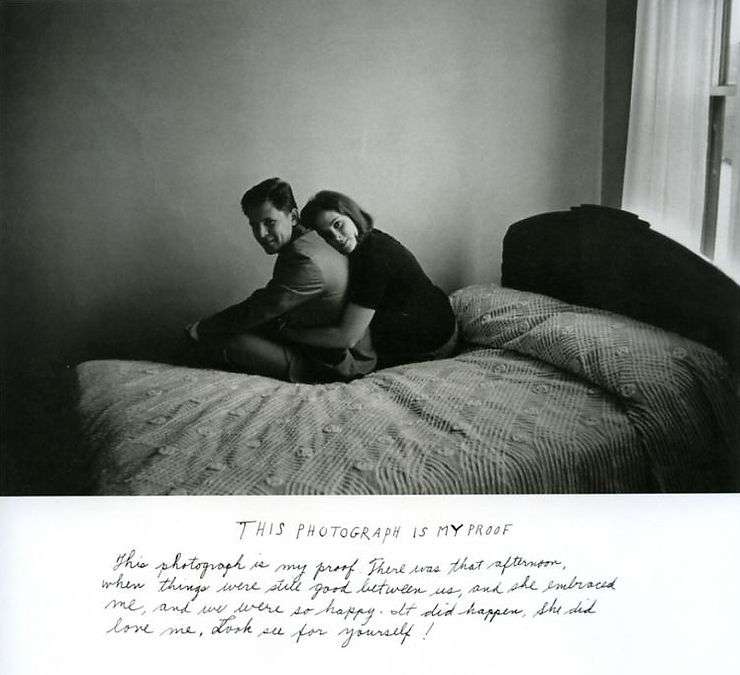 One of the most famous visual artists, Duane Michals is essentially a master storyteller. He is a self-taught photographer who developed a very unique voice to present his narratives, his personal stories and stories of others through words that find place at the margins of his black and white prints, all handwritten. His works will surely leave you nostalgic about the times you have lived, and times that you haven't.
ED Ruscha and his love for typography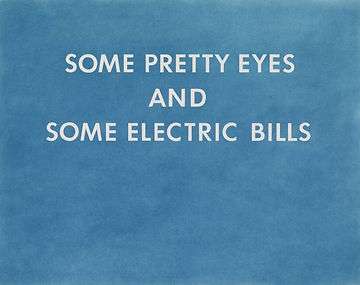 In our times, a lot of content that we consume seems to escape our capacity of reason and understanding. Ed Ruscha's works might seem like that at first. A painter of words, he often uses single words devoid of meaning and context. However, a closer inspection of his compositions reveals more than what meets the eye. In his work Suspension (1969), you will find the word that forms the subject to appear plainly suspended in an ambiguous space; the italicized letters of Vanish (1972) seems to nearly disappear, all making it evident that they mostly hold self-referential observations. Ruscha's artistic style is quite similar to the imageries and techniques used in advertising. Drawing his inspiration from pop culture and the everyday, he deploys sentences and phrases that draw from everyday American language and slang. Ruscha's groups of 'catch-phrase' drawings from the 1970s, including 'Pretty Eyes, Electric Bills', 1976, mix visual formality with humorous, playful and often mischievous language. He also introduced the (now-iconic) self-designed font that he calls 'Boy Scout Utility Modern' in the 80s. Well, can anything exemplify one's love with shapes and typography better than this?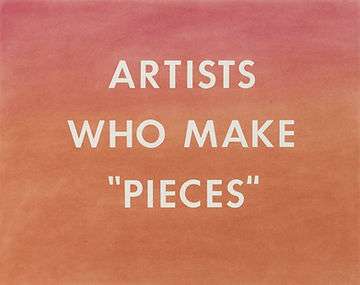 Tracey Emin's Confessional Art
Her raw unpretentiousness and her personal tragedies and life experiences, that stands as the backbone to her compositions, has captured people's attention for more than 20 years now. Besides her paintings, drawings, videos and sculptures, her neon texts are unique and absorbing. You will find a confessional element in her art. They are extremely intimate, revealing intensely personal details of her life. One cannot stop from appreciating the brutal honesty and poetic humor that her textual works present. A jumbled mixture of tenderness and fury is found in her art that suggest a chaotic stream of consciousness, mutterings and rememberings. Give her words and she will spin it around, break it and re-stitch it all over again.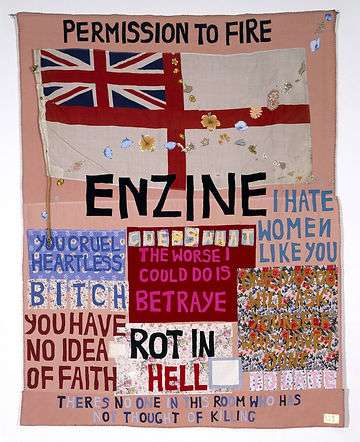 Lawrence Weiner
We cannot discuss text-based art without mentioning him, can we? The trailblazer of 60s conceptual art, particularly presenting art as a language, he has made art on walls, windows, floors, and manhole covers of public spaces all across the world. You can also site his works as posters, graffiti and even tattoos. Growing up in South Bronx in the 40s, he was very fascinated with wall arts and the messages that people left behind. Since his compositions exist only as words, they can take on many different forms and can be displayed in multiple ways and in every language. Unlike artists like Jenny Holzer and Barbara Kruger who have used text based artworks as a form to question and to challenge societal evils, Weiner has made art over the last six decades that allows multiple interpretations. His works have no ingrained metaphors or meanings; they allow the viewer to attach their own meaning according to their needs and desires.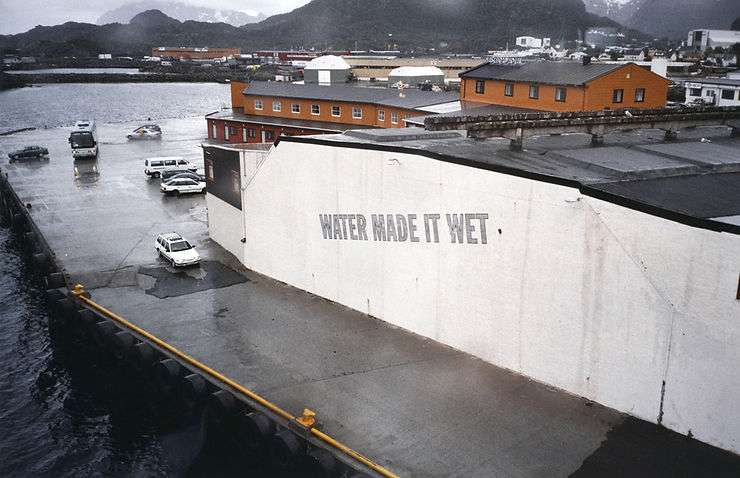 Holzer notes that, "Language can communicate. There's a trite but true announcement and for that reason could be accessible to an audience that's not wholly familiar with art history (or nonsense)." Word based art is a perfect fit with our times. As our cultures continuously evolve and competing narratives fight, words provide the correct amount of abstraction and tangibility, allowing viewers to make sense of the changing times. Think about the rise of the meme culture and also the impact graffiti art has on people! As Bob Dylan would say, "The Times They Are a-Changin."