In a space where orientalist art of Rabindranath Tagore, Amrita Sher-Gil, Jamini Roy, and several others from the Bengal School of Art gained a nationalistic significance, a dissenting voice was heard from the artists that championed naturalism and academic learning. These artists refuted historicism (the idea that 'Indian' art could only be based on a historical legacy) and focused on combining Victorian elements with Indian society in the 'now.' One such voice was of Hemendranath Mazumdar, and little did anyone imagine that it would come to rock the nationalist movement to its core.
As a figurative painter, Mazumdar had several accolades to his name and his oils of partially clothed or naked women attracted the likes of maharajas and Europeans. He perfected a technique known as the 'wet-sari' effect where he championed an erotic suggestion of fleshy buttocks, hips, and soft quality of the skin – visible in his attempts to capture the sexual appeal of light-skinned women.
Reception however, wasn't kind. Classical nudes did not warrant shock since they were distanced from the Bengali audience, yet here was the spectacle of spying on the proverbial girl next door. Added to such scandal was the idea of decency that the Britishers espoused. Victorian nudes stood for purity and the height of art, yet indigenous depictions weren't in the least respectable (and seen uncivilized). The nationalist movement found a heated debate at hand – Classical nudes weren't part of Indian history, and hence such depiction was nothing less than pornography. The highest Indian ideal lay in a modestly draped mother and 'gracious' sati and hence, Mazumdar's art wasn't at all Indian.
Trouble is though, historicism – the very bulwark on which our nationalist imagery seated itself – has (un)surprisingly given us several Mazumdars, and the pandering of the male gaze.
Regressive arts group?
Owing to the iconographic nature of Indian art, naked depictions have been ever present in our history. Quite naturally then, during the age of modernism, artists again championed the idea of the nude, this time calling it a popular tool for self-expression. But whereas earlier the nude was about ideals like ananda, rasa, and shringara, naked depictions were now about the perception of nudity and the intended voyeurism of the artist, and its pleasure. Such intentions mirrored an obsession with the erotic – and the likes of F N Souza and Akbar Padamsee certainly fall into this category.
Inspired by Parisian bohemia and the personalities of Picasso and Matisse, Souza extolled the naked form in celebration and denigration. Confessed to an Oedipal complex for his mother, Souza's gaze for erotic in the naked female form led to his art being called disgusting and obscene – even having his flat raided by the police to remove them. Appetizing his own sexual hunger, his representations of couples implied animality, violating the women till their only personality appeared sexual (whether predatory, preyed upon). Padamsee found himself defending his painting The Lovers in court over his depiction of the decadent nude.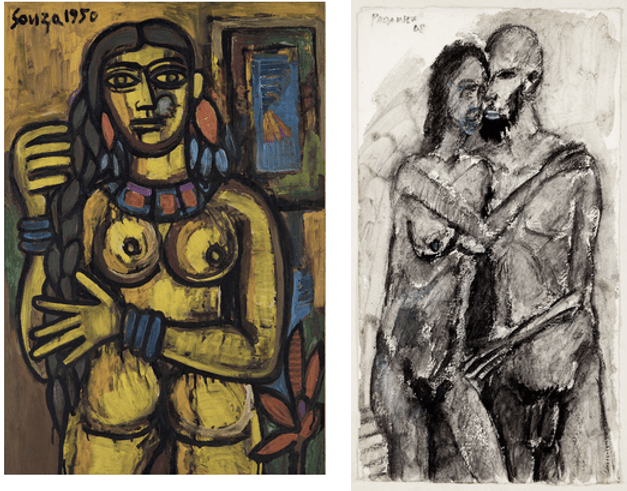 Francis Newton Souza, Front-Back Nude and Akbar Padamsee, Lover's series. Image courtesy of Christie's and Architect and Interiors India.
Female – nude – depiction in art has then largely been the history of scopophilia: the sexual pleasure involved in looking. Yet in today's artistic and intellectual environment, it's hard to imagine an artist painting the female body to make a stylistic statement. This body is no longer passive but politically charged. Here's a look at four artists from the subcontinent today that are taking note of that.
Seeing like a feminist
For Kanchan Chander, art is about shedding the institutionalized male gaze through the female torso. The innovative imagery finds its crux in the manner it is depicted – the idea of Devi is shown surrounded by everyday objects like spoons, nails, coins, and antithetical objects like beer cans that create a juxtaposition of female liberation and oppression.
And it's only through the female torso can this idea be transmitted: understood as 'the center of femininity and sensuality,' the female epicenter with mundane objects removes the voyeurism of male-centric fantasies and reworks the ideas of beauty, sensuality, and motherhood. In a world where the narration of art is highly scopophilic, the portrayal of the sexual in a desexualized manner breaks the power the male gaze holds.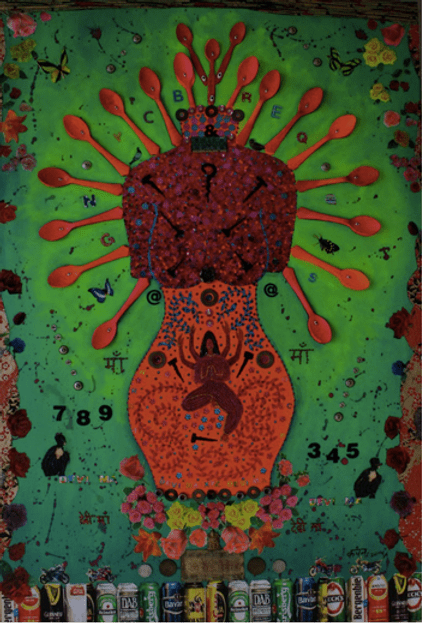 Her Hollywood-Bollywood series portrays 'tragedy queens,' bedazzling their pictures with mundane items like nuts and screws to break the idea of a sexual objectification we attach with the female body on the celluloid.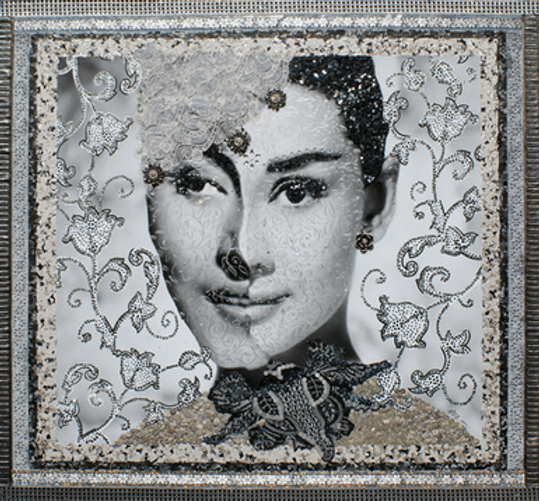 Surreal Islamic identities
Rene Magritte's surrealist paintings have always been about illusionistic games. In Dangerous Liaisons, he provides a visual arrangement that prevents and promotes sexual enticement simultaneously. It is a distorted reality with a viewer's gaze which works by paradoxically revealing what is hidden behind the mirror – the women's naked body. Amber Hammad appropriates the imagery to convey a protest against the patriarchy (of Pakistan).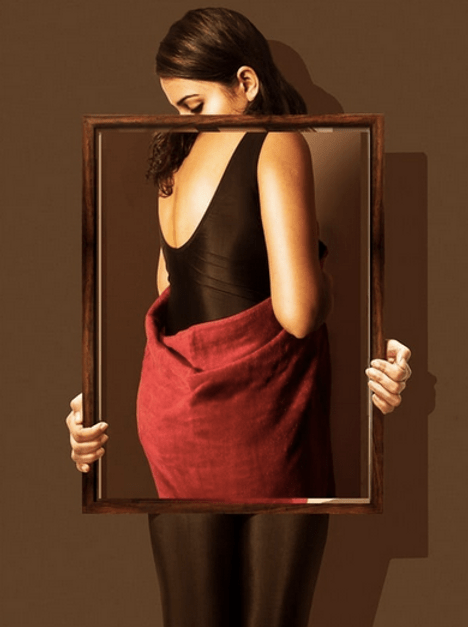 Being a Muslim woman from Southeast Asia, Hammad includes an everyday signifier from her life – attire, covering the naked body. This play is recontextualizing the western gaze over the conditions of women in a male-dominated society. Almost Dangerous Liaisons talks about the identity of a Muslim woman in a globalized world.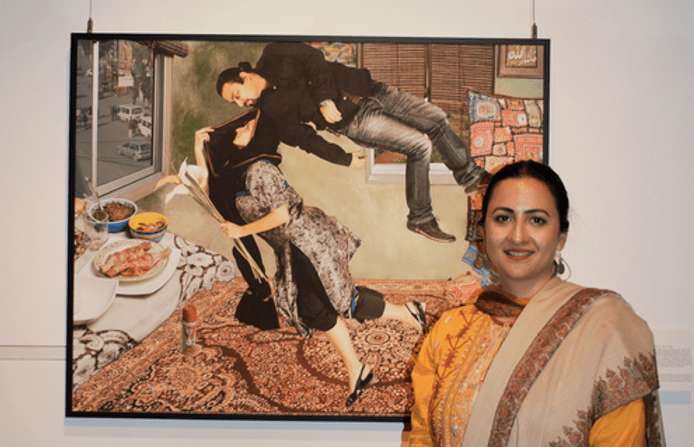 Another stark example is seen in appropriating Marc Chagall's Birthday. Unveiling the Visible now portrays a Pakistani middle class setting, instead of a Russian one. Love is hindered with the presence of a veil and the bright interior clashes with the dull exterior – a physical distortion of what it means to be a Muslim today.
Bite-sized art
Food isn't the only thing that comes to mind when one thinks of biting (*wink wink*) – and Mithu Sen's work brings to question all that kind of imagery. Her work Border Unseen was an 80-ft-long sculpture of pink and fleshy teeth: 'the great wall of teeth,' made with dentures and dental fillings was about challenging how we saw bodies.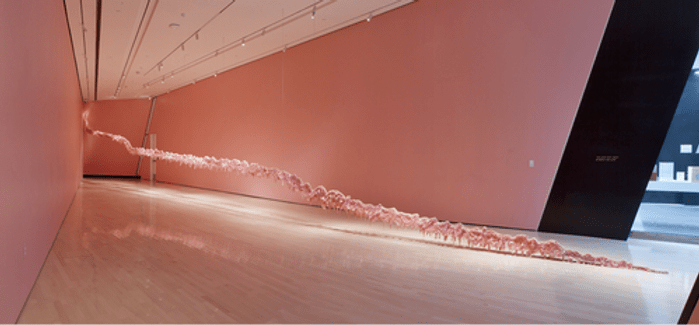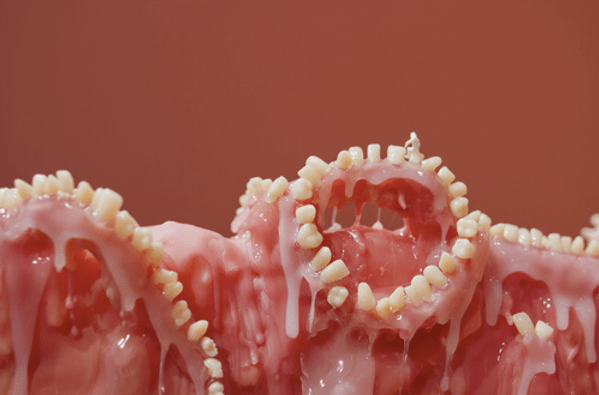 Her love for playing with irony is not lost when she combines the elements of an excited body, male or female, with the inorganic and mundane, satirizing how society looks at the body. Looking at teeth or hair, one sees the multiplicity of ideas beyond desire: fear, pain, satisfaction, sexuality, and violence.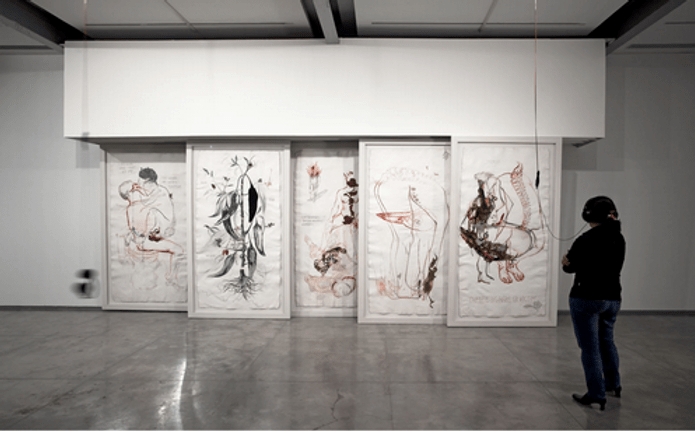 In a similar throb was her exhibition Black Candy, which combined an audio-visual experience to portray a trans-disciplinary gaze – with an androgynous approach, repressed homosexual desires bring out the male body as also something vulnerable which collapse the preconceived ideas of masculinity and feminity. One interesting sound-byte consists of the audiences listening to audio and tasting candies while looking at the images – a symbolic act which at one plane is highly suggestive (and lending an emotional, sensual effect) and also deconstructive for looking at masculinity in not just stereotyped mannerisms.
Depicting reality
It is interesting to note that Aphrodite – the Goddess of love, beauty, and pleasure – who was usually depicted in the nude, has had statues made of her where she was covering herself. Sarah Naqvi observes in a similar manner that profound values are attached to the female body only for society to gain control over them (the statue was invariably made by a man). Naqvi's work, which combines textile art with her lived experiences, holds up a mirror to the troubled times of our society.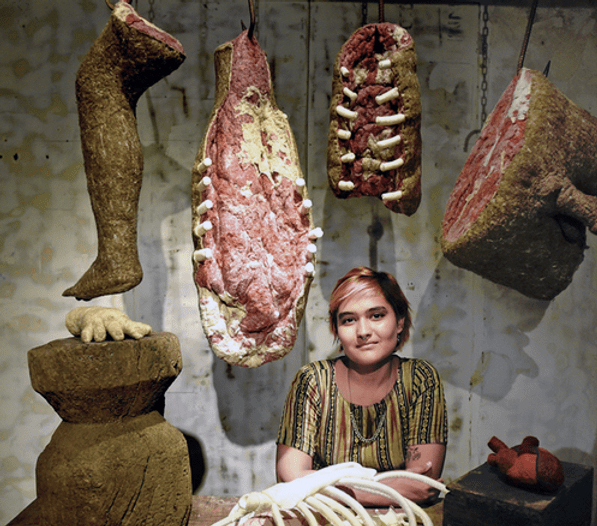 Her work Bashaoor, which means 'guided by consciousness,' consists of wool-felted pieces that depict mutilated bodies, hand-painted scrolls of a pregnant woman, and even embroidered panties with flares of scarlet to depict menstruation. The idea is to get people talking: about communal lynchings, about the societal standards of women and their hygiene, and about her own identity.
In a post-Weinstein era of overturning the male gaze, large strides are being taken in addressing age-old practices and conventions of a patriarchal society. Not just artists like Cindy Sherman or the Guerilla Girls, this wave has swept even third world nations. Certainly, issues of representation and body are contested to this date, but contemporary art is slowly shedding its deadweight of the male gaze and voyeurism.
While these examples are contemporaneous, take a look at how against the conventions of conservative society, LGBTQ artists made their art in history, here!