Delhi, the nation's capital, is filled with so many internationally acclaimed galleries and cultural centres that it's enough to keep any artphile occupied for ages. While we cannot espouse enough the wonders within the National Gallery of Modern Art, the Kiran Nadar Museum of Art, Nature Morte and other art spaces, this article is about the lesser known art treasures the city has to offer. Today we turn to searching for Delhi's hidden art gems – some niche spaces, others that are open and public but don't necessarily jump to our minds when we think of artsy hangouts. Whether you're an aspiring artist, a dabbler or an art enthusiast, there's something here for everyone.
ArtBuzz Studios
Amisha Chowbey is an art writer whose also worked in art restoration in the past. Her parents have been collecting art for forty years and her mother and brother are both artists. She's been surrounded by artists, art collectors and art lovers all her life. Anubha Gupta studied History of Art from the Courtald Institute of Art at the University of London. She's worked with private art galleries, NGOs and art fairs and always dreamt of creating a platform where she could empower young artists.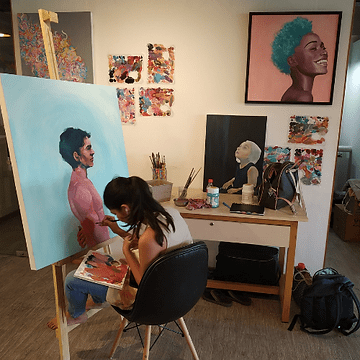 The two young women have come together to create what in India is quite a rare concept – a co-working space for artists. While there's been a wave of co-working spaces, they realised there's barely any which caters to young working artists and other creative professionals. They created ArtBuzz Studios to provide a space for artists to practice art out of their homes or of isolated studio spaces.
Keeping the needs of artists in mind, Artbuzz Studios is a huge airy space replete with brick walls and bathed in natural light. There are private studios, dedicated desks or shared desks artists can choose from. There's a printmaking studio, etching press, hot plate, aquatint machine and acid room. As the two entrepreneurs say, "It is the place for you to bring your imagination to reality."
Since it's founding, ArtBuzz Studios has evolved into more than a co-working space for artists. It sometimes morphs into a gallery space showcasing the works of emerging artists. It conducts talks, programmes and workshops, provides low level mentorship to artists and helps them grow their network. They started with 3-4 artists and have now increased that figure exponentially. The most rewarding part of the work has been seeing an artist community come and grow together.
Delhi Artists Studio Tour
Art for Change Foundation, a New-Delhi based arts organization, has an unmissable voyeuristic treat for art lovers. Once a month they organize the Delhi Studio Tour. Each tour takes participants into the city's labyrinth of bylanes to visit the studios of young and highly skilled contemporary Indian artists. Visitors get to see the creative process of these individuals up close, hear the stories behind their art, have freewheeling chats with the artists over cups of coffee and refreshments and have the choice of purchasing an artwork directly from them if they so wish.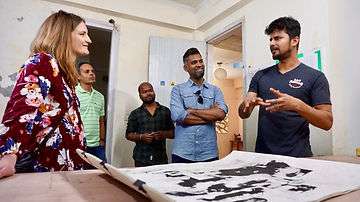 The tours are pocket friendly and limited to 5-8 participants. It's a privileged entry into an otherwise sacred space that offers unique access to an artist's perspective. Apart from studio tours, Art For Change hosts a range of fun art endeavours – from mini residencies to art melas and more.
Lodhi Colony
India's first public art colony started out as a three wall experiment in 2015.The subsequent year 25 street artists from India and around the world descended on the colony for the two month long Lodhi Art Festival. Today Lodhi Colony is a public art district, India's very first and the past four years of artistry has transformed it into an unmissable art destination.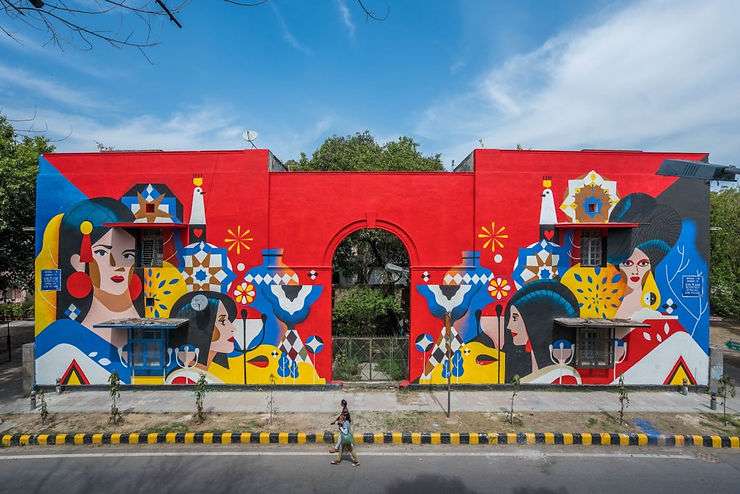 Lodhi Colony, constructed in the 1940s, was the last residential colony built under the British rule. It's huge blank walls, wide leafy streets and easy connectivity by the metro made it an ideal pedestrian friendly venue for an art district. Given that it's a government colony, permits were relatively easy to obtain. The residents were initially happy to have such acclaimed art decking their walls. But once Instagram influencers, wedding photoshoot parties and even bikini photoshoot teams started descending en-masse to use the art as a backdrop to their virtual moments, living there isn't as pleasant and serene as it used to be.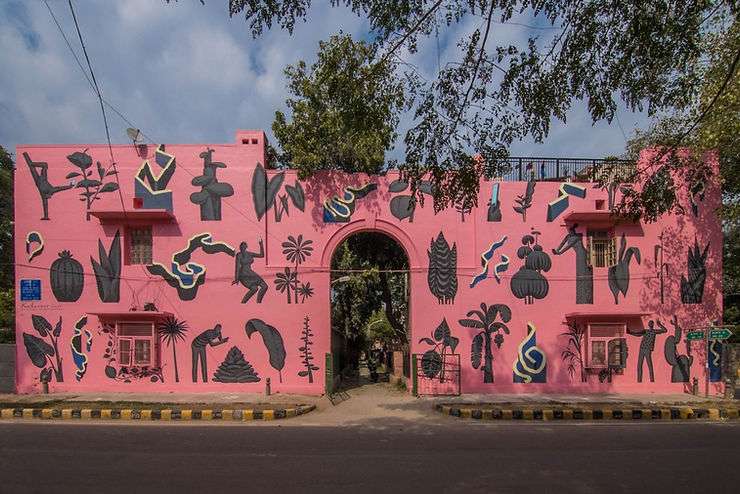 The Lodhi Colony is the brainchild of St+Art India Foundation, a non-profit organization that works on art projects in public spaces. We've previously featured the uplifting ways they transformed Mumbai's abandoned Sassoon Dockyard with art. The foundation's main aim is to bring art to the people and creating an art district is an ideal way of doing that.
Garden of Five Senses
One of the largest collections of public art in India is not in a museum or gallery, but in a park. The Garden of Five Senses, located in Sadul Ajaib Village near Mehrauli, is a sensory wonder in the midst of a chaotic urban jungle. Spread over 20 acres, it invites participation and exploration from the public. Designed by renowned architect Pradeep Sachdeva, it was created to evoke awareness of touch, smell, sight, sound and taste. Cascades of flowing waterways, vibrant flowers, fragrant shrubs and tree lined avenues beckon you to come and get enchanted.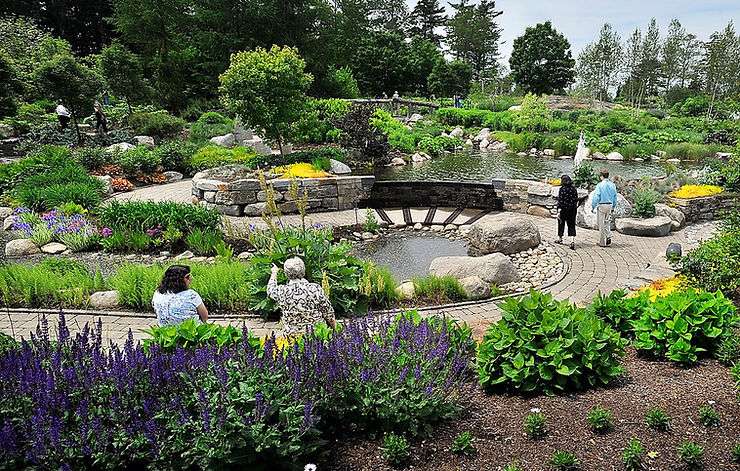 A committee was set up to commission art works for the garden. About 25 different sculptures and murals were commissioned, making it one of the largest commissions of public art in the country. Highlights include a giant ceramic windchime, crafted by ceramic artist Kristene Michael. It's composed of hundreds of hanging ceramic bells musically lilting in the wind. Works by indigenous artists – like a 'phad' wall painted by Rajasthani craftsman Shantilal Joshi and terracotta installations by Angoori Devi and Giri Raj Shah jostle for space among contemporary sculptures. There's the Arch of Labna, an ancient Mayan inspired architecture, a gigantic tree made of bells, stone crafted elephant troops, rows of children engaged in worship, an open-air amphitheatre and more.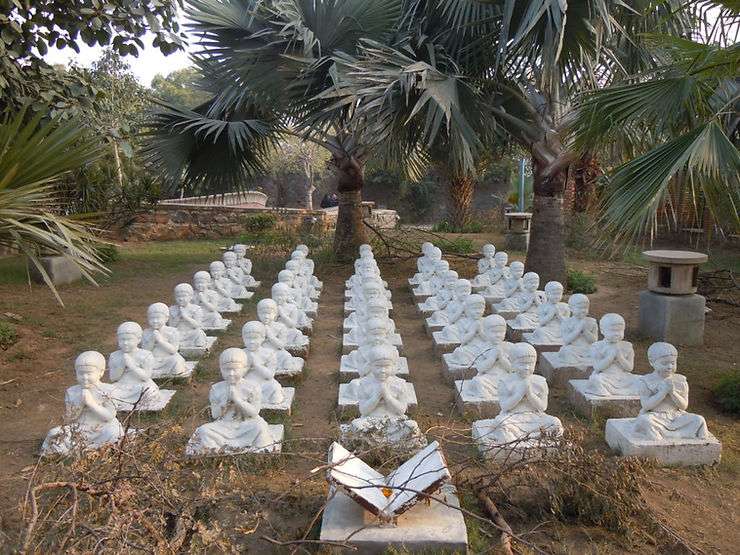 Studio Safdar
An independent, non-funded, space for arts and activism, Studio Safdar was established by India's pioneer street theatre group Jana Natya Manch is 2012. It aims to be an alternate and affordable space in Delhi for staging and experimenting with the arts. Conceptualised as an adda space for theatrewallahs, it's a space for edgy, creative and dissenting ideas.
Studio Safdar is named after Safdar Hashmi, a renowned political activist, playwright and theatre director. He was killed by political hoodlums while performing a street play with his troupe. Studio Safdar is an embodiment of Hashmi's dream of a socially conscious space that can be a resource for theatre persons to gather, host talks and performances and also be a cultural centre that revives the artistic life of the local community.