Art has traversed from the early days of cave paintings and wealthy patronage to serve, on some occasions, as an instrument of dissent.
The freedom of expression has come a long way and artists have fought to move away from carefully commissioned artworks to a reflection of their expanding consciousness seen during the Renaissance. Artists used art as a form of protest to answer the political conversation of the time. This paved the path for artists to create works that reflected the political and social disagreement similar to that seen in civil rights movements that began in the 1950's and hence emerged the immediacy of art as activism.
The Power of the collective
Collectives can be described as a group of people that are organized with a common belief or collective underlying political stance and this is reflected in the strength, popularity, and patronage of its members. This is how the Sahmat Collective began as one of the strongest platforms to open up spaces for artists, writers, poets, actors and activists to create and put forth artworks that reflect free egalitarian values that seemed to be missing from the political position of the country.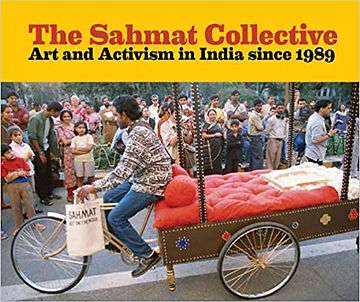 In 1989 Indian political activist, playwright and writer, Safdar Hashmi, was violently attacked while performing with his street theatre group called Jana Natya Manch or "Janam (birth)" during the municipal elections outside of Delhi. A nationwide protest against the political violence led to the creation of Sahmat – the Safdar Hashmi Memorial Trust, the Hindi word for "in agreement."
The collective has had many prestigious members such as Rummana Hussain, known as one of India's first performance artists. She was popular for her participatory performance installations that centered around the themes of activism and social welfare. Her 1995 performance at the National Centre for Performing Arts (NCPA) titled "Living on the Margins" is identified as one of the first contemporary performances from India. Even after her death in 1998, her works have traveled all over the world and will be on display till November 2019 at the "La Biennale di Venezia" curated by Roobina Karode, director and chief curator of Kiran Nadar Museum of Art, Delhi.
The Sahmat Collective has since its emergence been exhibited all over the world and reflects the power of activism in the arts. The collective evokes the power that lies in preserving art as a medium of support. One that is necessary to carry out activism successfully – as the power to bring about change of any kind is through collective action that art as an entity has been generating.
Activism For A Global Audience
The political reflection of the arts has found its place in booths around the world with artists representing India in various exhibitions around the world.
Jitish Kallat is one such artist. In his series Public Notice 1 (2003), 2 (2007) and 3 (2010) Kallat evokes the historic speeches delivered by India's pioneers of independence such as Jawaharlal Nehru, Mahatma Gandhi and Swami Vivekanandaspelled. Kallat began his series in 2003 exhibiting a framed metal sheet cast with deeply cut letters, resembling foundation stones with burnt text. The installation spelled out a speech given by Jawaharlal Nehru on the eve of Indian independence. Kallat mentions the 2003 Gujrat riots as inspiration for his first speech.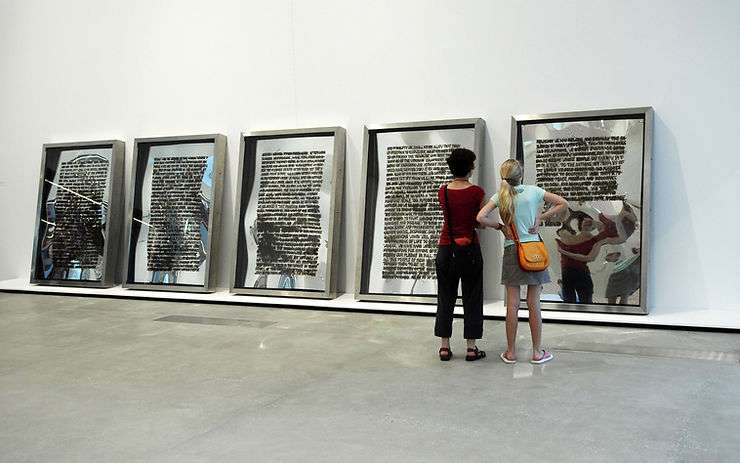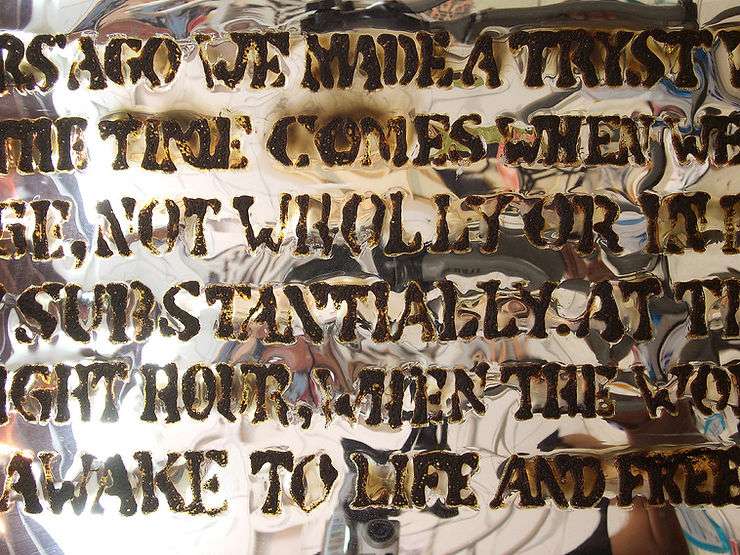 "This was a moment when several of us lamented a certain kind of fundamental segregation in our society," says Kallat as he reflects on the Gujarat riots.
Revisiting historical figures and texts such as the unforgetting speech given by Nehru symbolizes the political narrative of the artwork. This serves as a reflection of the political dichotomy present in the nation. Reminders of the fight for Independence and the zeal with which India's forefathers fought for an equal and secular nation is slowly diminishing but brought back to life in Kallat's work. The frame was cast with deeply cut letters resembling stones with burnt text that spelled out the speech given at midnight on 15th August 1947.
His series followed it's equally popular reception of Public Notice 2 (2007) which evokes the emotions of the monumental speech delivered by Mahatma Gandhi on the eve of the historic Salt March to Dandi. The installation of 4500 bone-shaped alphabets spells out the speech as viewers recall the plea as they walk by.
Kallat reminds us of the Nation's voices such as Gandhi's staring back at us like "discarded relics".
"Each alphabet in this speech like a misplaced relic will hold up the image of violence in clinical clarity even as their collective chorus makes a plea for peace," says Kallat. The speech stands upright like the pages of an open book and was installed at the Kennedy Centre at the Hall of Nations hanging parallel to the rich colourful flags of each country above it. Kallat's artwork has been seen to accommodate a wide variety of topics from criticism of the government, bringing to light class and caste as pertinent social issues and commentary on the globalisation of the economy and India's footing. Kallat does not hold back even in the execution of his works, shifting from painting and photography, to multimedia installations and sculpture making.
Kallat's most recent work in the series Public Notice 3 finds its home in the World's Columbian Exposition in Chicago in its museums' Fullerton Hall. The piece was a site-specific installation and is embedded in the Art Institute of Chicago's Grand Staircase. Public Notice 3 interweaves two pivotal moments in history: The first Parliament of the World's Religions which took place in the Museum and the attacks on the World Trade Centre. Kallat brings together two disparate moments, one of immense celebration and unity, and the other of painful tragedy through the words of Swami Vivekananda at the first Parliament of the World's Religion. Kallat's work successfully manages to knit in historical and momentous events reframing them to suit the current political climate. With a sensitive eye and understanding the possible reception of his art history: of works, the Public Notice series have been exhibited, bought and acclaimed as necessary to create an environment of cooperation and political fervour around the world.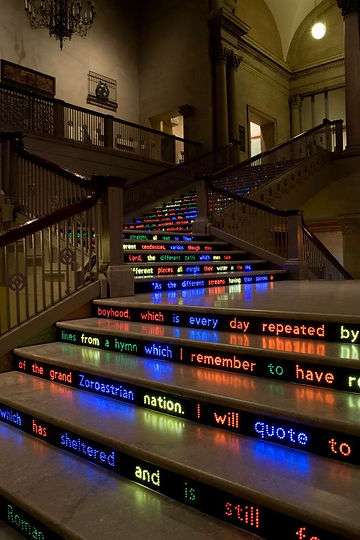 Artistic Satire As A Form Of Activism
It was not very long ago that news of cartoonist Aseem Trivedi emerged in 2012. He was arrested on charges of sedition for displaying cartoons during the Anna Hazare protests that took place in Bandra-Kurla complex in November 2011. The cartoons were said to have been offending, thereby hurting the sentiments of the nation and subsequently removed from social networking sites. This sent shocks not only through the artists that depend on our country's democratic promises but also the public that viewed this artist's dissent. It is not only in the domains of fine art that activism finds a place. Cartoonists such as Aseem Trivedi, Mir Suhail and Suhail Naqshbandi have all been charged with acts of sedition and conspiracy against the government with their portrayals of political illustrations.
Cartoonist Mir Suhail, now the Senior Art Director in CNN-News18 creates illustrations as a satirical take on the current political turmoil of Kashmir. His previous sketches were taken down from Facebook for "violating community standards." Yet artists continue to evoke this form of activism even if it means fighting against the policies and laws that seem to be crushing dissent that led to the arrest of prominent journalist Prashant Kanaujia and the recent emergency imposed on Kashmir.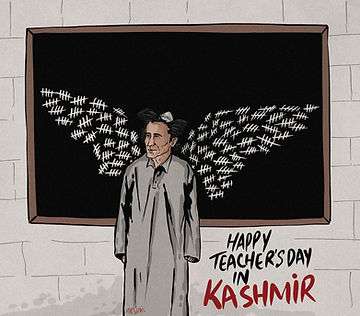 Art has transformed as a medium of activism through its myriad forms – from paintings, sculptures, to intricate pieces of performance art. There have been no limitations when an individual or a group of people feel strongly enough to put forth this expression into carefully visible art forms. Art is known to gather, connect and bring about change in the places that they are situated which is why it has taken on a new kind of purpose: one that allows you to learn and feel, pushing you to question and ponder over events whose discourse would have otherwise been absent from the public sphere. And hopefully, with each step that artists are taking, we are moving towards a safer, inclusive, collaborative and desirable world.