"I laugh at the way some people think graffiti is all selfish tagging and vandalism. Thoughtful street art is like good fiction – it speaks out on behalf of everyone, for us all to see," – Carla H. Krueger.
Visionary street art is free and wild. It bursts forth out into the world from the mind of the artist and the force of the spray paint can, commandeering the street corner on which it stands and inspiring you to be your fiercest self as you gaze upon it.
One reason attributed to the viral popularity of street art is how democratic and accessible it is – a statement against what some people consider to be the elitism of museums and galleries. Another would be the fearlessly uncensored art created, courtesy of the anonymity and pseudonyms that most street artists create under the cover of. We've rounded up a selection of street art from around the world that gets our fires burning and imaginations roaring.
Shamsia Hassani, Afghanistan
It would come as no surprise that a country which has witnessed war and conflict continuously since the Cold War years has some of the best street art on its walls. It would be even less of a revelation that a woman – the gender which has faced the worst brutalization as a result of these wars – is the creator of them. What might astonish though is that she is a university professor – that most staid and conformist of professions.
In 2010 Shamsia Hassani attended a workshop on graffiti by a visiting artist from the UK and had an epiphany about harnessing the power of art to tackle the trauma of war. She says, "I want to colour over the bad memories of war on the walls, and if I colour over these bad memories, then I erase the war from people's minds. I want to make Afghanistan famous for its art, not its war."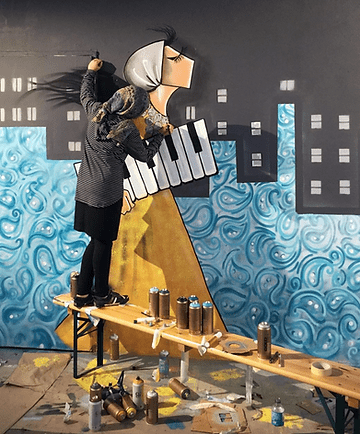 Her vibrant murals over derelict buildings, often featuring burqa clad women, are an ode to the grit and resilience of her people. They are also a testament to her indomitable badassery. She says, "It's very dangerous for a girl to paint in the streets in Kabul. Sometimes people come and harass me; they don't think it is allowed in Islam for a woman to stand in the street and do graffiti." But she's going strong with her art regardless.
Hyuro, Spain and elsewhere
Tamara Djurovic, pen name Hyuro, creates the kind of towering statement street art that stops you in your tracks. The Argentinian born, Spain based artist has created indelible pieces of public art all around the world, ranging from several countries in both South America and Europe. The surrealist style and soft colour palettes of her paintings juxtapose with their strong political undercurrents.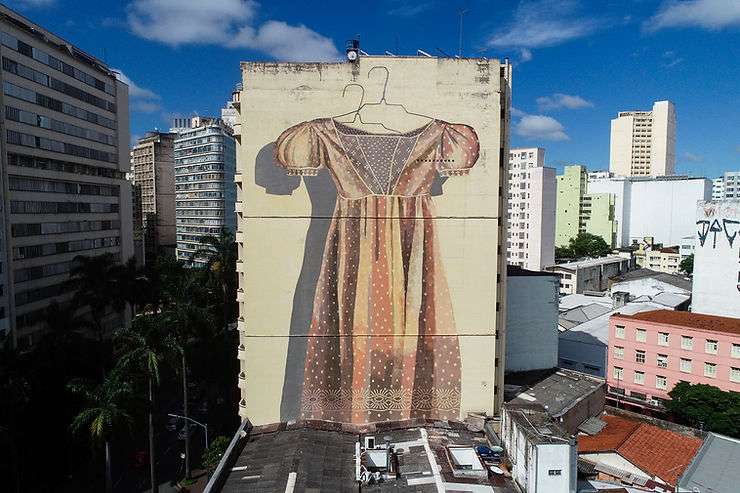 Her black and white women, often painted alone or in the company of other women, challenge stereotypes and social stigmas while confronting the urbanization creeping upon the natural state of the human being. She says, "I'm not interested in these subjects only from a representation perspective, but as well as a way to keep understanding and knowing myself and somehow try to understand, or digest better the world where we live in."
MadC, Germany
German artist Claudia Walde was raised in the former GDR and Ethiopia, the latter being a consequence of her father's work as an agricultural engineer. When the family finally returned to Germany, she keenly felt the pricks of being an outsider. To deal with it, she picked up a can of spray paint and painted her heart out on the streets. Often called Crazy Claudia in childhood, she christened herself as 'MadC' when the time came to choose a pseudonym for her urban adventures. Since her first mural at the age of sixteen, MadC has enjoyed accomplishments and successes in multiple creative fields. But street art still remains her signature form.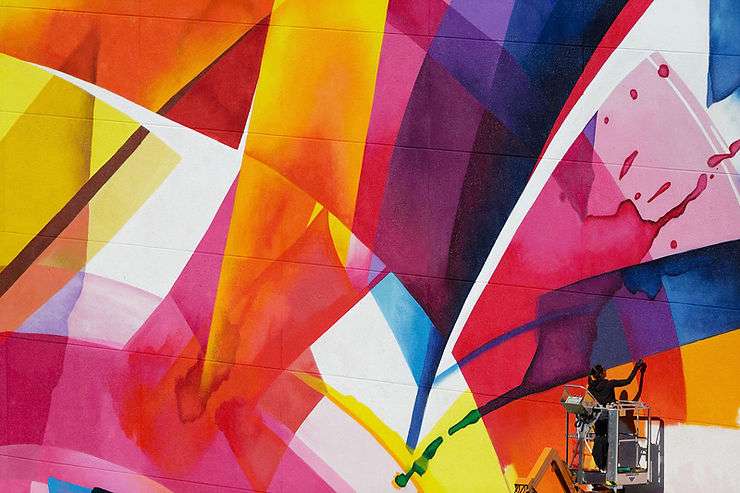 Her reputation as one of the world's foremost street artists began to be cemented with her first international breakthrough – 700 Wall. It's a 700 square metre work between the train lines of Berlin and Halle. The work was unpaid and took her four months to finish. But she'd have it no other way: "I'm definitely first and foremost a graffiti artist. I can't imagine giving up the wall work, that's where my heart is"
Maya Hayuk, USA
Maya Hayuk's bold geometric patterns rendered in large scale forms are a masterclass in vibrancy. She describes her pieces as, 'Bright, massive, intricate and joyful.' She draws on pop culture and art history to create these psychedelic works of art. The symmetrical patterns, with their vivid and catchy colours, thrill the imagination of viewers.
But once you look past their arresting neon colours and criss-cross patterns, a whole new world reveals itself. Mandalas, Rorschach tests, pysanaka – a large section of her oeuvre is an ode to the infinite potential of the universe. Hayuk uses the term 'visual information' to describe the culture and emotions she's trying to channel via the vivid colours and intricate shapes.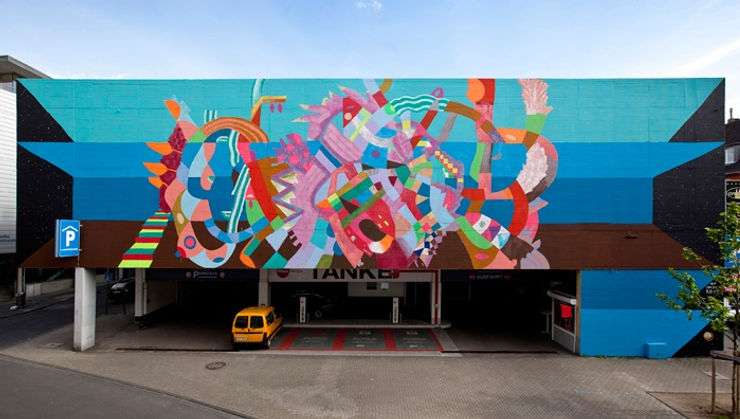 When asked what role the artist plays in a society, she said, "Canary in the coal mine, psychic healer, mirror, critic, activist, personal trainer." She describes her work as play and it's clear how much fun she has doing it.
Anpu Varkey, Delhi
Delhi based Anpu Varkey first encountered street art while living in Bremen, Germany. She had previously studied art in Baroda and London and had her first solo show in NYC in the summer of 2008. But street art has, since, become her first love. She says, "I shared a studio with different artists, some of whom were writing actively on the streets. I was immediately drawn to their tales of love in the city, as well as how they expressed these experiences with paint. Slowly, I made my first stencils and paste ups on the streets there."
Her signature cat themed murals spring from her love for her beloved pet feline. She even published a graphic novel in 2014 which tells the story of a day in the life of her cat. The colossal mural of Mahatma Gandhi at the Delhi police headquarters was a product of collaboration between her and German artist Hendrik Beikirch.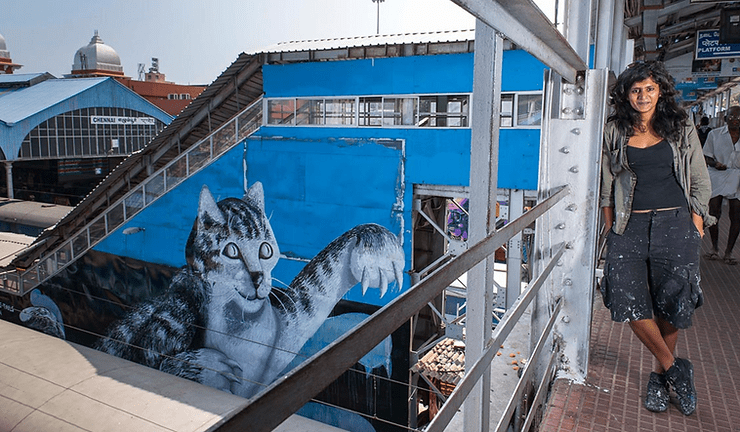 Alice Pasquini, Rome
"I already knew that my life would be connected with art but if you'd told me that graffiti would become a 'job' I would have laughed at you," said Alice Pasquini in an interview. Yet it is her street art for which she is most well-known today. It explores the bright side of human relationships. Love, kindness, friendship, affection and joy find lovely modes of expression through her exuberant art.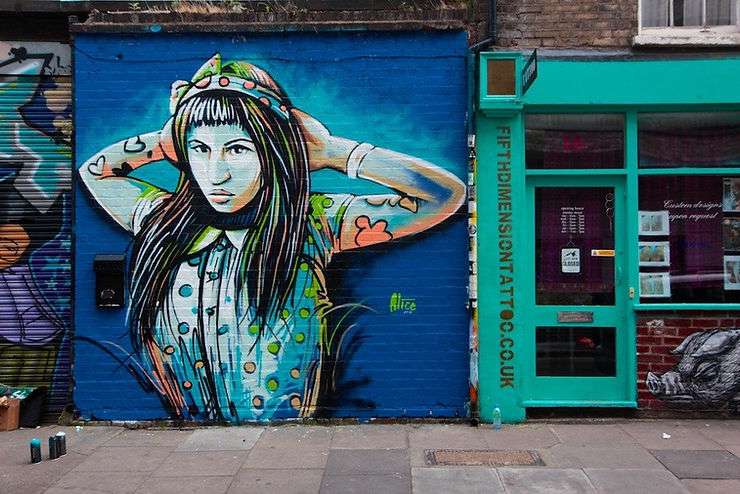 We hope this (by no means exhaustive) list kindled your enthusiasm for the evocative beauty of street art. It would be worth your while to keep these destinations in mind as you make your next travel plans! Or you could, like us, make the most of being a citizen by gazing at them obsessively over your screens.
Image courtesy, artist's own.