Kumaresan Selvaraj's ongoing exhibition 'Line of Sight' is a layered showcase. Each piece in the series opens up the boundaries of meaning, etymology, and interpretation with its use of colour and texture. Since graduating from Madras University with a BFA in Painting in 2005, Selvaraj has been part of numerous group and solo exhibitions across the stretch of the country. He works from his studio in Chennai where both creative and cognitive meditations inform his art.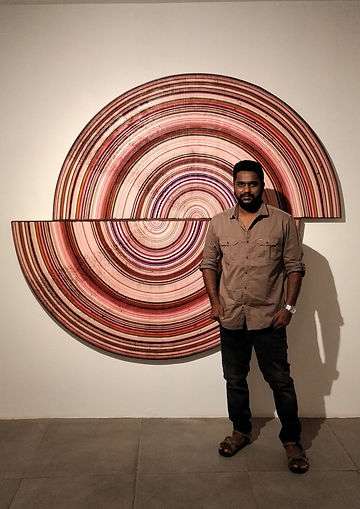 His first solo show at Exhibit320 brings the artist's poignant subjects and sculptures back to the capital. We sat down with the artist to dig a little deeper into the backstory of his current exhibition and the inspiration and artistic process behind his work.
Tell us a little bit about your show at Exhibit320, 'Line of Sight' and the inspiration behind the work.
I consider the human tendency is, we are addicted and habituated which does not allow the mind to be empty even for a moment. Do we need this emptiness? Most of my recent work is related to how I am occupied with or without my consciousness and exploration of life as I experience it. When I consider a thought from my unconsciousness and focus, it eventually becomes conscious. My work titled 'It Ends Where It Starts' depicts my thoughts from start to the end of a process that loops back to the same point where I started.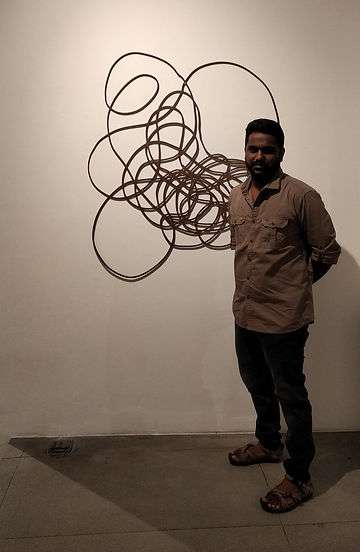 You work with a lot of interesting mediums like discarded paper, wood and metal. What inspires your choices?
The variety of the medium used in all my works is not proportionate to the mediums I know or the mediums I have experienced. It is the idea of the work, which is the primary factor for the choice of the medium. I do not choose my medium or material and then begin to work. When I get into work, each work demands a set of material. That's how I explored the various mediums for all the works.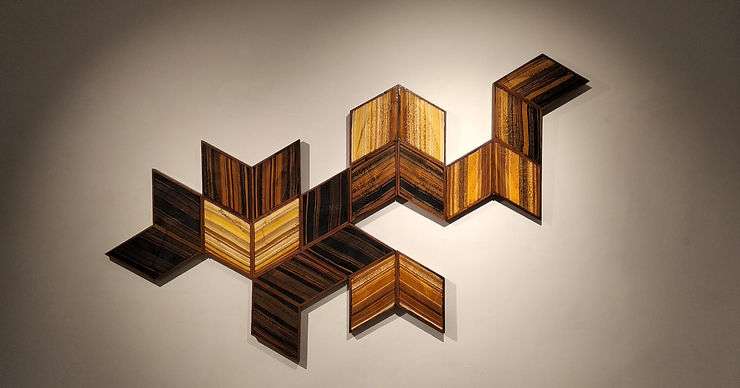 Talk us through your process – where, when and how do you create?
I create my works in my studio space. Studio for me is not just a space where I work or create artworks, but also a virtuality in which the thought process happens. I assume myself to be present in this reality of space to create artworks but the actual work happens in my thoughts and perceptions. All my projects are long term. I will be working on one major project, at the same time I may be finishing up a previous project.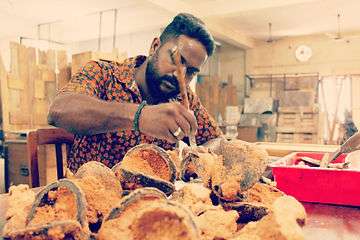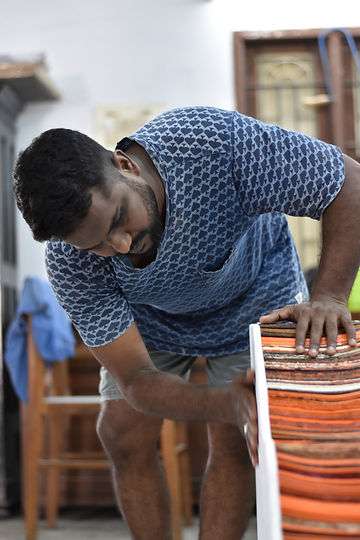 Are there any particular artists or people who have influenced your style?
There are many artists and people who have inspired me. I had admired the concepts of certain artists, visuals, and techniques from some artists and have been inspired by a few technicians.
Some of the artists that have inspired me are Spanish artist Eduardo Chillida, American artist Cy Twombly and Indian artists L. Munuswamy and A. P. Santhanaraj.
Tell us about what you are working on currently.
I am fascinated by lines. If you think about it, our world is composed of lines both real and imaginary. My next work might be about this.
'Line of Sight' is on view at Exhibit320 until 12 September 2019.