In this unprecedented crisis, we have seen many new practices emerge – working from home, bettering our culinary skills, watching and reading more news than we ever have, and reacting to it too. Mindlessly scrolling over social media has a new term now – doomscrolling. We're surrounded by crises that all have a spotlight of their own. In such a time, various organisations and collectives have come forward with ideas to provide social relief through the arts. Throughout the pandemic, we have seen people trying to lessen the burdens of these times – through workshops, webinars, Instagram lives, online exhibitions – finding better ways to inspire people in helping communities. There are numerous successful examples of these, these are some of our favourites!
Capturing the world in a moment of need – Prints For India
During the lockdown, many people turned to the arts, and artists turned to the people in need of help. Four photographers, who met during the Magnum photos masterclass conducted by Martin Parr earlier in the year, started Prints for India, a collaborative initiative to use photographs to raise funds for the COVID-19 crisis. In a conversation, they told us, "We had been in touch with our local producer (and photographer) from the workshop, Ravi Mishra, who was using his own time and resources to deliver ration packs to those most in need. Ravi's example was a major inspiration for us to follow suit."
Over 70 photographers worked with the project to create a print sale. Being placed in different parts of the world, they heavily relied on social media and technology to work together. Prints for India featured some of the most fascinating contemporary photographs, evoking a sense of shared humanity and community in times of isolation.
You can take a look at this project here.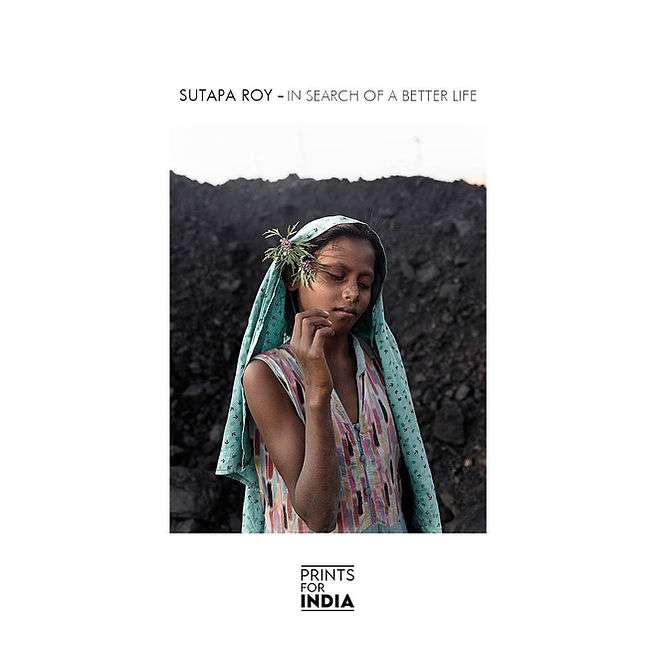 Exploring new mediums of art and donation – The Plated Project
In a completely different medium, The Plated Project sells custom plates, raising funds to help the migrant crisis in the country. The inspiration was a simple ad on Instagram – it said, "hunger kills more people every year than aids, terrorism and malaria combined". In this initiative, every plate sold accounts for 60 meals that are provided to the migrants. Giving an insight into their process, they told us, "The team starts by picking one hunger-related fact or charity every month and then finds interesting ways of raising awareness of those using art."
Staying true to its motto –Art Against Hunger– they have covered the themes Childhood, Daughters, A Quarter of Nostalgia and a Plate Full of Hope and have worked with over 30 artists to create artworks. One of their themes, A Quarter of Nostalgia, was meant to spotlight that one in every four kids in India is malnourished. Sharing a BTS glimpse, they told us, "Childhoods are when our happiest memories are created. However, it's tough to create happy memories on an empty stomach. So we briefed our artist collaborators to depict the happiest memories from their childhoods as the theme for this series. We asked them all to leave 1/4th of the plate blank to draw attention to the malnourishment ratio. The goal was to use profits to sponsor mid-day meals for kids in schools." Started as an offline endeavor, they've shifted towards digital and use their social presence to curate talent from around the world and collaborate with them for the artwork.
You can find more about this initiative here.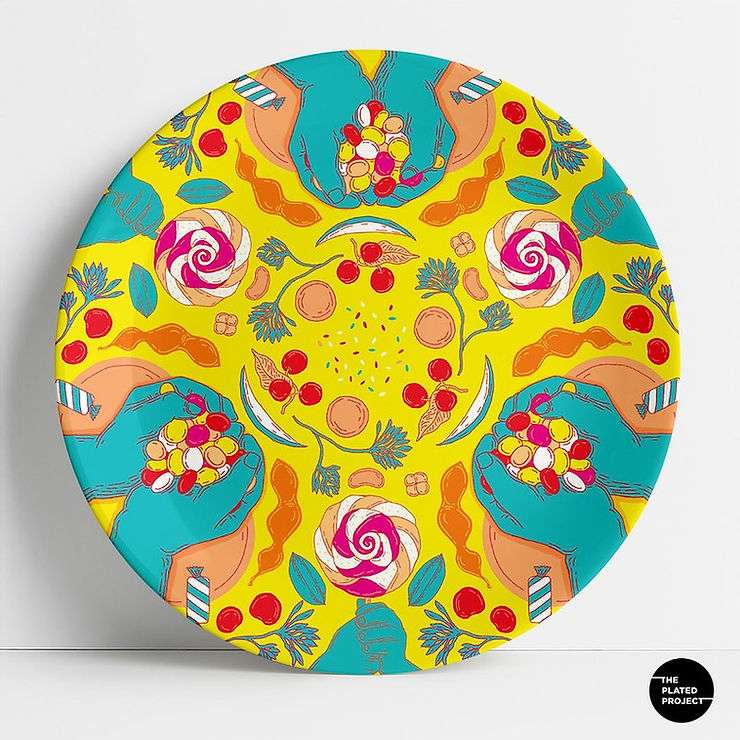 Sewing together our stories of shared isolation – The Corona Quilt Project
Where there are online projects, there are offline too! The Corona Quilt Project aims to create a quilt installation of drawings sent to them. Art critic and theorist John Berger believed that there is something inherently autobiographical about the act of drawing. He said, "Drawing is a form of probing. And the first generic impulse to draw derives from the human need to search, to plot points, to place things and to place oneself." This project attempts to give a voice to the shared versions of this pandemic through drawings. If I may say so, Berger would have been extremely enthusiastic about this.
One can participate by mailing a physical square with a drawing or sending it digitally. Through the quilt installation, the project wants to communicate that we are not alone in the pandemic – they say, "Your square connects you to others while we are all physically apart."
You can find more about the project here.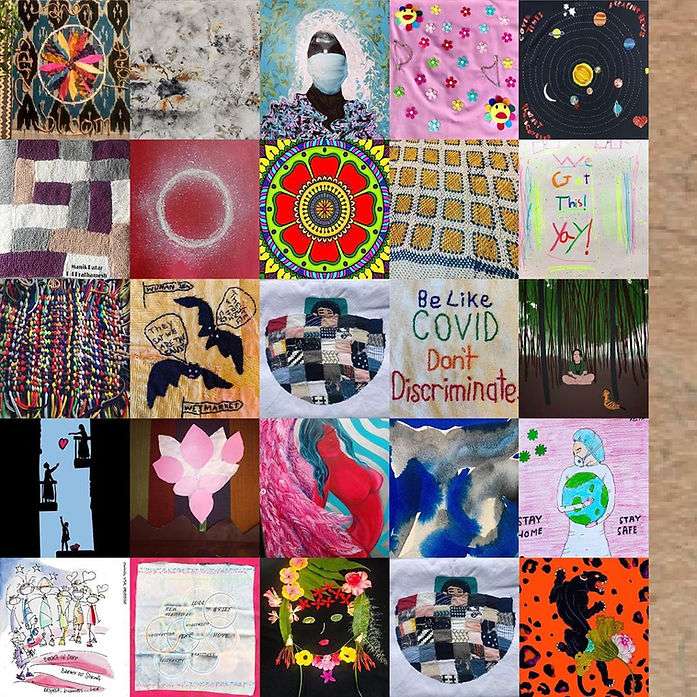 Adapting and collaborating for change – Art Work for Heartwork
Art sales have never been more vibrant! This initiative by Art&Found is part of the on-going #Heartwork campaign by Smile Foundation powered by LAY'S. The proceeds from the artworks sold go to buying PPE and hygiene kits for farmers, truck drivers, daily wagers and other people who continued their outdoor jobs during the pandemic. Through this project, they have tried to leverage the potential of art as a medium to generate momentum and bring together people's creativity.
Over 100 artists, emerging and established, have been a part of this project, sharing their unique artistic styles and helping the cause simultaneously. The art community in India has adapted and adopted new means to donate to charities in such ways, presenting the people an amalgamation of craft and empathy. In a conversation with us, the team at Art&Found said, "The on-going challenging times have impacted consumers' lifestyle and behaviours. People across generations are spending more hours indoors than ever before, whether it is working from home, content streaming, gaming, e-learning or e-shopping. Seeing this significant uptake in the consumption of digital content, we have adopted a digital-first approach for this campaign." The artworks are sold on a dedicated digital art gallery on their website.
You can find more about this here.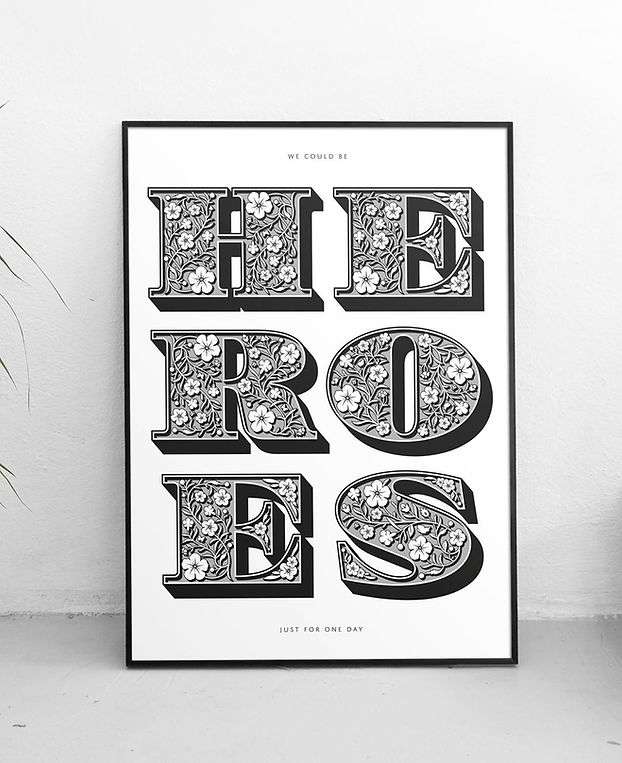 Art meets Charity at Quarancharity
There's a lot to learn within the arts! Quarancharity was founded during the lockdown to curate and organise online events, the proceeds from which are donated to migrant workers, underprivileged families and animals in need. Quarancharity has hosted various experiences so far, providing skill-based learning experiences from various industries – art, food, journalism, fitness, fashion, design and many more. In addition to this, they also sell artworks by artists and photographers to raise funds. With the pandemic halting various avenues, this initiative has helped to bring new opportunities to our digital screens!
Read up on their upcoming events here.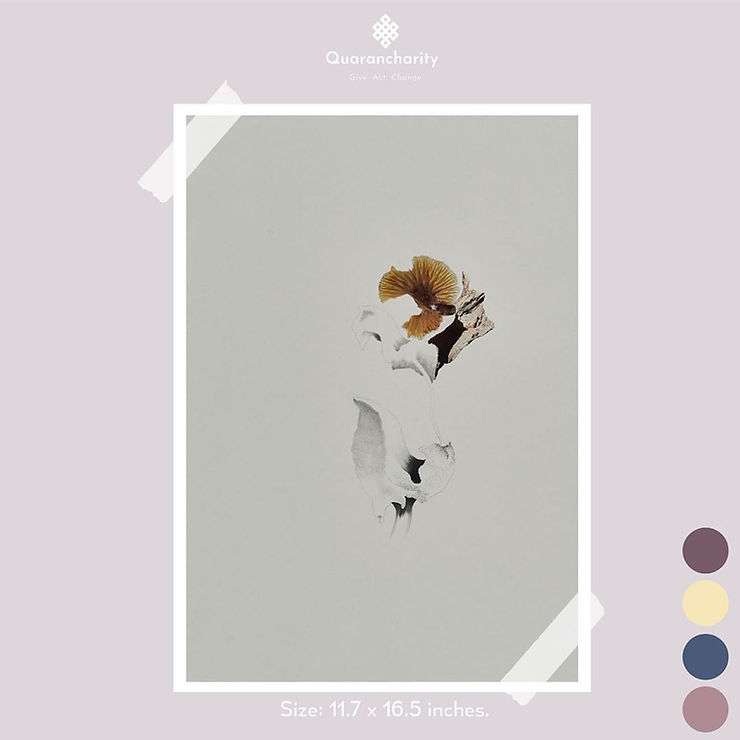 Sowing seeds for a better future – The Confluence Collective
The Confluence Collective gave the opportunity to financially aid tea garden workers in North Bengal through a print sale conducted on their social media. The organisation is a group of artists from the marginalised region of Darjeeling, Kalimpong and Sikkim. Works by over 15 artists were sold for the initiative, out of which four were from the Confluence Collective. Dipti Tamang from the organisation believes, "A collective in our region was necessary because art is just blooming here and is in its early stages and a collective can take the responsibility of educating the mass about the art movement which is near to impossible to do individually." The initiative has helped workers at the tea gardens whose daily wages had been decreased during the pandemic and had little assistance from elsewhere.
You can find more about them here.
"What is it that artists do?" Kurt Vonnegut famously said in a speech, "First, they admit they can't straighten out the whole universe. And then second, they make at least one little part of it exactly as it should be." These inspiring artist-led projects try to do the same! With so many fires raging across the world, art has proven to be a respite – as a profession and a hobby, as a distraction and a passion, as a social aid and a learning experience.
Looking to appreciate art with a companion? Check our picks for art books here!