It's the end of the year and our Spotify round-up has reminded us that our taste in music might need some work. To remedy the mess that was our #spotifywrapped we're sharing a shortlist of 3 songs every art lover needs to add to their playlist right now. Hopefully, next year won't show up in genres like "pumpkin spice melancholy" – what even is that?
1. Ottorino Respighi – Trittico Botticelliano (Botticelli Triptych) for orchestra, 1927.
For the Traditionalist Art Persona! Is it even surprising that not one but three of Boticelli's artworks inspired Ottorino Respighi, an Italian composer, violinist, teacher, and musicologist and one of the leading Italian composers of the early 20th century to compose a Triptych? The artworks? Primavera, L'adoriazione dei magi (The Adoration of the Magi) and La Nascita di Venere (The Birth of Venus).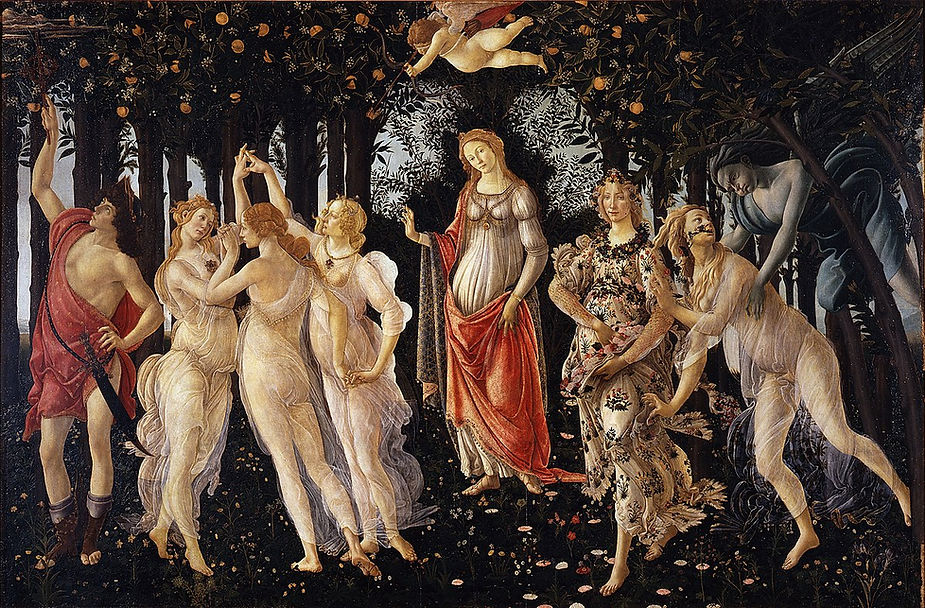 2. Jay Z – Picasso Baby, 2013.
For the New Age Art Persona! This one is unapologetic and extravagant. Filmed at the Pace Gallery, Chelsea, the music video features the world-renowned performance artist Marina Abramović among others. The 2013 single by the hip-hop mogul is filled with irreverent references including the Tate Modern, Jeff Koons and Leonardo da Vinci himself.
Our favourite bit is when Jay-Z envisions a "house like the Louvre or the Tate Modern" with a "yellow Basquiat in my kitchen corner" – all we have to say is *chef's kiss*
How many artworks and art world and pop culture personalities can you spot?
3. David Bowie – Andy Warhol, 1971.
For the Mixed Bag Art Persona we have this classic tribute to Andy Warhol with David Bowie making sure we all know Warhol's pioneering leadership of the Pop Art Movement. Whether Warhol appreciated the ode or not is a whole other matter. Regardless, the enigmatic lyrics and mesmerizing song is good enough reason for you to add this to your list stat if it isn't already.
Commenting on Warhol's signature look, David Bowie writes:
"Andy Warhol looks a scream
Hang him on my wall
Andy Warhol, Silver Screen
Can't tell them apart at all"
Did you know that in 1996, Bowie would go on to play Warhol, donning the artist's signature silver wig, for Julian Schnabel's Jean-Michel Basquiat biopic, Basquiat.
Want to know what Art Persona you are? Take the AF Art Persona Quiz now and get personalized art recommendations straight to your inbox today!