The eleventh edition of India Art Fair was brimming with new projects and collaborations, presenting international galleries and artists never seen before in the subcontinent. Offering the best of the Indian visual arts scene packed into four days, India Art Fair brought together a diverse range of work giving us plenty (and perhaps too much) to explore. This year saw not only the most significant artists in the contemporary arts scene in India, but the biggest and most current artists internationally, bringing the best of international contemporary art to India.
Here are some of the highlights, with focus on the international artists at the fair.
Ai Weiwei's India Debut
Making their debut in India, Berlin based gallery Neugerriemschneider showcased work by Chinese contemporary artist and activist Ai Weiwei. Known for his highly political and provocative work, Ai Weiwei's work spans sculpture, film, photography, and music.
Olafur Eliasson Sparks Conversations
Another first in the country, Olafur Elaisson's installation Continued Infinite Conversation was displayed as part of the curated walk 'Of Geometry'. Eliasson's work explores the perception of space and reflection, with this specific piece an optical device that transforms as the viewer's eye traces the arrangement.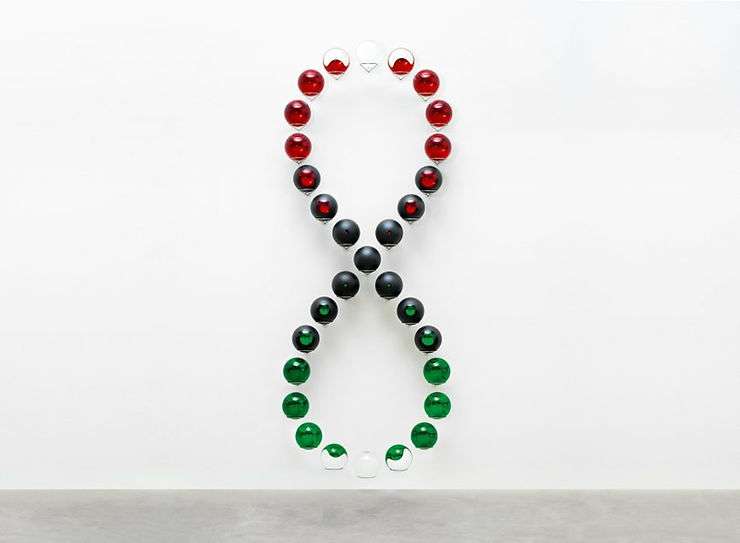 Thomas Ruff – Another First
Represented by David Zwirner Gallery, contemporary photographer Thomas Ruff's work made yet another debut in India. Highly experimental, Ruff engages with photo manipulation, scale, and details, and his exhibit studied the history of the camera through archival colonial photographs.
Zarina Hashmi Returns
US based Indian Artist Zarina Hashmi grew up in post partition India, and her practice addresses themes of memory, home, displacement, trauma, and borders employing a minimal cartographic style. Represented by Gallery Espace, Hashmi's work is as relevant now as ever, encouraging dialogue around topics of exile.