Our previous blog "Two Heads Are Better Than One" celebrates the lesser-known artist duos that have catapulted performance art, installation, architecture, design, and painting to greater heights by questioning existing ideas of gender, sexuality, consumption and the many biases that seep into our political and social systems. Some of the artists have expanded our ideas of creativity and genius, by pushing their bodies and minds to bring us celebrated works of art that pursue these challenges and even provide solutions to them through their work.
It's safe to say that collaboration has been the bedrock of community, and we humans have been working together since time immemorial.
How can we work together to bring about changes in society through art, and how can the power of art transform the locations where these artworks are housed?
One answer to this lies in the transformative power of Public Urban Art. Once a subversive medium, graffiti and street art provide agency and indicate immediate social and economic changes to the communities and spaces that are involved.
Omkar Dhareshwar of Wicked Broz, an organisation dedicated to supporting and celebrating graffiti artists from around the world, talks about graffiti duos and how they're changing the world, one wall at a time.
Aristotle said, "Society is something that precedes the individual. Man cannot live alone and break the shackles of mutual dependence".
What began as living and hunting in packs has now permeated all aspects of human existence. Even something like street art and graffiti, which is viewed as a predominantly individualistic art form, is often accentuated when done in groups. The coming together of complementing styles, expressions and not to mention teamwork is something truly phenomenal.
In this piece, we cover some of the world's most influential graffiti and street art duos who show us that working in pairs truly has the power to bring to life something magical. From creating the world's biggest murals and doing impressive gallery shows to creating breath-taking installations, these duos have done it all and represent the raw power that comes with collaboration.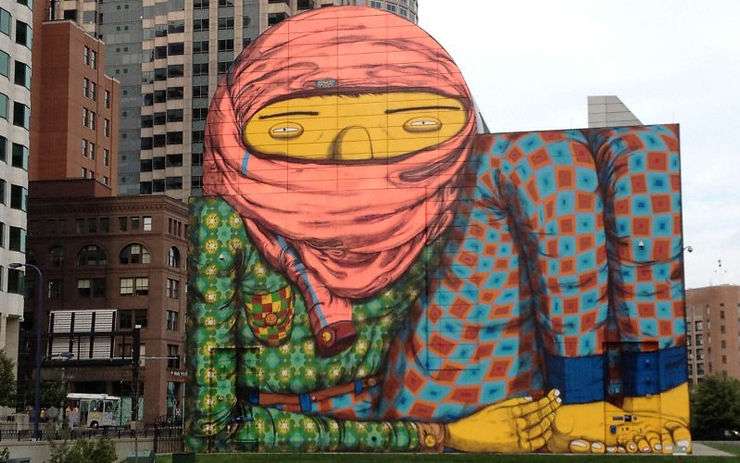 Os Gemeos
It's impossible to talk about graffiti duos and not mention Os Gemeos. This pair of identical twins from Brazil have been a major force in the world of graffiti and urban art.
Os Gemeos (or 'The Twins' in Portuguese), Gustavo and Otavio Pandolfo have always worked together. Known for their surreal murals which showcase a dream world through their yellow-skinned figures, they have been highly influential in creating a uniquely Brazilian style.
Famously, they were commissioned to paint the Brazilian football team's official Boeing 737 aeroplane for the FIFA 2014 World cup, using over 1200 spray cans to depict the diversity of the Brazilian culture.
With the introduction of Hip Hop culture in Brazil in the 1980s, the twins used the streets as a medium to communicate their own magical world with the public. Soon enough, they transcended the limitations of spray-painted graffiti and started working on complicated murals which represented the social and political situation in Sao Paolo. They believe in the power of dreams, and their art is a mixture of the stark reality of their surroundings and the magical world of their imagination.
They have held numerous shows in museums and galleries across the world, especially in South America, the USA, Italy, Spain, England, Germany, Lithuania and Japan.

Ella & Pitr
The story of Ella Pitr is the stuff that fairy tales are made of.
Pitr was a vandal and a proud tagger, and Ella was a comic actress wanting to communicate with a larger audience using posters, a bucket and glue. The two happened to bump into each other one stormy night, and the rest, as they say, is history. The couple from Saint-Etienne started an artistic collaboration focusing on urban art projects in 2007.
The super team specialises in converting walls, roofs of houses and the streets into unlikely canvases and the true scale and magnificence of their art can only be grasped from drones, planes and helicopters.
Their ability to make massive surreal giants in the most unimaginable of places wins them a spot on this list, and in our hearts. They set the world record for the largest mural in 2015, with their 21,000 meter-square artwork titled, 'lilith and olaf' in Norway, only to beat it again in Paris in 2019. Their artwork titled, 'What will be the weather tomorrow?' is a timely socio-political warning against the sad state of affairs regarding the fight against climate change.
In 2019, they visited India and painted a couple of pieces titled "The Dance of Joy" and "Giligili tickles" at Mahim Art District for St+Art.
Ella & Pitr love to paint on rooftops because of the good vibes there, and because they get to speak with the birds and listen to the distorted city sounds.
As far as the medium is concerned, they use everything that they can find. A small giant in Chile made of chalk and coal, and a mural made of seaweed stand a testament to this.
With their amazing chemistry and the synchronicity of their styles, Ella & Pitr truly take couple goals to a whole new level!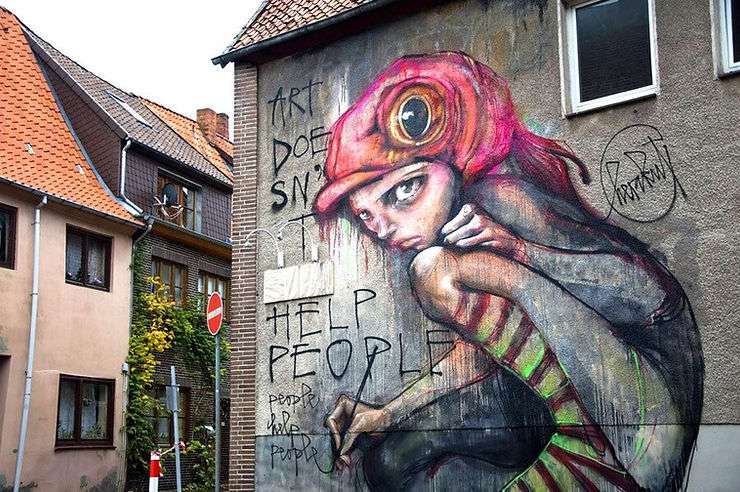 Herakut
Herakut is the amalgamation of 2 contemporary German artists, Hera and Akut. While Hera brings the more traditional art styles to the table, using acrylic paints and charcoal, Akut represents the graffiti element in their art with his photorealistic spray-painted murals. They met in 2004 at the Urban Art Festival Sevilla, and have been painting together ever since.
They aim to beautify the dark spots of a city and spread positivity by talking of life and humanity in their art. They realised that art has the potential to influence society for the better. More than half of Herakut's work is dedicated to charitable causes. They have painted to support children in need all over the globe, from a home for abused children in Frankfurt and a Syrian refugee camp in Jordan to an orphanage for Palestinian refugees in Bethlehem and to helping troubled teenagers in a drug rehab program in Miami.
It is worth noting that there is nothing common in their individual styles. It is pure brilliance when Hera's bold strokes and Akut's photorealistic blending come together along with texts to help the audience enter the narrative. Together, they aim to depict stories of triumph and discomfort through their art.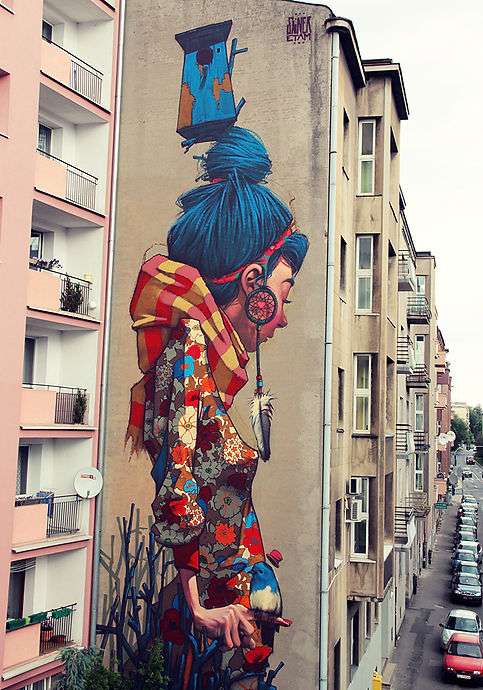 Etam Cru
Etam Cru is a Poland-based graffiti duo composed of artists Sainer and Bezt.
They met while studying art at the Academy of Fine Arts, Lodz and have been painting together since their graduation in 2010. Their work is considered to be among the most influential street art in Poland.
They are well known for creating fantastical murals of epic proportions. Walking across their artwork will transport you within an East European mythical tale, complete with mushrooms, magical animals and human figures that defy the laws of physics.
The duo often paint dynamic murals, packed with action and movement that reminds you of classical graphic novels. Sainer generally paints humans, while Bezt focuses on animals. Their generous use of saturated colours and mysticism helps in creating the most breath-taking artworks. Although a lot of their murals have a tinge of pain and sorrow in them, they also like to play with humour and sarcasm.
Throughout their career, they have done various exhibits across the globe, including Europe, the USA, Dubai and Australia. They have painted at some of the most renowned international art festivals, like the Richmond Festival (USA), Nuart Festival (Norway), Wonder Walls (Australia) and Memorie Urbane Festival (Italy).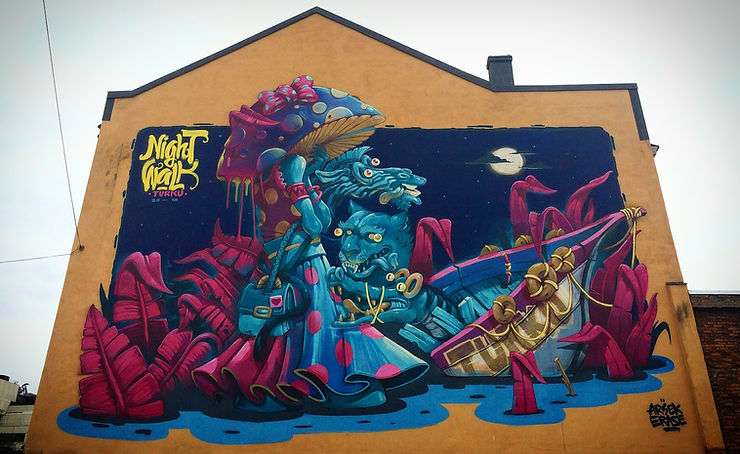 Arsek & Erase
Arsek and Erase started doing graffiti in 2000, and have since gained massive popularity in Bulgaria and the rest of Europe. Their artworks are based on two important pillars of street art – illustration and surrealism. Their art has their signature bright colours and larger-than-life characters that are inspired by nature and their surroundings. They have painted extensively throughout Europe, China, Russia, Taiwan, El Salvador and the USA.
Their years of experience painting walls and canvases has yielded them a unique style and a sublime understanding of colour and form. They are a very influential artist duo in Europe and have been pushing the envelope at beautifying landscapes over the past 2 decades.
The coming together of distinct styles and disciplines opens up a whole new world of possibilities!
It seems that artist duos can dream and execute in ways that never seemed possible for individual artists. Just as a canvas gets better with each stroke and colour added to the mix, the same phenomenon is visible when studying the collaboration of street artists.
Did you like the list we compiled for you? Do you think we've missed out on some notable mentions?
Do let us know in the comments section below!
Note :
We hope you enjoyed our first guest blog by Omar Dhareshwar of Wicked Broz, an organisation dedicated to supporting and celebrating graffiti artists from around the world.
Opening up larger conversations about street art, How can public urban art transform and help us reimagine the cities we live in? What are the immediate impacts that street art can have on communities?
To delve deeper into street art from around the world, reimagine urban spaces as instruments for accessible and democratic art, and discuss the future of street art in a post- pandemic world, head to our Youtube Channel where we spoke to Giulia Ambrogi, co-founder of St+art India Foundation, and the curator of India's first art district in Lodhi Colony, Delhi along with Sumona Chakravarty, of the Kolkata based artists collective, Hamdasti, about the role of street art as a catalyst for social change, as part of our multidisciplinary online arts festival #AFWeekender2021 here.