From resistance and debates to unexpected resignations, from records broken to artist discoveries (literal digging-the-earth discoveries), 2018 has been a happening year for the art world. Here are our top 10 picks from people and artworks that made news in the art world.
1. "Shocking" Bouquet of Tulips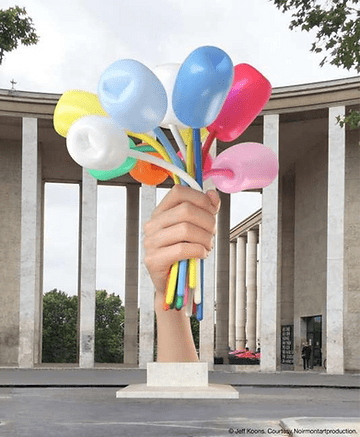 Has a gift ever been so hard to give? In the wake of the 2015 Paris terrorist attacks, when Jeff Koons offered to gift the city of Paris, "Bouquet of Tulips", a massive sculpture featuring a hand holding a bunch of multi-coloured balloon tulips, Parisians raised a number of quibbles: the locale was unsuitable; the selection of Koons with no public consultation was inappropriate; the work was simply in bad taste; and it was too expensive. (Koons only gifted the idea, not the $4.3 million execution and installation costs).
However, in early October, a consensus was reached, as the locale of the structure was decided upon and it was pledged that the project would be financed by private money, and not by the French taxpayers. It still needs a green light from the French authorities, so the saga may not be over yet.
2. The Met makes admission fee mandatory, for some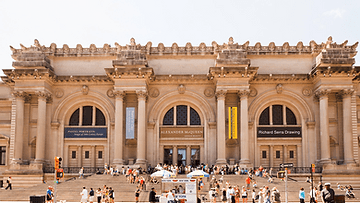 For the first time in 50 years, the Metropolitan Museum of Art will be charging out of state visitors a mandatory admission fee of $25. This move represents a major change to a longtime policy that allowed everyone to pay what they wish to visit America's largest art museum. The leadership of the museum felt that the move was necessary to provide a reliable income stream and ensure long term sustainability.
The shift has led to protests and debates all across the art world as New York Times art critics argue that the policy is classist and nativist. "It divides people into categories- rich and poor, native and foreign".
3. Sit on This! Trump's Golden "Throne"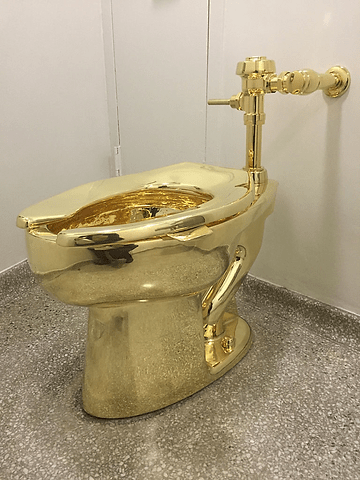 The art world joined in with its jokes on the American president this year, when Nancy Spector, Guggenheim New York's artistic director and chief curator, made a very daring offer to the White House. When Donald Trump's administration asked to borrow Van Gogh's "Landscape with Snow" (1888), Spector- an outspoken critic of the president- declined. She emailed Donna Hayashi Smith of the White House's Office of the Curator with an alternative: "No, you can't have Van Gogh's "Landscape with Snow" (1888). How about "America" (2017)?"
Incidentally, "America" is a solid gold commode by Italian artist-jokester Maurizio Cattelan. The work's message is clear, a sardonic commentary on wealth inequality in the world's wealthiest country, as Cattelan says that the piece is a "one-percent art for the ninety-nine percent". The toilet was subsequently available in a Guggenheim lavatory for use by the museum-going public. According to Spector, the toilet was available "should the President and First Lady have any interest in installing it in the White House".
4. Brooklyn Museum comes under the gun for hiring a white woman as curator for African art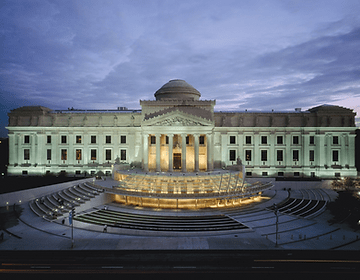 Brooklyn Museum announced this March that it had hired a white curator for African art, to much protest from the art world and indigenous struggle groups regarding the supposed "curatorial crisis".
Kristen Windmuller-Luna, the person in question was backed by Brooklyn Museum's curator, Okwui Enwezor (who happens to be her former teacher) and the director, Anne Pasternak. Enwezor commented, "the criticism around her appointment can be described as arbitrary at best, and chilling at worst", and the director noted that while she felt that the protest was based on some fundamental misunderstandings and untruths, she also understood that "the ultimate, fundamental point was that there has not been enough diversity in art institutions, and that people's histories have been either ignored or they've been wrongly framed or they've been spoken down to."
5. Kerry James Marshall vows never to make public art again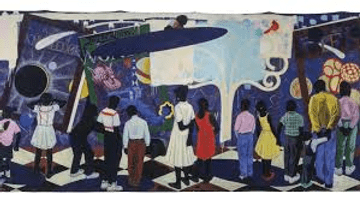 Upset and disillusioned, Kerry James Marshall vowed never to make public art again when Chicago revealed it was going to sell the painting he had made for the Legler public library on Chicago's West Side back in 1995. "Knowledge and Wonder", which was created specifically to hang in a library, was set to fetch between $10 million and $15 million at Christie's New York on November 15, before it was withdrawn from the auction after Chicago reversed its decision.
At the time of its creation, the city had paid just $10,000 for it. When the city announced plans to part with "Knowledge and Wonder", it was especially galling to Marshall because he had recently done another mural in Chicago, which is now on the facade of the city's cultural center, for a symbolic fee of just $1. "It just seemed like a way of exploiting the work of artists in the city for short-term gain in a really short sighted kind of way," Marshall commented.
6. Shredder shredder on the wall, who's the greatest of them all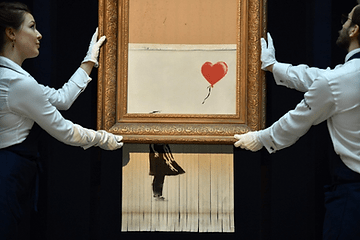 On October 6, 2018, British artist Banksy made world headlines when "Girl With Balloon" (2002) sounded off an alarm and began to self-shred as soon as the hammer went down on it for 800,000 pounds in Sotheby's London. Telephone bidders and others present in the room were shocked and horrified as they watched the painting shred itself while in its frame. It was later discovered that the shredder had been installed by Banksy well in advance, for this very moment. How did the shredder get past the authorities? Another art world criticism by Banksy or a marketing gimmick? Many questions are yet to be answered but one thing is for sure, Banksy's anti-authoritarian artwork never ceases to amaze!
Serendipitiously, the controversy surrounding the artwork and the shredder has increased the value of the artwork.
7. Jenny Seville 'Propped' at the top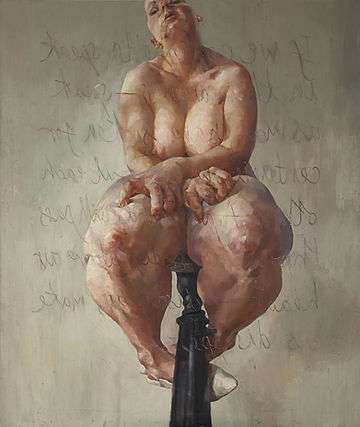 Jenny Saville's masterfully seated nude self-portrait "Propped" (1992), which features the artist gazing down at the viewer, with a long quotation from a feminist French critic scribbled across the canvas, made a record shattering $12.4 million against an estimate of $3.79 million to $5.1 million at Sotheby's London.
It was contested by eight bidders in a marathon ten-minute bidding battle, ultimately won by an anonymous telephone bidder represented by Helena Newman, Sotheby's worldwide head of Modern and Impressionist art.
It not only made a new mark for a Saville at auction, but also broke records for the most ever paid at auction for the work of a living female artist, by surpassing Cady Noland's "Bluewald" (1989), which went for $9.8 million at Christie's New York in May 2015.
8. Back to the Future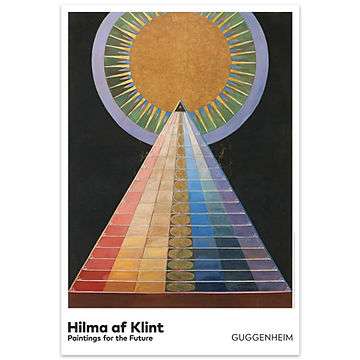 When we think of names associated to the abstraction movement, we think of artists like Wassily Kandinsky, Kazimir Malevich, Piet Mondrian. However, it turns out this territory had already been explored by Hilma af Klint, who began creating radically abstract paintings decades ago before any of these names surfaced, in 1906.
Tracey Bashkoff curated Hilma af Klint: Paintings for the Future, the first major solo exhibition of the artist's work in the United States, which has been on view at the Guggenheim New York, since October.
Her paintings were unlike anything that had been seen before: bold, colorful and untethered from any recognizable references to the physical world. She kept her groundbreaking paintings largely private and rarely exhibited them, convinced the world was not ready to understand her work. This work was stipulated to be exhibited after her death decades after their creation.
Aptly named "Paintings for the Future", the exhibition ironically makes us want to go back in time and rewrite art history.
9. Bend a knee for Hockney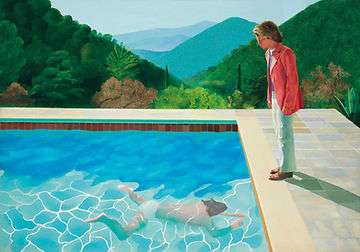 David Hockney's 1972 painting "Portrait of an Artist (Pool with Two Figures)" soared to $90.3 million at Christie's New York in November, smashing the record for the highest price ever paid at auction for a work by a living artist, surpassing the auction house's re-sale estimate of about $80 million.
It followed a bidding war between two determined would-be buyers once the work hit $70 million. The painting depicts a man in a pink jacket looking down on another figure swimming underwater in a pool.
Hockney's previous auction record was $28.4 million and the previous record for the most expensive work by a living artist was held by Jeff Koons' orange sculpture "Balloon Dog", which sold for $58.4 million in Christie's New York in 2013.
10. Rule-breaker. Rain-maker.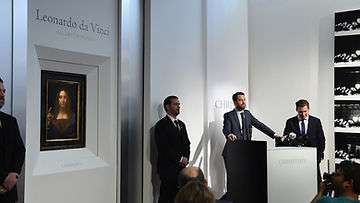 After seven successful years with Christie's America, Loic Gouzer decided to step down as co-chairman of Post-war and Contemporary art. Gouzer led record-breaking historical sales of Da Vinci's "Salvatore Mundi" (1500), which is the most expensive painting ever sold at auction, (in partnership with Christie's Old Masters department) and David Hockney's "Portrait of an Artist" (1972), which made a new auction record for any work sold by a living artist, and many more ground-breaking sales.
What really set him apart and reflected his ingenuity was his use of social media, especially Instagram, to facilitate the sale of art. He also revolutionized auction preview videos when he conceptualized the video for the auction, "If I live, I'll see you Tuesday.." which featured professional skateboarder, Chris Martin riding through Christie's warehouse and office with Sail by AWOLNATION playing in the background.
Sources: