In one of our previous blogs, we asked you the question, what is it about art that stands out for you, and went on to talk about artists who have used really mundane, everyday articles to create extraordinary works of art You see, creativity is like a spurt, and seems to have a mind of its own. We can't control it, and in many cases, it comes and goes on its own, regardless of what we choose to do or not do. And more often than not, it works very differently for different people. While some may find a sudden inspiration in a certain object, others may find so in a certain place, or dream, or a situation, or a word thrown in the air — there's so many possibilities. On that note, let us take a look at how sudden creative spurts led to the creation of artworks very far from the artists studio, the place in question being some of the strangest and unlikeliest of locations!
Our first stop for this location hunt would be Beaubourg, in France. The square that holds the famous musical Stravinsky fountain, is also home to a 22m high by 14m wide stencil. This artwork in question, quite literally called 'Chuuuttt!!!' and meaning 'hush' in French, depicts a man putting his index finger on his lips. Spanning an area of 350m in all, it occupies an entire wall and being completely black and white, seamlessly blends in with the surroundings. The only colourful streak in the gigantic structure is a red arrow, which is actually the artist, Jef Aerosol's signature. Being a pioneer of street art stencil, he had created this artwork for Mur4Mur in 2012, which was an art project aimed at promoting accessible contemporary art in historical places. Apparently, it had taken him all of three days to create the artwork in four parts, along with 200 aerosol cans and spray paints! According to locals of the area, the iconic work of art is a self portrait of Jef himself, who seems to be watching the passers-by at the fountain and saying "quiet! Listen!"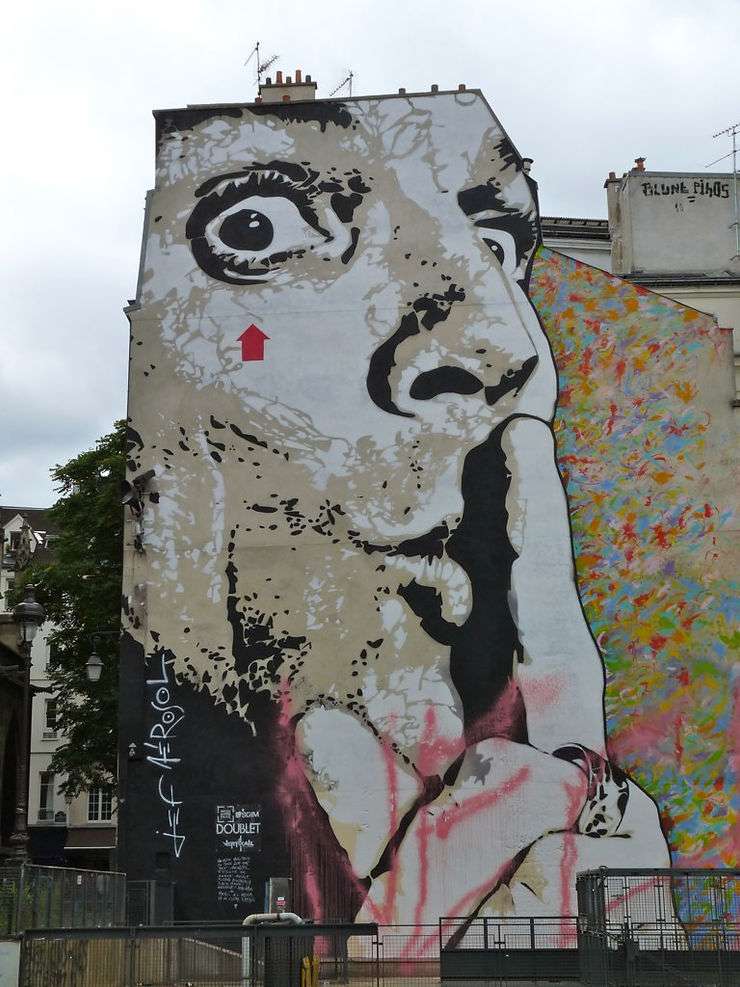 The next stop in this itinerary is Italy. It might interest you to know that near a chamber in Florence that houses the ornate Medici tombs, there is a hidden trapdoor that leads to a makeshift storage space. This was discovered in 1975 by Dal Poggetto when he presided over the Medici Chapels Museum. It was Poggetto's hunch that the space was used to stock up on coal, because the walls of this space are filled with sketches made from charcoal, chalk and coal smudges. It is a commonly held belief that these drawings were made by none other than the legendary Michelangelo when he had taken refuge there from the far flung influence of the Medici family when he was fleeing persecution in 1530. The walls have cracks and the sketches had mostly faded in many places when Poggetto stumbled across them, so he took no chances and promptly sealed the space from the public in order to protect and restore the artworks.
Although they are unsigned and some of the figures seem too amateurish to be assigned to Michelangelo's artistic genius, most of the figures and faces are too familiar to many of his unfinished works – including masterpieces he had already completed, and some that he would go on to paint in the near future.
Imagine having painted the ceiling of the Sistine Chapel and then finding yourself holed up in a cramped up, dusty storage space. Being the person of such artistic talent that he was, of course he drew with whatever he could find around him — chalk and coal — and let out his creative urges in the process of creating something which was later described to be one of the most redefining discoveries of the 20th century. While it is unfortunate that we may never be able to witness this artistic marvel in person, you can have a virtual look at the sketches thanks to National Geographic photographer Paolo Woods, who has documented the walls in this article.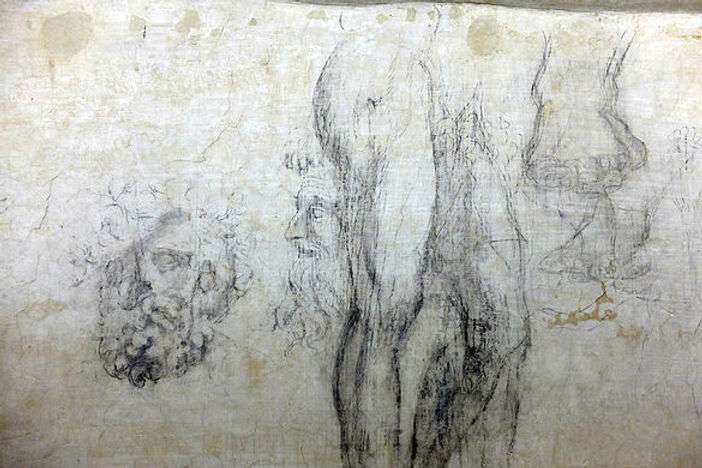 Think of it, Michelangelo was going through a rather situational 'lockdown' scenario himself when he ended up drawing some of these figures on the walls of the chamber. If we cut back to the present lockdown that everyone around the world is currently undergoing, there was one artist in particular who stood out for doodling one of his characteristic figures on his bathroom wall. No brownie points for guessing, but that's right, it's Banksy with his rats! The elusive artist whose identity has never been publicly revealed uses his trademark rodents in several of his installations and murals — and now they have been seen wreaking havoc in his own bathroom too! The artwork was released on Instagram as a series of five images, with the caption "my wife hates it when I work from home", which later went viral and became recognised as an iconic lockdown art.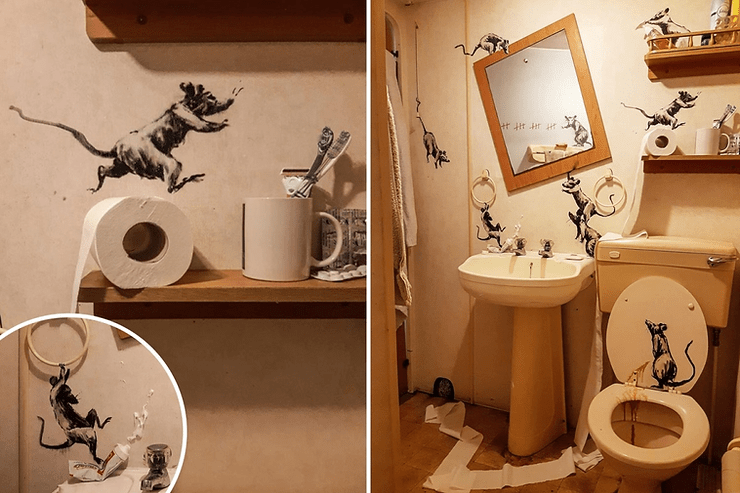 If we are talking about Banksy and about art in strange locations, how can we not talk about his murals and street paintings? Banksy as a street artist is known for playing with city dwellers and placing his work strategically for maximum impact and in the most unexpected ways. The thing about street art installations is that the location where it is placed becomes a permanent fixture, and no matter how hard you try, you cannot avoid a street art piece, as it becomes a part of your everyday life. Street artists know this only too well, and none practice it in a way as inimitable as Banksy. Having a number of controversial street installations to his name that tend to displace a passerby from their common routine or comfort zone, he has displayed an uncannily clever use of space since he started his practice in the 1990s.
Our personal favourite Banksy piece at AF is The Telephone Booth at Soho, London which he created in 2006, around the time when Facebook was becoming popular and people were gradually getting inclined towards the digital world. One of the quintessential red booths that adorn the streets of London is seen being struck with a pickaxe and left to bleed in the corner of the street. Banksy has tried to prove the point of communication decline through this, and how thanks to social networks people have never been connected to this extent, yet so far away from each other.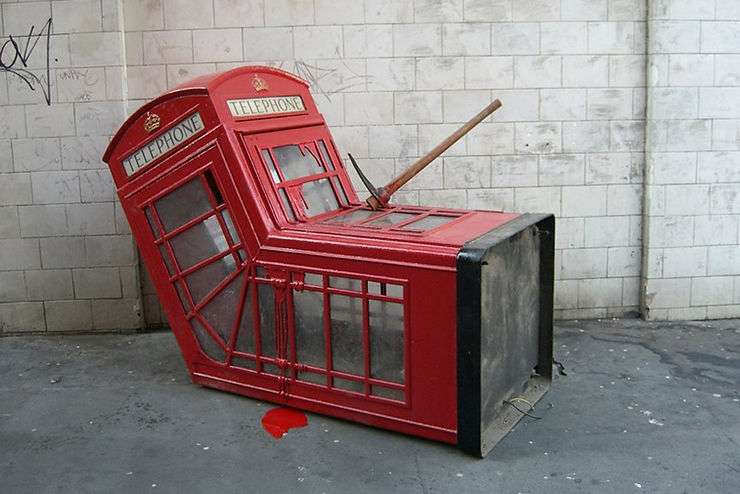 But famous artworks are not always about having a proper idea and granting an underlying meaning to any existing artwork. Take for example the Metalheads of Berlin. The Germany based artist trio, Mentalgassi, who are known to make use of photographs and paste them on outdoor objects. They are credited with reinventing public recycling bins, ticket validating machines and other objects with photographic pastes and increasing their aestheticity through photoshops and similar techniques. Their work is characterised by these gigantic faces twisted into a grimace, that often watch you as you walk by them. This may be a little creepy, but creative and amusing all the same. While we bring to you the famous Metalheads for now, it was an extremely difficult task to zero down on one favourite. To have a look at their skilled expertise in this new and innovative art form and to check out their works in various parts of the city, head on to their blog!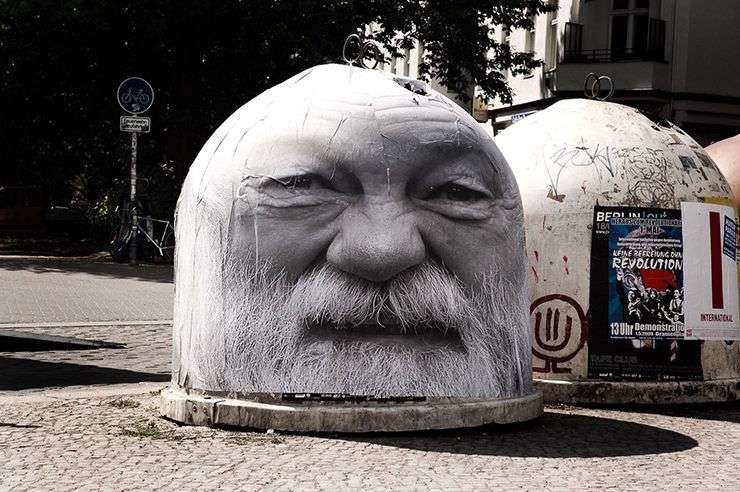 Next, up is the streets of Japan, and that of the art of manhole covers. That's right — did you know that manhole art is such a trend in various towns across Japan that it has led to manhole tourism and an annual summit!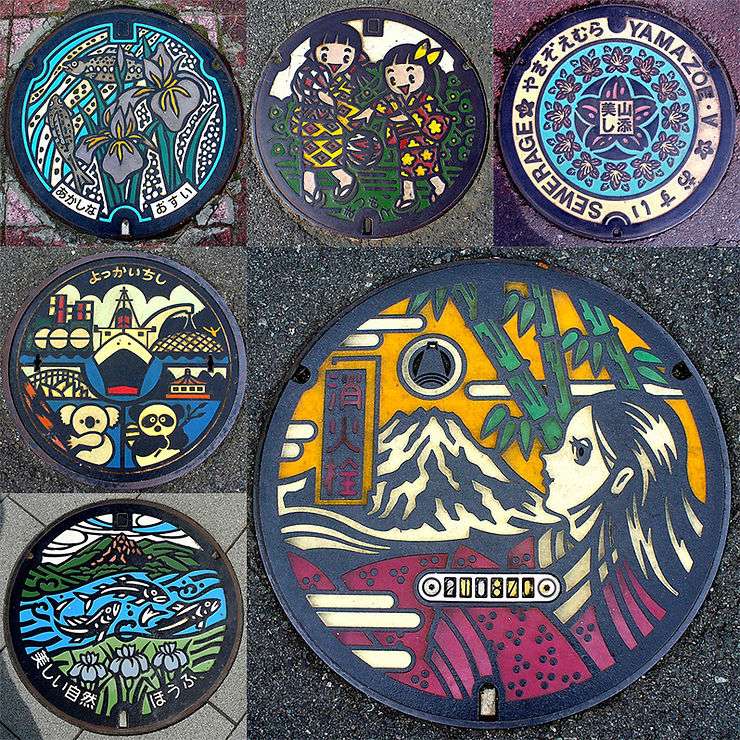 One of the most famous manhole artists is Hideto Yamata, who is credited with the maximum number of colourful and elaborate designs — as many as 600 designs and spreads across the country! The practice however, actually dates back to the 1980s, when a Japanese bureaucrat came to the conclusion that if manhole covers were more captivating, perhaps taxpayers would be more likely to support costly sewer projects. Right now, it has led to the saying that if you spend too much time staring at your phone, you would miss what is underneath. Although typically these local design manholes feature elements characteristic to its location, like a town emblem, or landmark, what sets Yamata apart as a manhole artist is his intricate and elegant designs. And what's the best part? Yamata works for Hinode Suido, which is the largest manhole manufacturer in Japan. Believe it or not, all these manholes are painted at the factory itself, and he doesn't require an artist studio to convert black molten metals into well rounded artistic discs!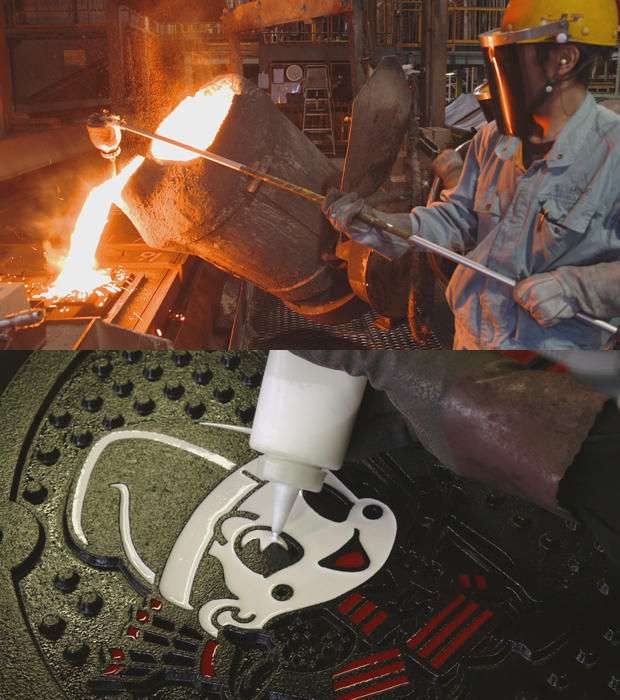 In a similar manner, another artist in Toronto is turning the underground network of dirty tunnels of sewers into pieces of art through his photography. Michael Cook goes out of his way to explore and illuminate all types of drain systems in an attempt to raise awareness of water infrastructure problems in the city. His photographic outcomes seem to be almost otherworldly and elegant, so much so that his work was exhibited in the city's transit system and he was also a recipient of Toronto's annual CONTACT photography prize.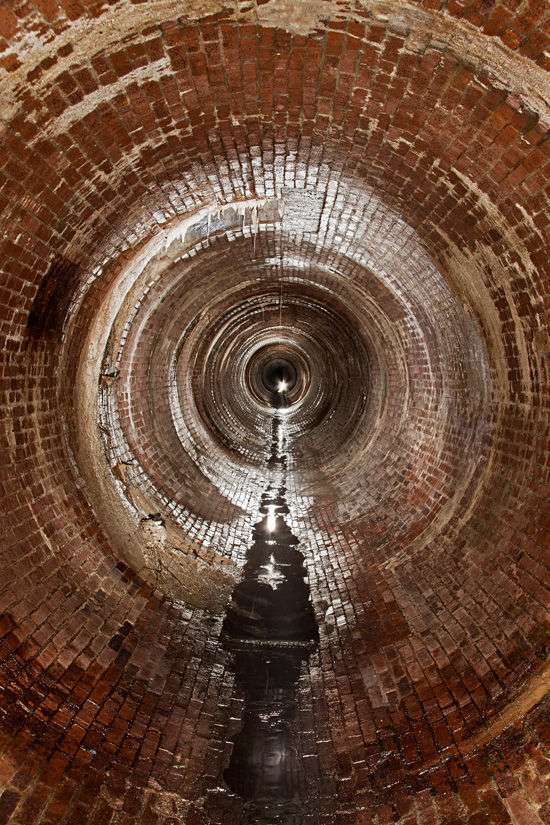 If this is something that interests you, why don't you head on to our Quarantine Art Guide? We have listed Cook's other works that he has posted on his blog as a digital exhibition format, and there are also lots of other things to see and experience on our carefully curated digital art guide!