It's no doubt an unlikely time that we are living in. With the crazy pandemic taking over our peace of mind, it's like a complete upside down of normal life and yet we have never been more in sync with ourselves than now. Yes, it's haunting how it took a virus to help us find our grounds and plant the seed of introspection in our otherwise busy life.
We know the drill. Social distancing is the only cure to this madness. Removed from your daily distractions, isolated in the quiet of your room, you may feel like nearing a large bubble of void, but trust Art Fervour to turn this into something really liberating.
With enough time and fresh energy in our hands, you are now endowed with a new pair of eyes that will make you see things you have never noticed before. It's like a reawakening from the drab reality of labour into the endless possibilities of leisure which can give rise to new creations and new art.
We will be conducting a series of daily challenges over the next few weeks on our Instagram account to make everyone feel connected in these dire times. The purpose of this is to be more receptive of the positivity that envelopes us and to appreciate the small joys that surround us which we often forget to take notice of while navigating our jam-packed lives. The idea of hurry-hurry takes away our ability to savour every moment. It is a reminder that you don't have to necessarily go to some museum or gallery showcasing art to gather inspiration. If you slow down and look around you, you'll be amazed to find the most genuine piece of art lying unperturbed. It's simply about stopping and smelling the roses.
Depending on how you define art, you may not consider yourself to be an artist or a creative person but we beg to differ. This new game will make you embrace your own skills while challenging you to create something that's fun and refreshing.
Daily challenge 1: 18th March, 2020
Today's challenge – Explore your inner artist and express your voice the way you want to!
Draw a self-portrait of yourself as an object, symbol, or character that best describes you as a doodle! It could be a flower, butterfly, or even a burger!
Share the doodle or drawing on your IG story.
Use the hashtag #StayHomeWithAF
Don't forget to tag us or any of your friends to continue the challenge.
Sounds interesting, doesn't it?
Daily challenge 2: 19th March, 2020
We successfully got onboard the 6 PM challenge ship and to get it going, we have come up with a new challenge today which focuses on photographing the art around you! It can be anything that you think is worthy of calling art, starting from a book, to a box or even an ashtray!
So, look around you with a fresh lens and you'll be surprised to discover beautiful things in the nooks and crannies of your room!
All you have to do is:
Look around your room and take a moment to notice the things you have.
Click a picture of anything around you that strikes you as art. You'll be surprised at what you find!
It could be a book, a box or even an ashtray!
Use the hashtag #StayHomeWithAF
Don't forget to tag us and your friends to keep the challenge going!
Let's discover art together! Happy clicking!
Daily challenge 3: 20th March, 2020
Now that you're getting the hang of our daily 6 PM challenge, let's get you weekend binge-ready. It's time to revisit your favourite movies and dig up the posters which you so love. We're going to create the greatest to-watch list ever, by crowdsourcing them, so that you don't run out of options to watch while you "work from home" 😉
1. Share your favourite movie poster on your IG story
2. Use the hashtag #StayHomeWithAF
3. Tag @ art.fervour and some of your friends to keep up the fervour!
Come, let's create the best list together!
Daily challenge 4: 21st March, 2020
Have you ever looked out of your window and felt the urge to translate what you see into art? Famous Impressionist painter Claude Monet often felt inspired by looking at sunsets and guess what he did? He turned them into beautiful paintings which went on to become masterpieces.
On our fourth day of the challenge, we're asking you to appreciate the views from your home! And to show us what you see! Put pen to paper and draw what's outside your window! Or you can draw on your phone screen too! To play the game, you have to
Draw what's outside your window
Use the hashtag #StayHomeWithAF
Tag us and some of your friends and see what they see!
So, open your window and channel your inner Monet!
Daily challenge 5: 22nd March, 2020
Here's how you can make your Sunday lockdown interesting! Remember the vivid colour palettes of Wes Anderson and Mark Rothko? Similarly, you have to observe the different colours around you! Send us a photo of the striking colours or combinations you spot! All you have to do is
Look around and notice the different colours around you
Take a picture of what attracts you the most
Use the hashtag #StayHomeWithAF
Tag Art Fervour and your friends to keep the challenge going
Let's make this lockdown a colourful one!
Daily challenge 6: 23rd March, 2020
As we step into week two of self – quarantine, everyone's spending more and more time bonding with their friends and family. Well, we want to do the same! Here's a quick game so we can get to know you better!
We're asking you to answer these questions about yourself using gifs, tags or simply text!
Current Mood –
Fav museum –
Most used emoji –
Artist I love –
Fav quarantine board game –
If I was food, I'd be a ________
Funniest gif I've seen today –
Tag us and your friends so we can all quarantine and chill together!
Daily challenge 7: 24th March, 2020
"So many books, so little time". We couldn't agree more with this famous saying. But now that we have plenty of time on our hands with this current lockdown situation, we can't possibly complain. So today's challenge is to get your books out from the shelves and share with us the cover art of the one you are currently reading, which can be anything from an illustration, to a photograph to typography.
Follow these simple steps below to participate in the challenge!
Click a photo of the art on your #currentlyreading book cover
Tag us and a few of your friends
Use the hashtag #StayHomeWithAF
Go booklovers, here's your chance to play the game!
Daily challenge 8: 25th March, 2020
Fight the isolation blues by playing the screenshot game called 'Which artist are you?'
There will be a fast-paced gif of 10 artists on loop. All you have to do is take a screenshot and share who you are.
In Slide 1, you have to screenshot the next story to play 'Which artist are you?' and tag us and a few of your friends.
Slide 2 has the gif of the following artists with the text:
1. Frida Kahlo's – I broke my back not my spine.
2. Vincent Van Gogh – Friends, Romans, Countrymen. Lend me your ear.
3. Salvador Dali – How'd you like me in Money Heist?
4. MF Hussain – I might paint horses but I'm the real stallion.
5. Amrita Sher-Gil- My name is Amrita Sher-Gil and I have an Amrita Sher-Dil.
6. Wassily Kandinsky- Love comes in all shapes and sizes, so does art.
7. Yayoi Kusama- Hey kids, wanna buy some psychedelics?
8. Georgia O'Keeffe- No, you may not have my flower.
9. Raja Ravi Verma- I'm the king of Indian artists, says so in my name.
10. Jackson Pollock- I put the action in painting 😉
Daily challenge 9: 26th March, 2020
Are you bored of staying indoors? Looking for something fun to keep yourself going? Worry not, we're back with a new game to spice up your day.
Today's challenge includes guessing the artist from an artwork by choosing the correct option. There will be slides featuring five artwork MCQs. All you have to do is pick the right answer.
The artworks are –
1. Gypsy Woman with Baby, 1919
a) Paul Cezanne
b) Egon Schiele
c) Amedeo Modigliani
2. Open Window, Collioure, 1905
a) Georges Braque
b) Henri Matisse
c) Claude Monet
3. The Burning Giraffe, 1937
a) Salvador Dali
b) Max Ernst
c) Jean Michel Basquiat
4. Girl With a Pearl Earring, 1665
a) Johannes Vermeer
b) Rembrandt van Rijn
c) Jan Steen
5) Son of Man, 1946
a) Edward Hopper
b) Jean-Francois Fourtou
c) Rene Magritte
Let's see where does your instinct guide you!
Daily challenge 10: 27th March, 2020
With the current lockdown situation, there's not much to look forward to even on a Friday evening! But we are here with a new challenge to rev up your mood.
Put on your thinking hats! We're throwing a mini art crossword your way!
The crossword clues are:
Across
1. Mexican painter; Husband to Frida Kahlo
3. Andy Warhol was a pioneer of
4. Anonymous street artist, vandal, political activist, and film director
Down
1. Art movement of the European avant-garde; A form of artistic anarchy
2. Where can you find Rene´ Magritte's 'The Lovers'?
All you have to do is take a screenshot to play and then tag us and your friends!
Daily challenge 11: 27th March, 2020
Don't know how to fix a boring Saturday? Art Fervour has got you covered with a new challenge called Things I Did This Quarantine Bingo.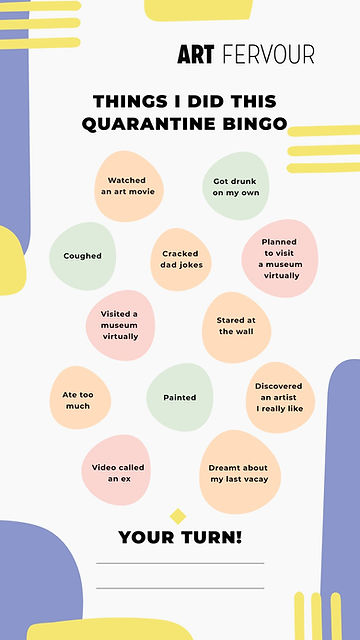 What you have to do is take a screenshot and fill it up. Don't forget to tag us and your friends to keep the challenge going!
Daily challenge 12: 28th March, 2020
Today's challenge comprises of completing a famous artwork!
All you have to do is take a screenshot of the following picture.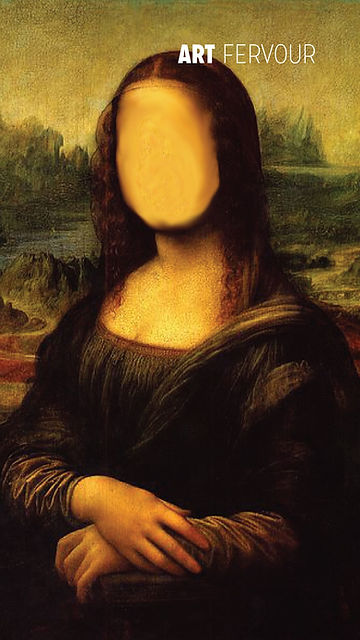 You have to channel your funny nerves and add some really cool gifs, doodles and stickers to finish the artwork. Then you have to tag Art Fervour along with your friends to continue the challenge!
Daily challenge 13: 30th March, 2020
Beat the lockdown blues by playing a new challenge with us today. In order to participate, you have to take a screenshot of the following image and fill up the thought bubble with your own meme which coincides with the picture!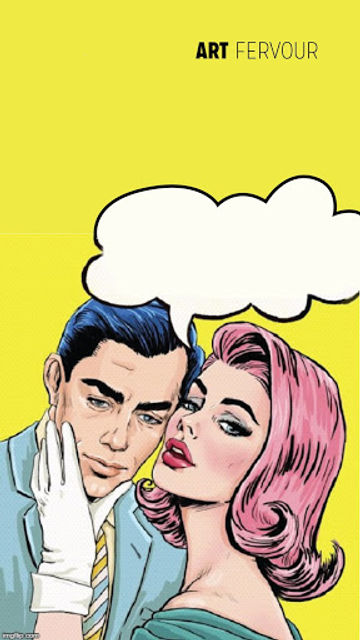 You have to tag us and a few of your friends to keep the memes coming! Calling all memers to get your funny juices flowing!
Daily challenge 14: 31st March, 2020
Want to visit some great virtual museums but don't know where to start? We got you!
Find some of the best, hidden in this puzzle and take your pick! Or refer to our Digital Art Guide available on the website.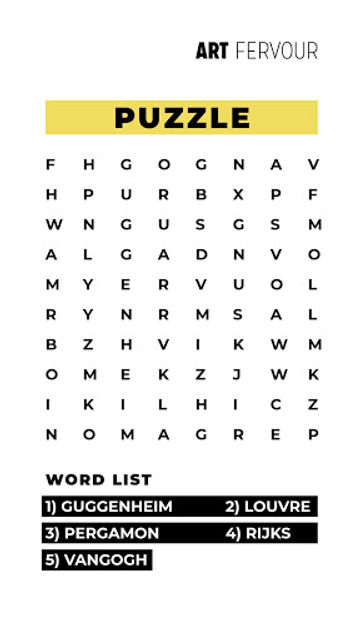 Don't forget to tag us and tell your friends!
Head to our Instagram page and start playing! Watch this space for more of our fun and engaging art challenges that's coming your way everyday!