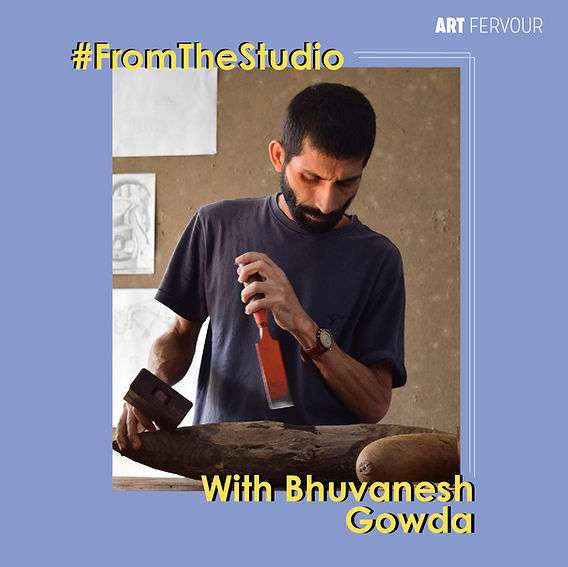 Every week, we invite one artist to take over our Instagram so that you can get to know them better, immerse yourself in their practice and see them in a different light.
This week, we were joined by Bhuvanesh Gowda, a contemporary sculpture artist currently based in Mumbai, who shared his artist practice and took us through his journey on our Instagram account. You can view the takeover on our highlights here.
Gowda's works are a rhythmic blend of the figurative and the abstract. Utilizing mostly salvaged wood from dismantled houses, he merges traditional and modern methods to create tangible constructs and imagined structures.
A consistent reader and traveler, his practice is inspired by philosophy, quantum physics and his experiences with nature and people while travelling to places.
He has been the recipient of multiple accolades, and has received the Khoj Residency grant in 2003 and the Jackson Pollock-Krasner Grant in 2015 amongst many others.
We asked you to share your questions with Bhuvaesh, and we finally share his answers on our latest blog post!
Q) What inspires you?
BG : Road trips, different cultural experiences, rain forests, the purpose of life, and whatever else that poses a mystery to me.
Q) What led you to create your sculptures with collected wood from dismantled houses?
BG : My environmental concerns have stopped me from buying wood from sawmills.
The wood that is sourced from dismantled houses goes through the sculpting process and gets reborn into a different form from the earlier one. This way the process itself brings forth the notion of the destruction-creation duality.
And those wooden pieces come with their own stories, histories with them– sometimes I use such stories in my concept. Apart from the above, by salvaging I get seasoned wood which is resistant to further decay, cracking or warping.
Q) How do theories of quantum physics figure into your art, and what inspired you to connect the two?
BG : Art and science have always grown hand in hand: science without the artistic approach will be destructive and art cannot be progressive without scientific insights and questioning. Science gets inspired by fictional renderings by the artists, and strives to make it a reality. On the other hand, artists use scientific inventions as their tools or mediums of expression.
Basically, the knowledge that for the most part atoms are just empty space, was hard to digest but fascinating at the same time. This understanding led me to see myself, and my sculptures which appear solid, as empty too! So, thoughts around this notion led me to read books on the subject, and visualize this invisible reality in my own way.
Q) How do you cultivate a collector base?
BG: I don't have to do that; those are all taken care of by my gallery.
Q) What elements or tenets from Hindu and Buddhist philosophies figure in your practice?
BG : Hindu and Buddhist religions believe in the cyclical aspects of birth and death; they both propose an illusory nature of existence. I relate these aspects to quantum physics, and here I would like to mention a quote by well-known German physicist Werner Heisenberg: "After the conversation about Indian philosophy some of the ideas of Quantum Physics that seemed so crazy suddenly made much more sense." In this way, the scientific insights of these religious texts actually intrigue me. With multiple versions, these philosophies give me an abundance of ways to think about the nature of our existence more deeply.
I often incorporate mythological stories, imageries and architectural forms from both these religions in my creations, be it a stupa, prayer halls, a pillar, or even the surreal figures.
Q) In the current times, how do you keep up your creative practice consistently?
BG : I could work in my studio for the most part of the pandemic period. For the past 2 months I am away in my hometown and I am engaging myself with drawing, planning, contemplating, making notes etc. Of course, there are not many art activities or exhibitions happening now, but that does not keep me from my creative process.
Q) What's next for you?
BG : There are 2-3 series of works I have planned, so for now I am busy with research, planning their execution, sourcing materials and so on.
Stay tuned and press the bell icon 🔔 on our Instagram page to catch our next artist take over.