Fire and lights are inseparably entwined with the festival of Diwali. In fact, across the world, the final months of the year, or the holiday season—when the weather takes a dreary turn, and trees shed their dying leaves—also seem to be the months that are the most brightly lit up.
Perhaps it's a way of fighting the dismal darkness that winter is set to bring. And, perhaps, this is why light often represents hope, joy, energy, and even life itself.
A similar feat is achieved by fireworks.
Fireworks started featuring in Indian art, about the same time as they became a staple in celebrations in the real world. Some of the first depictions of people enjoying fireworks in the subcontinent are found in Mughal paintings from the 15th Century.
One of the most famous examples of this is the 16th Century painting depicting the wedding procession of Shah Jahan's son, Prince Dara Shikoh. The beautiful painting rendered in a typical Mughal miniature style is a spectacular depiction of a grand wedding ceremony 'fit for the kings'. In the painting, the magnificent firework display is used to convey the feeling of jubilance that permeates the air on such a happy occasion.
In the decades since then, however, the tryst between fireworks and art; between light and visual art, has turned more tangible than ever. Their use no longer simply a representation of celebration, but a means of artistic expression meant to convey a myriad of different emotions and ideas.
It's the week of fairy lights and diyas, and we're taking a trip down art lane, making our way across the exciting works by innovative contemporary artists from around the world, who use fire and light to express themselves.
From Paintings of Fireworks to Painting With Fireworks
Vasanthakumar
At 21 years of age, a fresh-faced art student, Vasanthakumar, took some leftover firecrackers and decided to use the powder inside them for his college assignment. He mixed it with camphor, applied it on the canvas, and set it alight.
The result captivated him. This is when his experiments with using fire to create new paintings began. Now, four years down the line Vasanthakumar has a whole exhibit dedicated to his 'fire paintings'.
Drew Lausman
US-based modern artist Drew Lausman, however, has taken this idea a step further by developing his own unique technique of using fireworks to create his artwork.
By dipping firecrackers in paint and then blowing them against the canvas, Lausman has created over 200 paintings in the span of 4 years, while creating a whole new genre of art that he calls explosionism.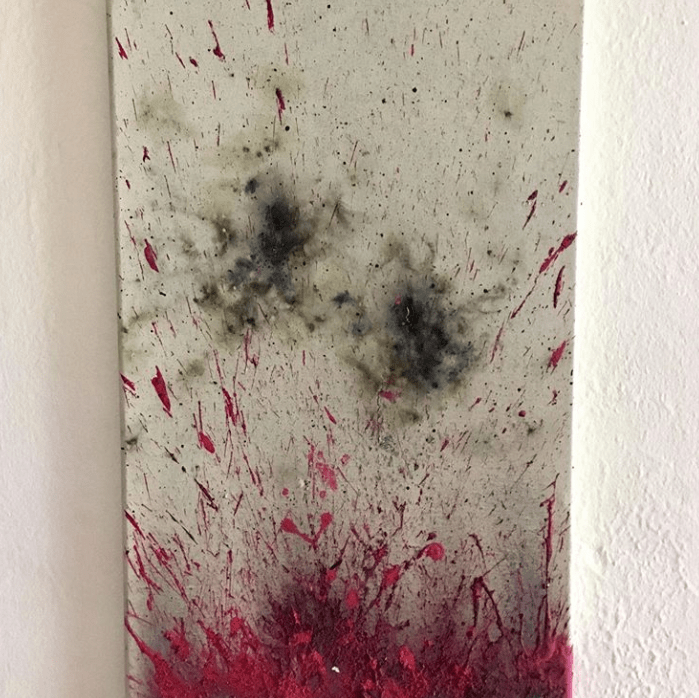 Cai Guo-Qiang
Another 'explosive artist,' Cai Guo-Qiang's televised creation of 'Fireworks sculpture' was viewed by 1 billion people, making him the only artist in history to have that many people gaze at his artwork at once.
Since then, the scale of Qiang's pieces has only gotten bigger. No longer satisfied with impressing earth dwellers, Qiang says he wants 'a dialogue with the universe'. With monumental explosive works, Qiang hopes to create artwork so colossal that it can be seen from space.
With installations such as his recent 'crop circle' in Germany that involved 90 kilograms of gunpowder, 1,300 meters of fuses, one seismograph, an elec­troencephalograph, and an electrocardiograph, you know he means business.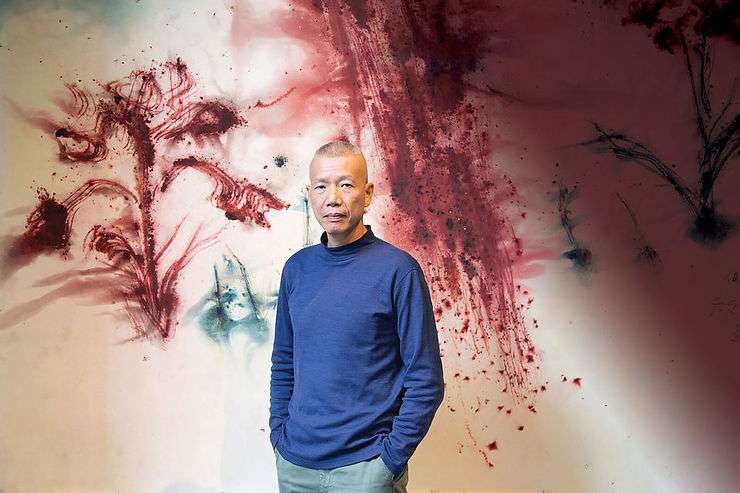 Speaking of explosives, the use of gunpowder for art, though a fairly recent medium, has caught the fancy of many artists around the world.
Dimo Tomic
As exciting as setting a canvas alight might sound, it is an art that demands great patience, and lots of trials and error. Artist Dimo Tomic is one such artist who has perfected the art of creating intricate details using the unruly flammable granules to make his flambé portraits.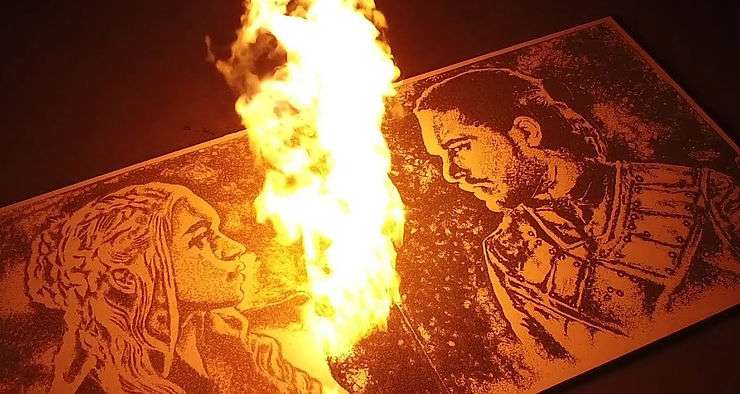 Kamal Rana
Closer to home, Kamal Rana has garnered much acclaim for his artwork made using gunpowder.
While the flair of gunpowder art lies in its big bang, Rana aims for endurance. The artist who has been working with fire as a medium for years has his eyes on the record for the longest fire painting made in the world!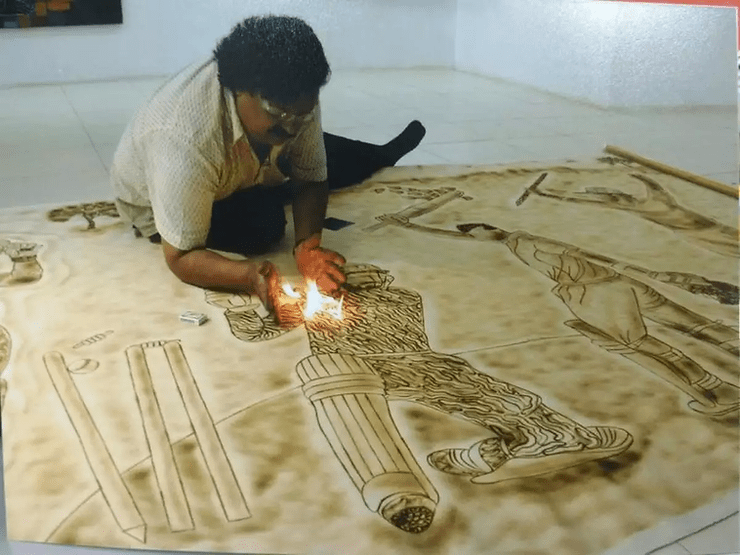 Lighting up the Art World
Ivan Navarro
Nothing but a long row of cells in a darkened room, each lit up by a bright neon light-frame of a different colour. This was the centerpiece of the Venice Biennale in 2009. The piece named Death Row was the work for Chilean artist Ivan Navarro.
Navarro famously uses electric lights as a primary medium to create politically charged art, be it voicing his dissent against the violence by the Chilian government, or more universal issues such as climate change and corporal punishment.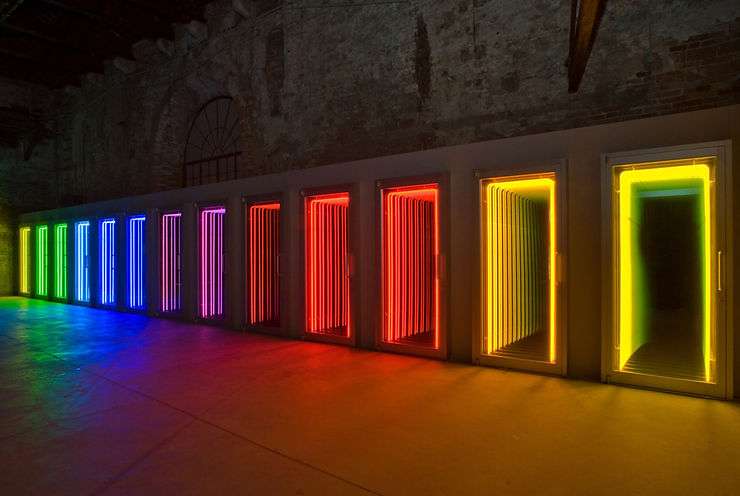 Death Row is one of Navarro's many minimalist light installation artworks, where the viewer is meant to interact with the piece and their bodies play an integral part in the art itself.
Rafael Lozano-Hemmer
Project Pulse Room is a unique interactive light show created by artist Rafael Lozano-Hemmer, involving three hundred 300 watt bulbs hung at a height of 3 meters.
It is installed with a sensor that is designed to pick up the heart rate of a person holding onto an interface and set the closest bulb to flash at the exact same rhythm. When the interface is released, all the lights turn off briefly and the flashing sequence advances by one position down the queue, to the next bulb in the grid until all the 300 bulbs are set off.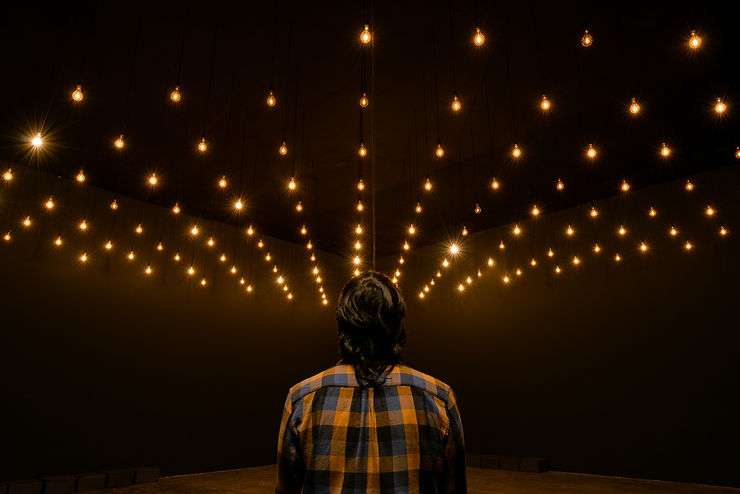 Jenny Holzer
Navarro isn't the only artist to 'shed light' on social injustice using luminescent artwork. Hyper consumerism, systematic abuse, social and political oppression, are some of the issues that Jenny Holzer's LED tubes tackle.
Often found in public places, Holzer's neon light installations subvert the typical use of LED sign boards for advertisements in order to bring her message to people's notice.
From the #metoo movement to the recent US elections, Jenny Holzer always has her finger on the pulls, actively using her art for social change, making her work endlessly relevant.
When it comes to mediums, an artist's imagination knows no bounds. Whether it's unusual elements like gunpowder or boring everyday objects. Read here about artists who used mundane objects to create extraordinary art.