Here's Art Fervour's guide to visiting and making the most out of your visit to the Indian Music Experience museum ('IME'). Read on for a detailed guide on planning your trip, or skip to the end for a quick reference guide for the key details.
The IME is the first and only interactive music museum in India. Situated in the leafy suburbs of JP Nagar in Bangalore, the museum has exhibits for every genre and sub-genre of Indian music that one could possibly be curious about.
As you enter the museum, you will see 'The Sound Garden', a collection of instruments made from stone and metal, and the largest xylophones that you'll ever come across. Each instrument has instructions on how to play it. Take some friends along and have a jam session mixing the sounds of chimes, bells and their echoes. Also, don't forget to play the instruments on the railings in the garden.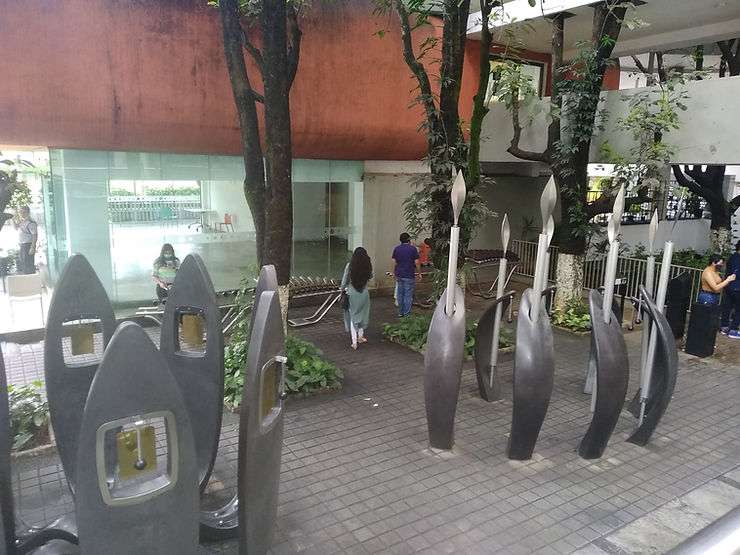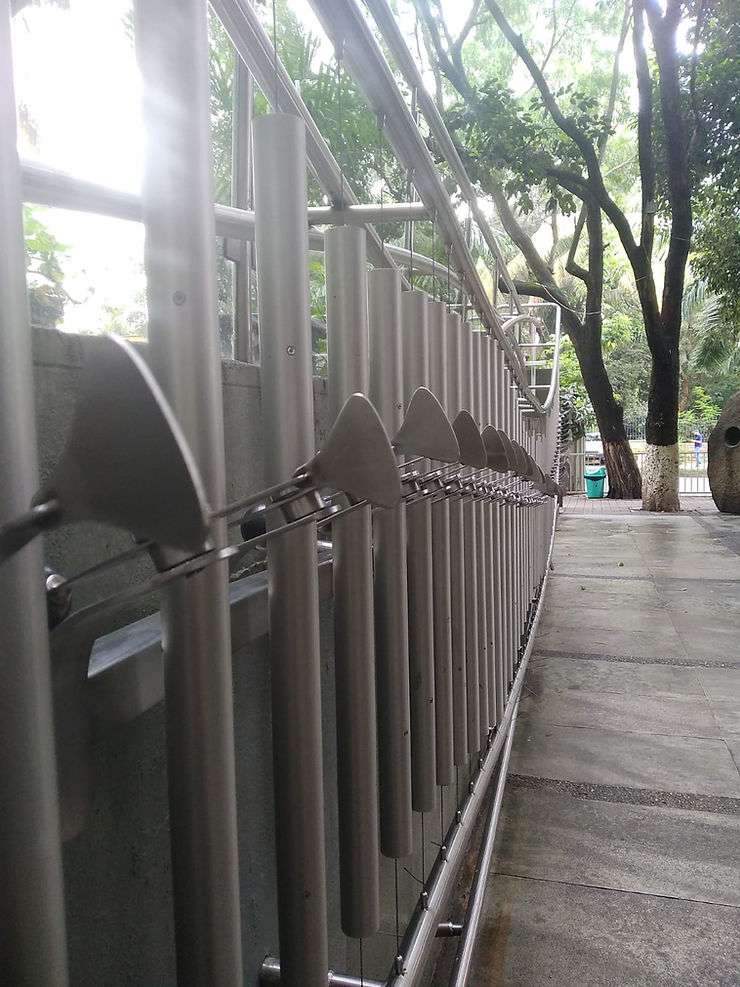 After you purchase your ticket, you start your musical education from the third floor. Keep your ears open in this museum, as you will constantly hear strains of music from every corner.
The first exhibit on the third floor is an infographic of the nine Raagas of Indian classical music. Then the floor opens to many exhibits on Contemporary expressions, hybrid sounds of Indian music, Indie music, etc. Stop at each of these exhibits to read about the particular genre's subculture, and then put on the headphones placed under the screens to listen to the music. You also have the option of taking your own headphones to plug into each of these exhibits. The museum as a whole is truly interactive and requires your participation to learn from the exhibits, and unlike other museums, one can actually touch the exhibits. Hand sanitizer stations are placed close to many of the exhibits, so you can have a safe and hygienic tour.
On this floor, you can also sit in two decked-out auto-rickshaws and see a documentary on indie rock music. There are also exhibits on pioneers of World music, collaborations of famous Indian musicians, electronic music, and regional rock. So there's something for everyone. There's also an opportunity to become a music producer at the 'Hybrid Sounds' exhibit where you can choose from a wide range of samples of string and percussion instruments from Western and classical music and combine them into a song of your own. For Pink Floyd fans, there's a guitar autographed by Roger Waters in a glass case to drool over. There's also a large wall of all the current major music festivals in India for anyone planning to take a musical pilgrimage to them. For patrons of devotional music and the Bhakti movement, there's a whole room dedicated to the exhibit. With bells hung over the ceiling, the setting is complete to listen to music heard in temples and other places of worship. Watch out for the exhibit on Indian dance forms as well.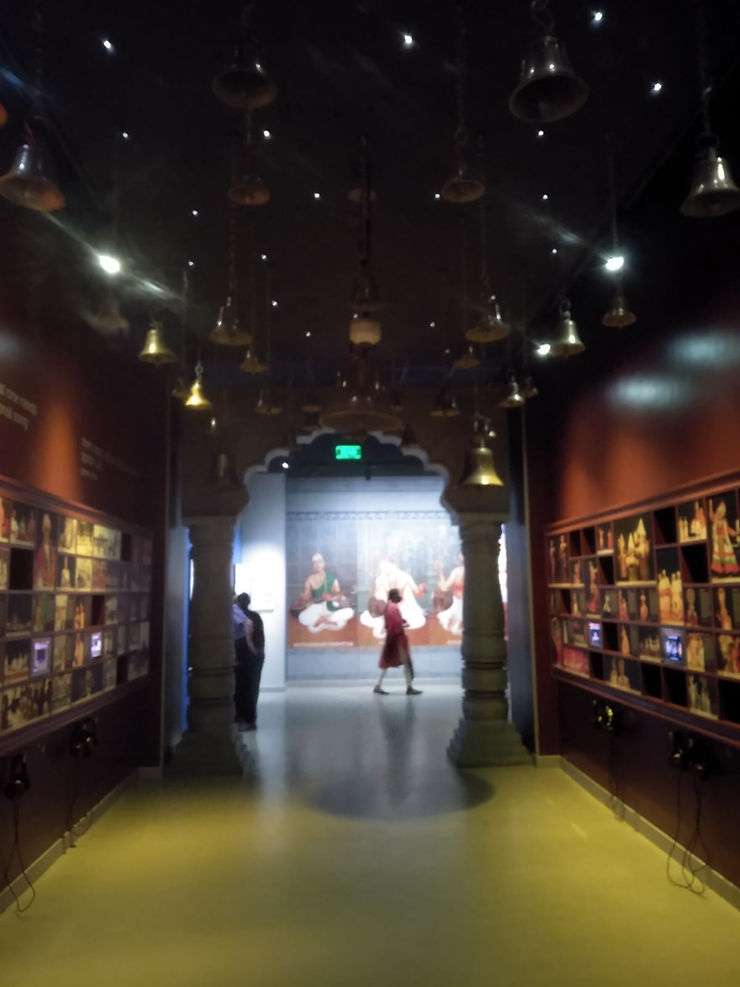 Then in the Indian classical room, you can go check your Shruti, or what octave you sing the note 'Sa', at a touch screen kiosk complete with a recording mic. You can also play Raagas or learn to play the rhythm patterns on the Tabla through interactive touch screens.
Make sure you stop at the 'Samay Chakra Theatre' where one can lay down and gaze up at the screen playing skies or patterns while hidden speakers in the room play Raagas of Hindustani music. Study the chart that prescribes specific hours of the day and seasons for the performance of each Raag, aligned with sunlight and climatic factors that affect people's lifestyles and moods.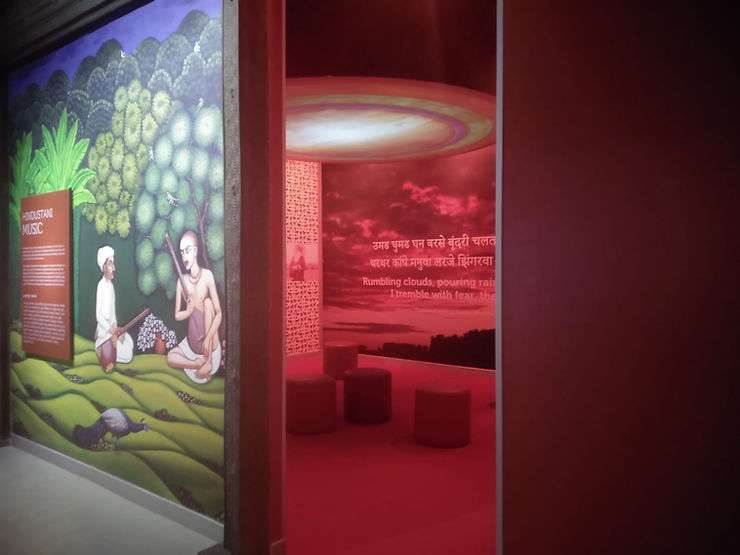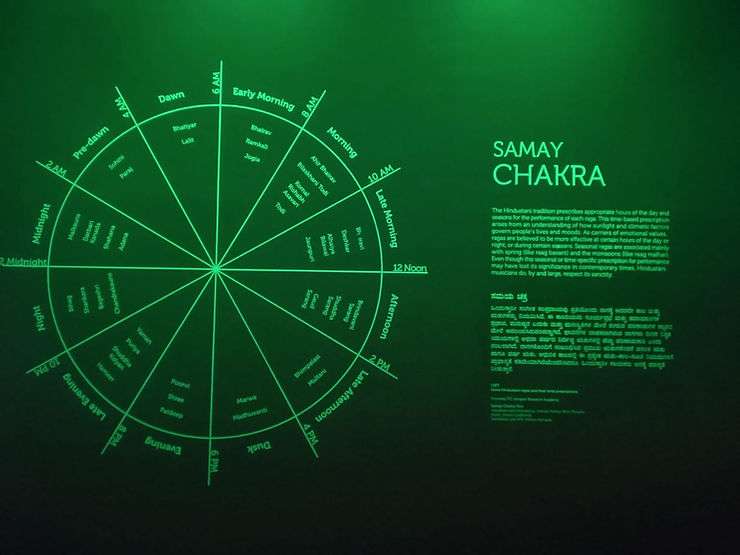 Outside the theatre, you can learn about the gurus, birthplace, lineage, stories, and compositions of the old masters of Indian music, like Thyagaraja. As you walk along the corridors, count the various designs of Rangoli projected on the floor.
Keep walking until you come across a beautiful grand piano, puppets, and a Kaavad box which is a tradition of storytelling and singing in Rajasthan. The box can be opened to reveal a story painted on its doors. If you love art, there are etchings by a Flemish artist, Solvyn, of portraits of musicians playing 36 indigenous musical instruments.
If the third floor wasn't enough of a visual and auditory overload, you can head to the second floor. This floor holds more exhibits on advancements in radio, TV, and satellite over decades. It also holds exhibits on music ownership in the digital age, an important conversation in the era of streaming. This floor also holds a functional recording room where you get to record a song, an album cover and email it to yourself. Take a picture at the set of an old advertisement for a Gramophone, complete with vintage furniture and paintings.
Make your final stop at the hard-to-miss 'Instrument Gallery' which features a diverse collection of over 100 instruments. We bet you can't name all of them. Use the touch screen to select any of the instruments and play audio clips of the sounds they make.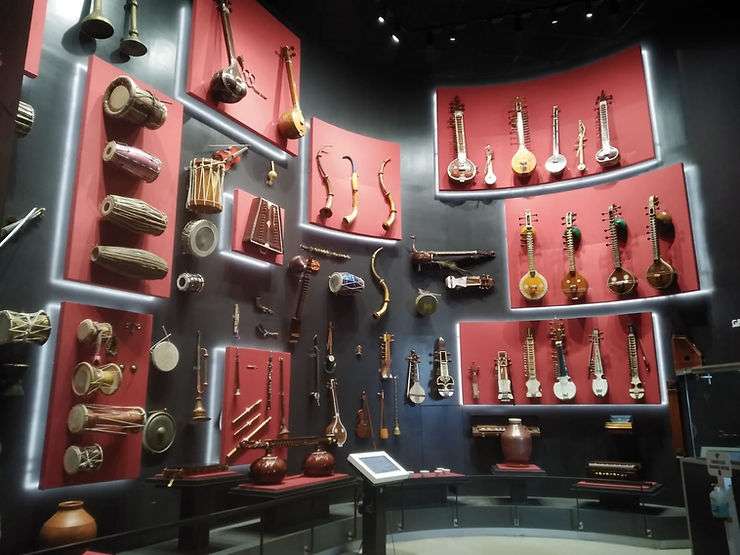 The museum also holds performances and events, so make sure to check their social media for any events you can attend before planning your visit. The museum is thoughtfully constructed, so if you are weary after two overwhelming floors of exhibits, the exit takes you to a breezy cafe where you can put your feet up and recharge with a cup of coffee. After your visit, if the museum has added to your life in any way, you can donate to it, leave feedback and even enroll in classes at the learning center.
For people who are keen on learning in-depth the various facets of Indian music, we recommend spreading the visit over several days.
We love that IME put Bangalore and India on the map of the best museums in the nation, and hope to see more museums of this caliber be founded in different places in the country to push forward the narrative of art, music, and culture in India.
Art Fervour's quick reference guide to IME
Where to? Indian Music experience museum, Bangalore
What's it about? India's first and only interactive museum on music.
What's the entry? 200 INR for adults. 100 INR for children aged between 5 – 12 and senior citizens (60 years and above)
How many hours do you recommend for a visit? The museum is quite extensive, we recommend as many hours as possible to see and experience the maximum number of exhibits.
Where is it and how to get there? JP Nagar. The nearest metro station – JP Nagar station, Green line. Cabs/rickshaws are available. There's also limited parking for private vehicles and the museum is wheelchair accessible.
Things to do/restaurant guide nearby?
There's a cafe in the museum at the exit, and a number of restaurants and pubs one can head to after in JP Nagar. We recommend Khmer Kitchen, Bob's Bar, or Uru Brewpark.
All images courtesy of the author
There is an invisible and unheard conversation that takes place between a writer and their experiences, when we write and share it with the world, we are sharing a piece of wonder!
Let's keep writing, let's keep telling stories!
Share your stories about art, culture, design, architecture, and all things art with us at our Writer's Corner.