When we think of Modern Indian art, we are reminded of S. H. Raza, F. N. Souza, and Husain. Today, let's unravel the life of an artist who got overshadowed by his contemporaries but rose to extraordinary heights nevertheless.
Tyeb Mehta, an artist who sought perfection in everything he did, is one of the most successful Modern Indian artists. He was awarded the title of Padma Bhushan in 2007 for his remarkable contribution to the field of arts. A critique of his own work, Tyeb Mehta is known to have destroyed many of his works– only a fraction of the artworks he produced have seen the light of day. All of those are no less than masterpieces! But where did the journey of painting 'perfect' artworks begin?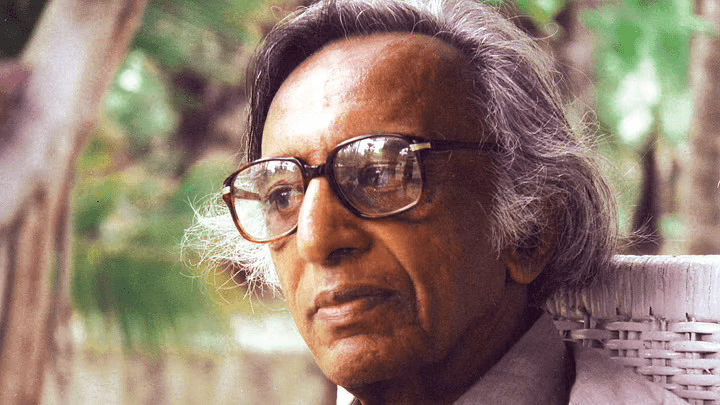 At Art Fervour we answer all your questions. So let's dive deep into the life and fantastic oeuvre of India's very own million-dollar artist, Tyeb Mehta. You might wonder why 'million-dollar artist'? Continue reading!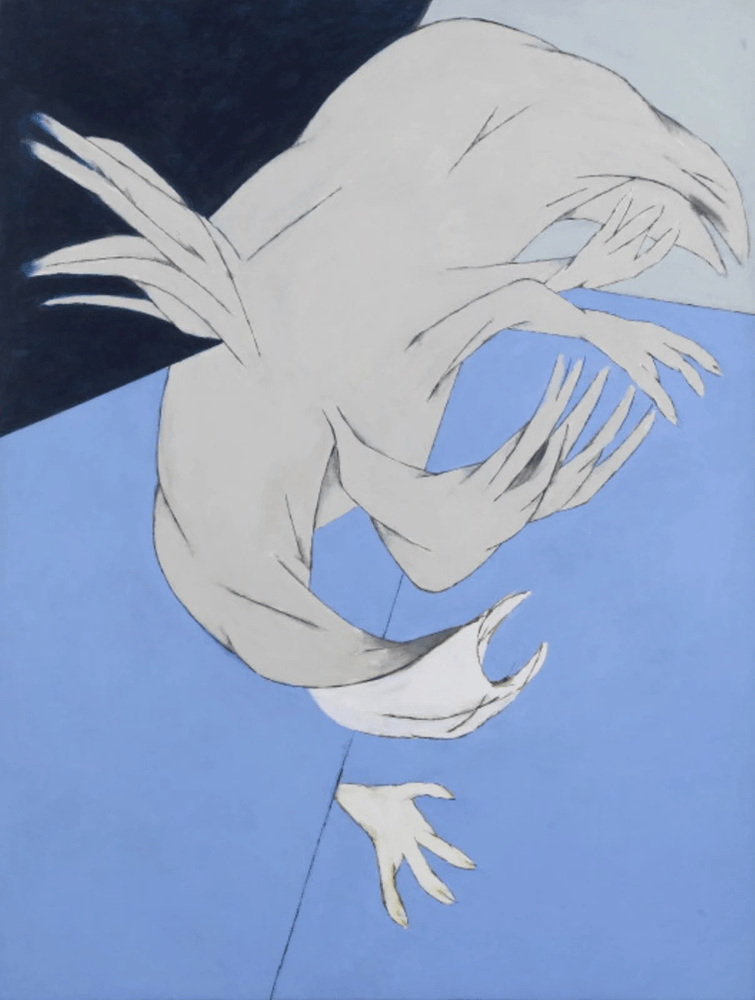 Tyeb Mehta, born on 26th July 1925 in Gujarat was raised in Bombay's Mohammad Ali Road. Bombay, like every other city of Hindustan in the 1940s, was going through turmoil and the discussion of Partition wasn't a peaceful one either. Tyeb Mehta's artworks are majorly based on Partition and the events which followed. One such event that got etched on Mehta's memory forever, which later reflected on many of his canvases thematically was when he witnessed a brutal killing. It was in 1947 when Mehta saw a Muslim man being lynched by a large mob – their anger wasn't directed towards the man but solely on the religion, he was affiliated. This harrowing reality of separation, partition, division, and creation of two distinct worlds is depicted brilliantly by the artist throughout his career.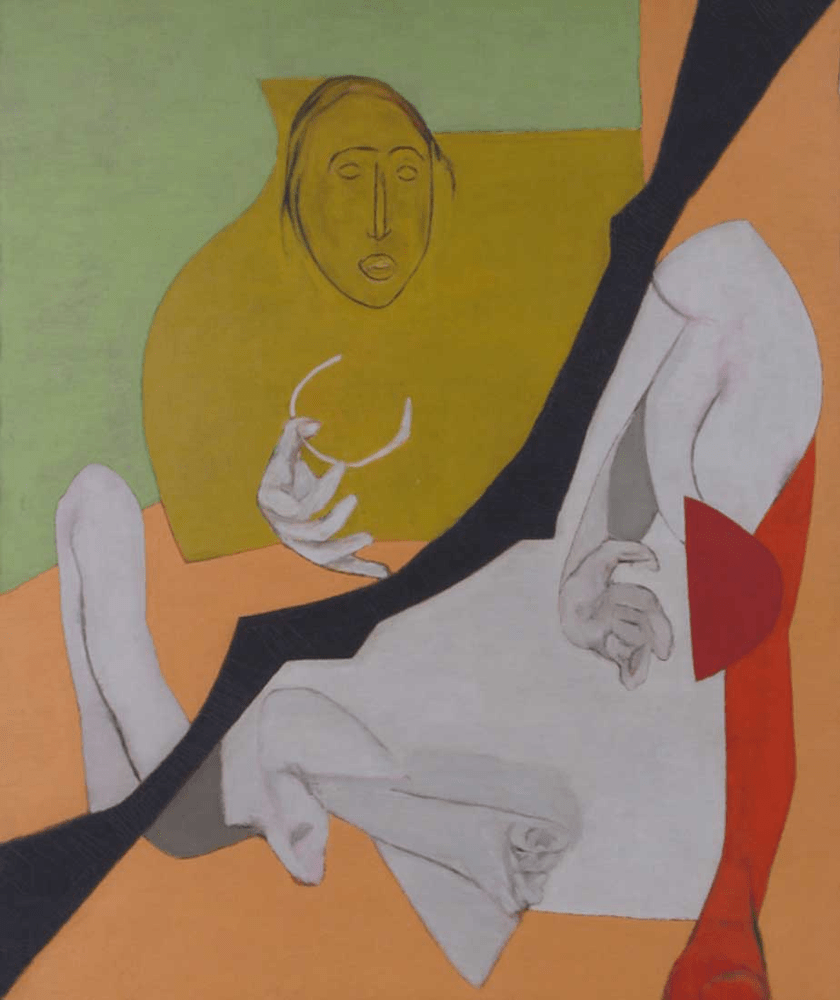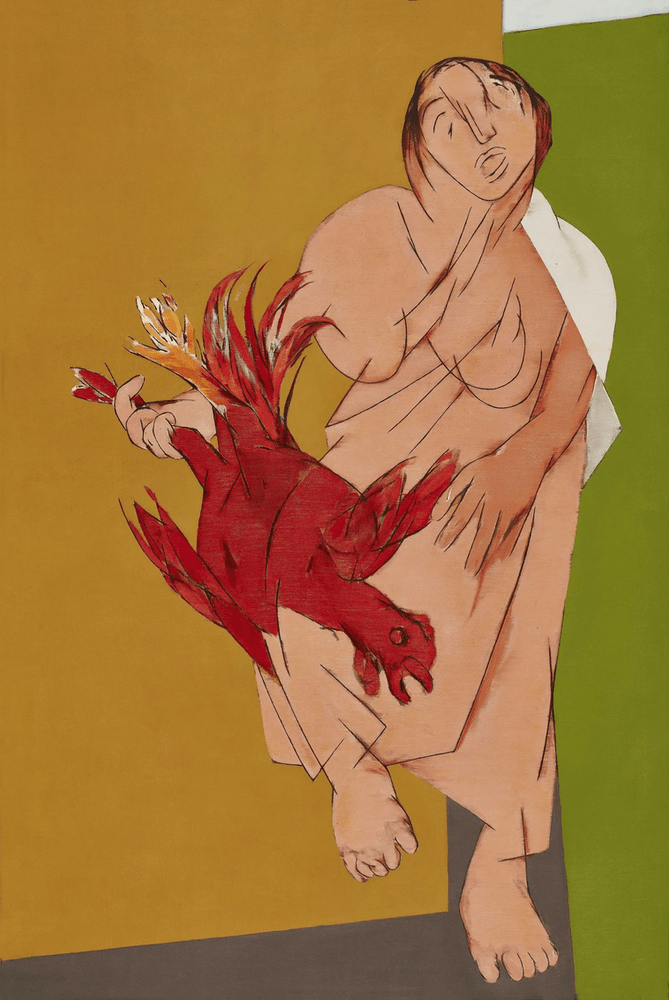 What many might not know is that before Tyeb Mehta took formal education in the arts, he worked as a film editor. It was in 1947 that he started his training at J. J. School of Arts and graduated in the year 1952. The friends he made during the course of his studies, later on, became his contemporaries, defining the modern together – The Progressive Artists' Group.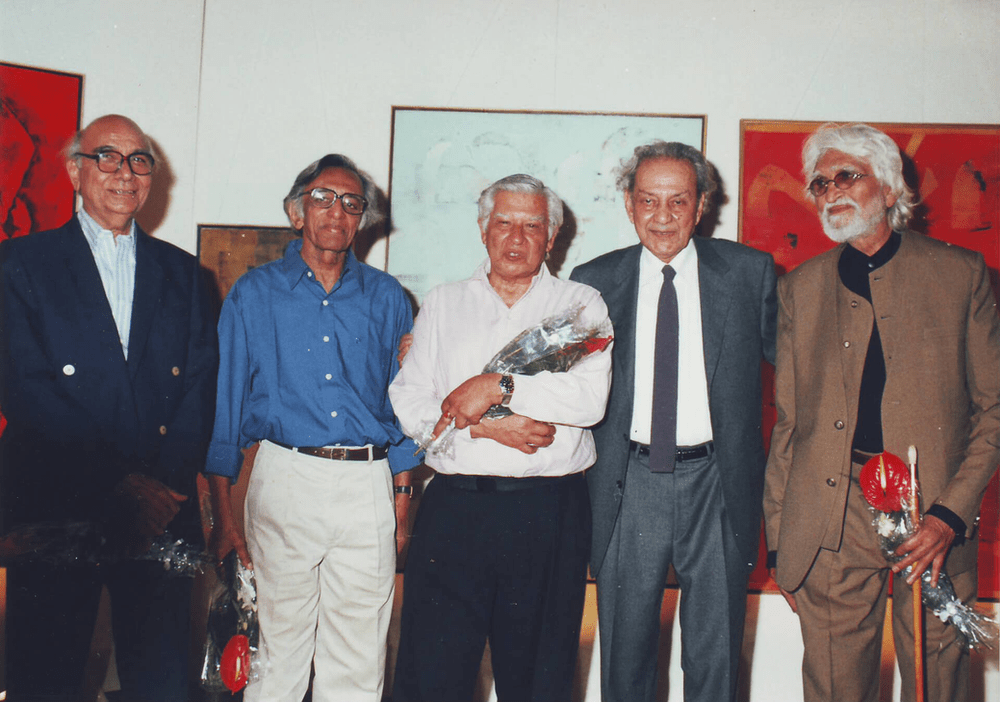 Now coming to the 'million dollars' bit. One must be unaware of the arts to not know that the Indian modern artists shook up the very core of the global art market. The soaring bids on Indian masters are exponential! But ever wondered which artist started this cycle? It was indeed Tyeb Mehta. His artwork Mahisasura was auctioned off for a whopping sum of 1.58 million dollars! This event, which took place at Christie's New York in 2005 created history and put Indian artists on the world map.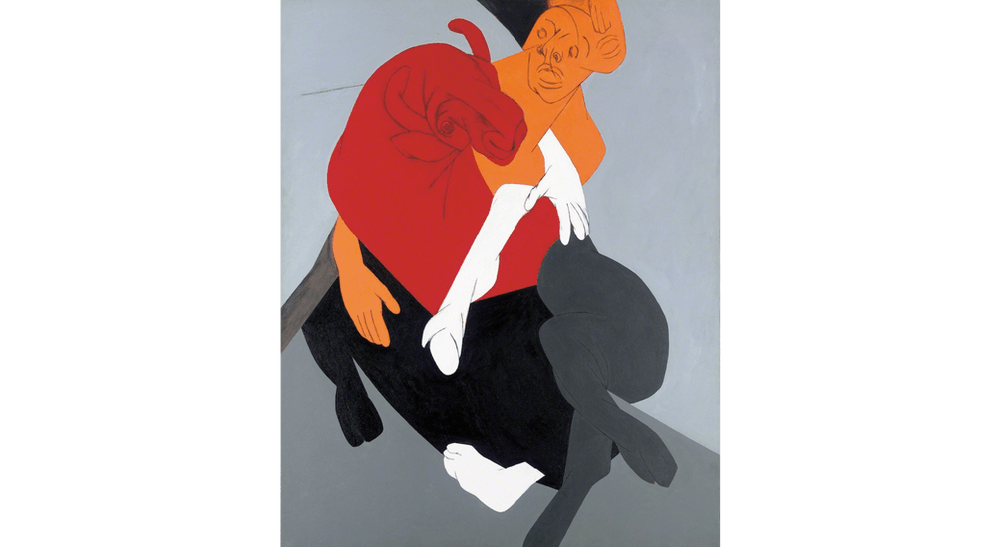 But before you make any assumptions, let us burst the bubble– this auction did not make Tyeb Mehta a millionaire. A truth the art world knows but barely is available to the public is that artists sell their works to art galleries. When the money is made during an auction, the ownership lies with the gallery, thus it is them who make profits and unfortunately, the artist only receives praise. The majority of artists who are now recognized as 'Modern Masters' lived a life of poverty and sold their artworks at cheap prices. Today, the way the art market bids on their artworks is truly astonishing. It makes us wonder if the value of art is only understood after a certain time period has passed or if Mehta, Souza, Raza, and Husain were truly ahead of their times!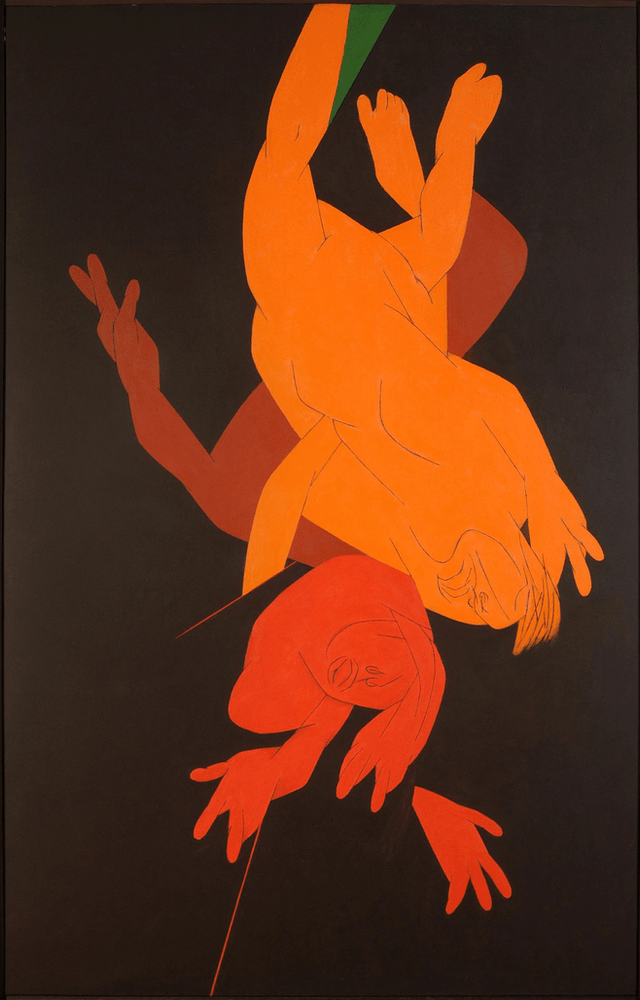 Tyeb Mehta believed that when we are young, we try to understand the world. But as we grow older, we try to understand ourselves and our work becomes the reflection of these efforts.
Tyeb Mehta like many of his contemporaries was inspired by European artists and his earlier works reflected the same. It was from the very beginning that Mehta, through his canvas, defied gravity, figures, and forms. But the theme of his artworks did not change! Every artwork that Mehta painted narrated the horrors of violence, society, and people. If one wishes to study the trauma Partition caused in people's minds, they should definitely study Mehta's work closely. The memories of powerlessness reflect strongly on his canvas.
Throughout his career, Tyeb Mehta painted phenomenal artworks like Rickshaw Puller, Trussed Bull, and his critically acclaimed and successful series Falling Figures which gained him a gold medal at Lalit Kala Akademi. The works from these series were first exhibited in 1968 at the first edition of Triennale- India.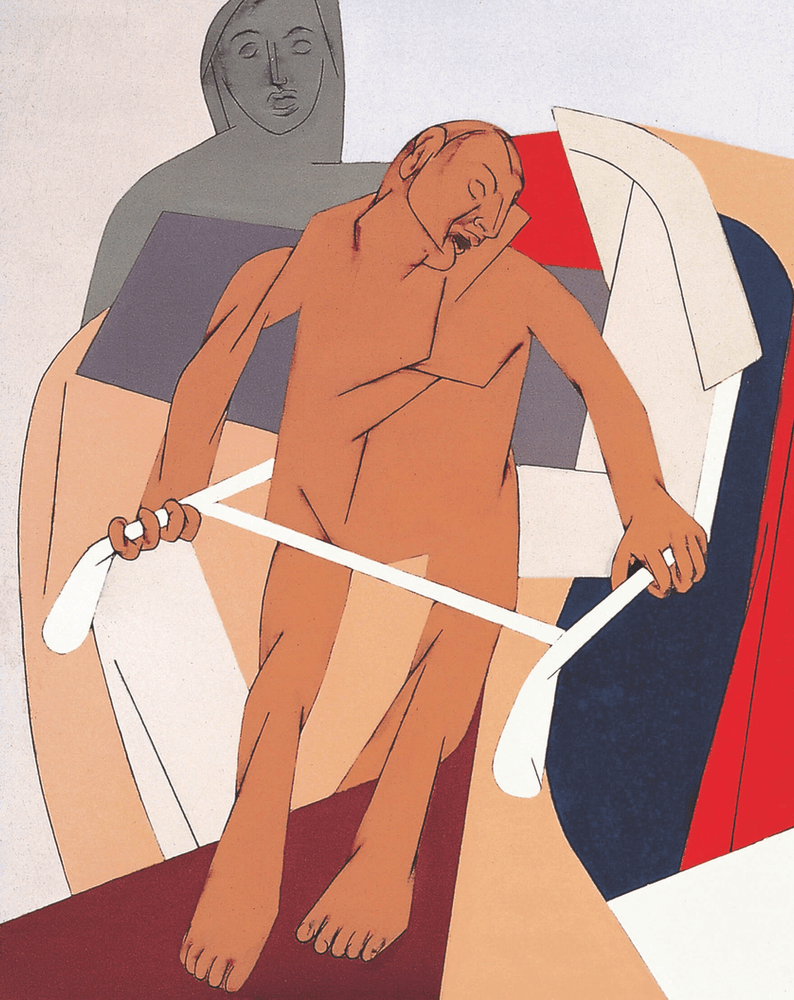 His artworks are well-known for his experiments with flat colours, linear drawings, Indological imagery, dramatic figures, and diagonal divisions of spaces. His artworks also often highlight the mythical, like Kali and Mahisasura– one of his popular masterpieces. Even though Mehta expressed themes that are very Indian speculating philosophies, his abstracts are modern. The use of colors, unconventional motion, and movements of muses is his signature style. The spirit to paint did not stop Mehta from picking up his brush even after a near-fatal cardiac arrest. It was during this period that Mehta produced his well-known artwork, the rare Santiniketan triptych.
In 1968, Tyeb Mehta was awarded the Rockefeller Fellowship. He went on to study art with his contemporaries in the U.S. Tyeb Mehta's life was quite eventful, it is not known to many that he won a Filmfare Award for a short movie, Koodal, which was directed for the Ministry of Information and Broadcasting. These accolades showcase the extraordinary talent of Mehta that made him shine no matter what the medium!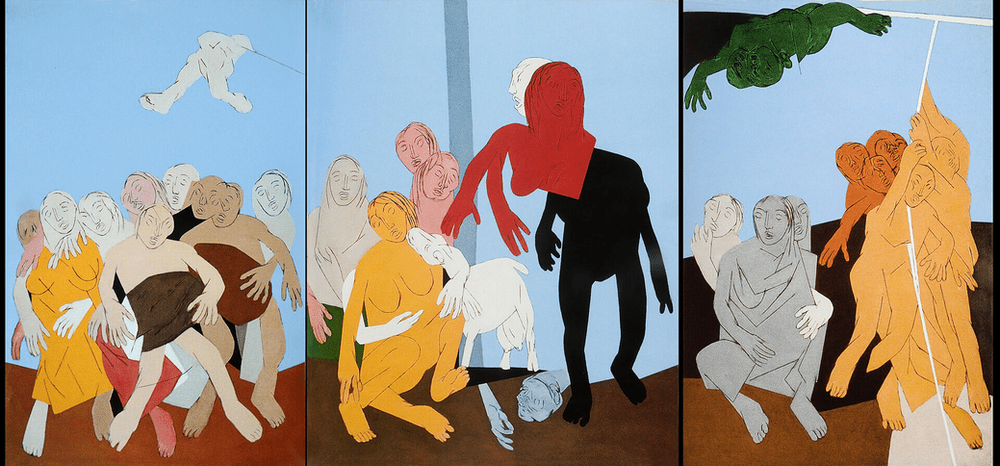 An inspiration to many, Tyeb Mehta expressed himself through his art and created a niche. Today his art is appreciated by art connoisseurs around the world. His Kali, Falling Figures, the Diagonal series narrates the brilliance of composition. Decades after the passing of Tyeb Mehta, his art still lives on!