"I never paint dreams or nightmares. I paint my own reality," said Frida Kahlo. This statement, perhaps, stands true for most artists. For many, art is but a way to make sense of their experiences and emotions; a product of their interaction with their emotions and their surroundings; a way of saying what they can't find the words to express.
The reality of this year has been less than rosy, to say the least. With global and local crises stacking up like a precariously swaying Jenga tower, it can be difficult for an individual—particularly one in isolation—to process it all. The artists among us have, as it were, turned to the arts for release, comfort, to draw hope and to emit it.
Here's looking at the different ways in which different artists, across genres, from across the world, have used art to paint this year and all its entanglements.
Painting to Cope: Art as Catharsis
Dhruvi Acharya, through her watercolours, is known to reflect complex contemporary situations in an empathetic way. After losing her husband in a freak accident, she came back to the art scene (after an eight-year hiatus) with a highly personal and evocative collection that she pushed herself to make while she was grieving as a way of coping with her loss.
The lockdown has been no different for Acharya. While in isolation, the Mumbai based artist challenged herself to paint a watercolour a day as a way to deal with stress. Nine of these works make up the 'Evaporating Voices' exhibition at Nature Morte.
Acharya's work this year is a reaction of sorts, to the lockdown, social distancing, the climate crisis, and what it's like to be an individual enduring it all at the same time.
Her works 'Lockdown' and 'Exhaust' embody these feelings of confusion, anxiety, and fear as a reaction to the external afflictions.
These watercolours though illustrated with a vibrant colour pallet are muted by a persistent background of grey mist that represents the looming sense of gloom that has washed over all our lives in the past few months.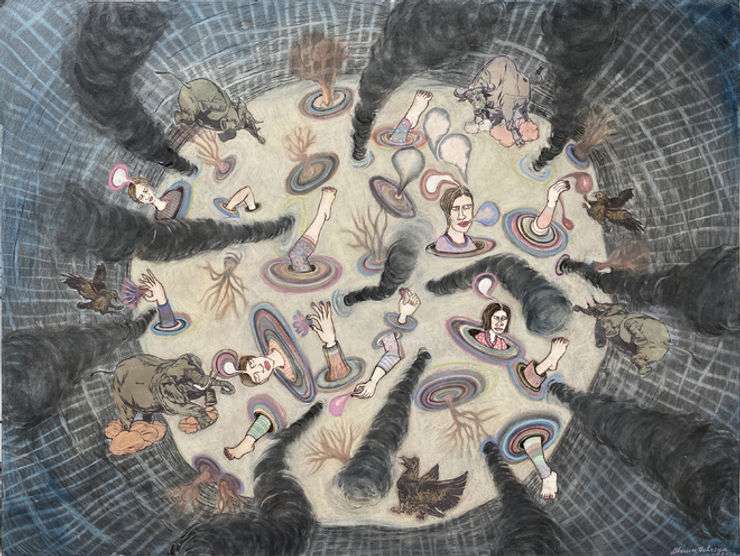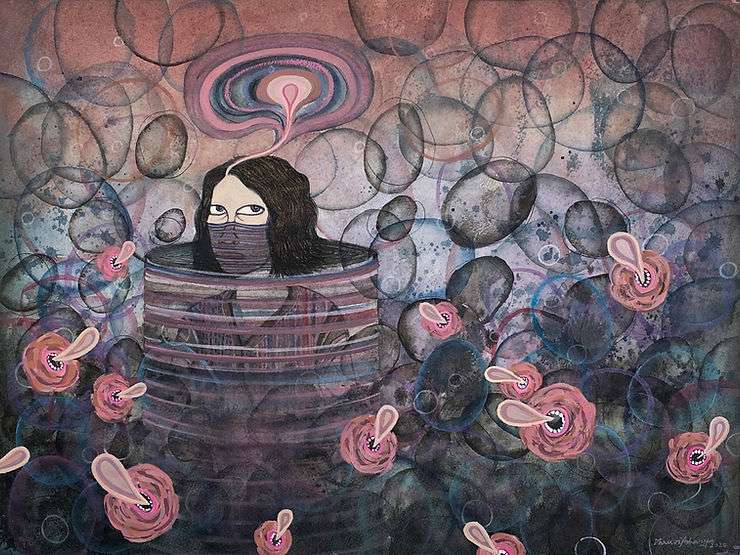 Erin Armstrong's work, in her own words, is a 'reflection of the human condition, through the individual experience', and in her latest collection, she takes the experience of being isolated in the middle of chaos and uncertainty and unfurls the cocktail of feelings it brings about, on her canvas.
The pandemic and the lockdown came out of nowhere, and month after punishing month, we spent not knowing what the future would look like. It is this overwhelming sense of disorientation at being thrown into a sudden state of conflict that Erin Armstrong's works capture.
Her inward-looking paintings are in many ways cathartic expressions of how the self copes with such situations when you're not able to fully process it. Her pastel colours, and soothing settings of nature are often juxtaposed with the lonely subjects that convey dismay and helplessness.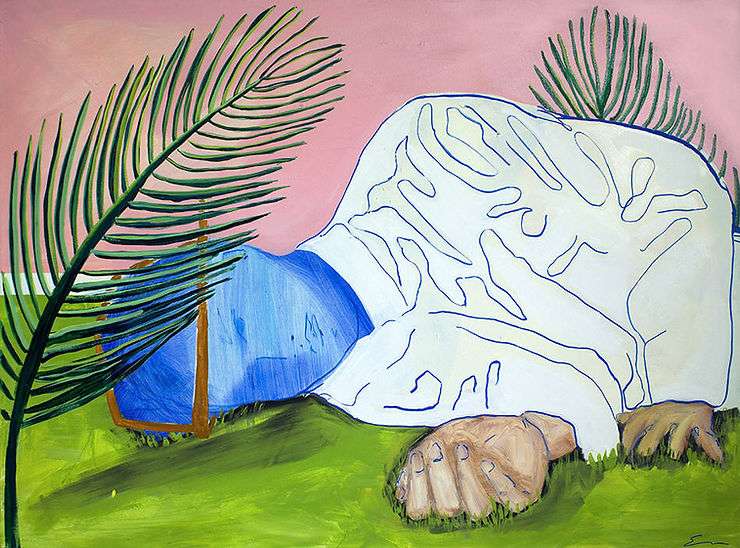 Armstrong speaks of how the art she has made in lockdown has been with the hopes of creating a visual and emotional language that captures the feeling of being alive today in our current circumstances.
For instance, the nature that the subject interacts with within the paintings represents fragility and impermanence — many of them either wilting or blooming, caught in a different stage of the cycle of life.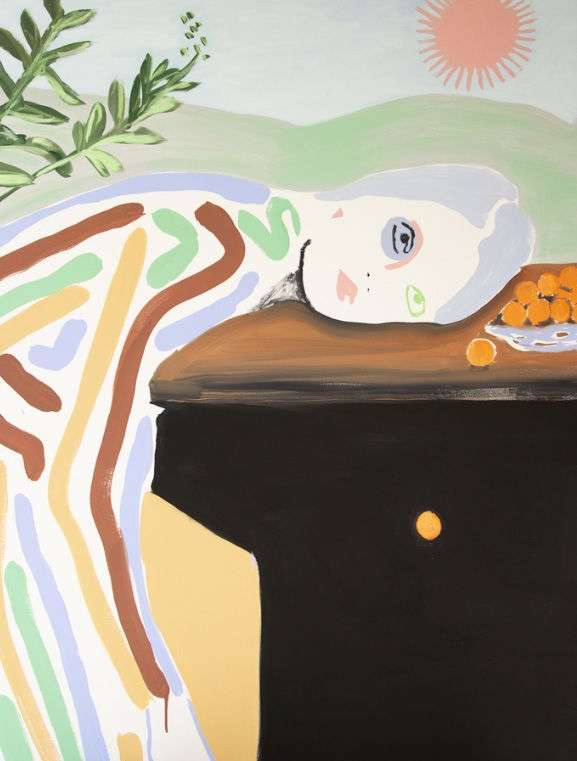 Painting Their Fears:
A visual storyteller, Fred Tomaselli uses newspaper cuttings and collages infused with vibrant colours and patterns to create his topical mixed media pieces.
Since the lockdown was imposed in March, Tomaselli has released a series of 14 works, all made of gouache, newspaper cuttings, inkjet prints, watercolours, and even leaves.
While his works capture and highlight the disturbing state of affairs, cathartic in their reflection of the times, they also carry a stubborn sort of hope.
The bursts of intense colour swirling with the text exemplify this optimism that entwines with and often overshadows the harrowing tales that the newspaper cuttings tell.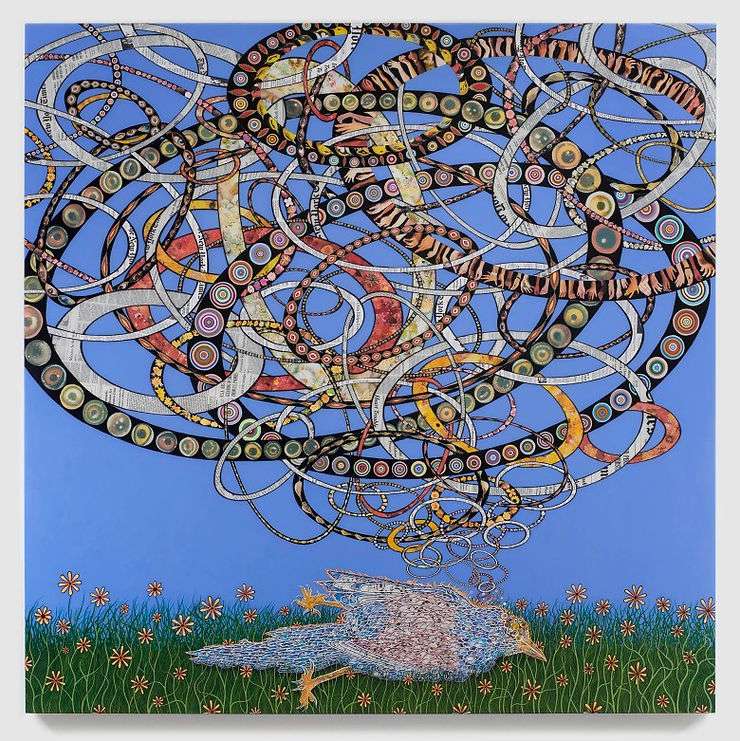 Although print news has always been a part of his work, now it seems almost prophetic.
In the wild ride that has been the past year, the news has, for most of us, become a grab hanger that we've clutched onto. To the point where the pandemonic overload of information has become pervasive, impinging on our thoughts and emotions every waking hour. Tomaselli's 'Untitled' (2020) is an evocative representation of these overwhelming feelings, and our inability to deal with them all at once.
If you've kept up with resistance art in the country, you'll likely be familiar with Nalini Malani's art, known to have its epicentre in the midst of social issues. Her latest exhibition, called 'Can You Hear Me?', is no different.
The new installation is a collection of works within an animation chamber that tell visual stories of violence, feminism, politics, and racial tension.
The visual story, Malani says 'in times of distress, comes to the public domain, and becomes a way for people to apprehend the world in an alternative way.'
Malani refers to it as, 'the voices in her head and her heart,' and draws your attention to not just the global health crisis and the apprehensions that stem from it, but also the socio-political crisis that, like the sword of Damocles, currently looms over our country.
The exhibition comes together as a collage of voices, not just her own, but also that of other artists and people who resonate with her thoughts.
In many ways, the chamber works as a stream of consciousness, that Malani calls a 'member membrane' of quotes from people who have addressed the issues that concern me now.

Painting Relief: Art to uplift
The world-famous —and equally mysterious—street artist Banksy is known for his witty and satirical, often subversive street art.
Not one to be deterred by the lockdown Banksy has been busy, continuing to make topical street art, drawing attention to the perils of our times.
At the start of the pandemic in March, Banksy's rats took over the London Underground. Disguised as a member of the cleaning staff, Banksy filmed himself painting his famous rats wreaking havoc inside a train. The video was posted to his Instagram with the caption, 'if you don't mask- you don't get.'
In May, another Banksy artwork appeared —gifted to the Southampton General Hospital. The piece made in honour of the National Health Services workers in the UK alluded to them being the superheroes of our times and was meant to boost their morale. Bansky, no doubt aware of the monetary value of his art, chose to donate the piece to the hospital and its staff.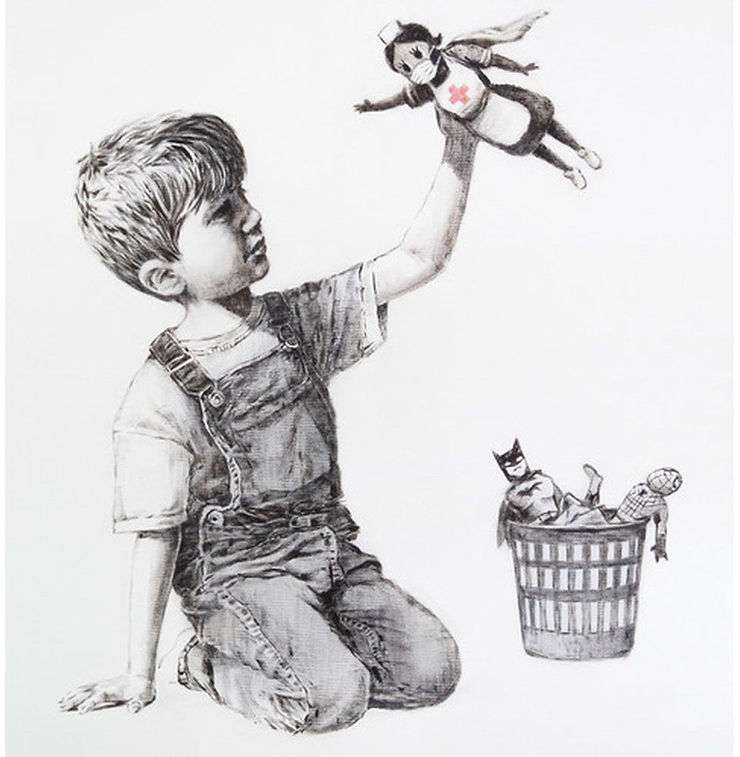 Sameer Kulavoor
At the start of the lockdown in March, Sameer Kulavoor—one of the most sort after contemporary artists in the country this year—was confined to his home like the rest of us, with little in the way of keeping himself occupied. But while most of us took the escapist route and dove into the endless stream of mindless content consumption, Kuvaloor started looking around his house for inspiration.
Things he had owned for years, things that never registered in his line of vision, let alone in his mind, made themselves known to him, and all of a sudden seemed all too interesting.
And so started his lockdown project of drawing odd knick-knacks from around his house (and that of his Instagram followers). Kuvaloor went on to sell these works to raise money for the relief of migrant workers displaced during the lockdown. This project that stemmed from boredom, ended up raising 11 lacs for the cause.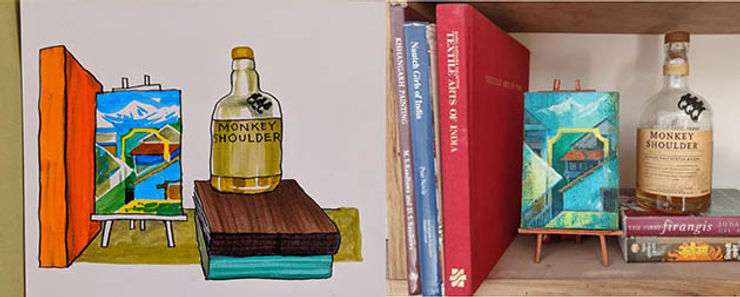 Kuvaloor's disconcertion with the events of the past year and his feeling of responsibility towards it as an artist further comes through in his much-awaited second solo show with TARQ that opened in early December.
While most works in the show revolve around the theme of social media and how people consume content, 'You Are All Caught Up', is also a megaphone for Kulavoor political ideas. It brings under the scanner the frenzy of political disarray in the country, addressing everything from dissent, concerns of privacy, censorship, fake news, and the role of media as a tool for propaganda.
You can catch a virtual viewing of the exhibition until 7th January on our Current Exhibitions page.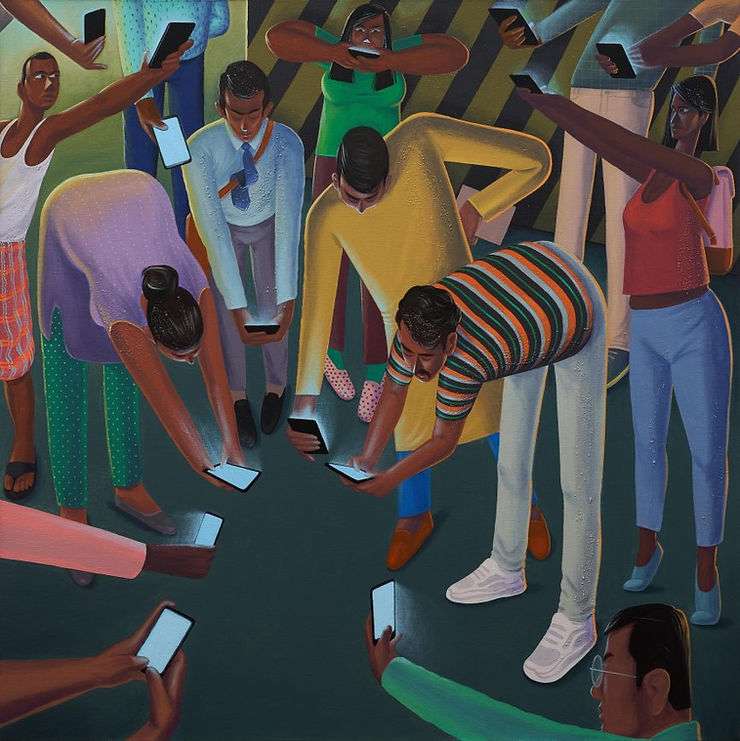 External conditions outside one's control can have a great impact on an artist's work. Read here about how some artists turned isolation into inspiration.