Not very long ago, news was announced on radio prompters, and audio machines with hosts bringing in guests to discuss various topics. Technological advancement brought the news to our TV screens and the age-old recording studio saw a decline. But now we've come a full circle as a new kind of radio has emerged, one that gives you news, entertainment and more from your phone.
Podcasts began gaining popularity because of its ability to discuss a wide range of topics from business, news, travel all in a dynamic medium to bring daily doses of inspiration on any topic to choose from. Soon several genres began to emerge from the industry with more and more creators realising that podcasts we're a great way to connect to their audiences. Various speakers, news networks, and artists alike have begun streaming free podcasts on their channels to discuss a wide range of topics, even authors began releasing audio versions of their novels. So why should the art world not join in on all the fun?
While headphones are reserved for music, the perfect solution to relax and rejuvenate, listening to music can take your mind off things and heighten your mood, what is even better is a little juice for your creativity.
We're giving you a reason to plug in and press play as we tell you which podcasts are the perfect way to ease those eyes, and let your ears get some action.
Art Fervour's Quarantine Guide to Art is bringing a curated guide of digitally available virtual tours, online exhibitions, podcasts, and daily challenges by artists from around the world for you to access and explore the best of the arts right from your home!
To make navigating through our list a little easier, Art Fervour has created a list of top 5 podcasts to add to your playlist.
(We've even slipped in a podcast that tells you what music inspires and makes our favorite artists groove.)
Talk Art by Russel Tovey and Robert Diament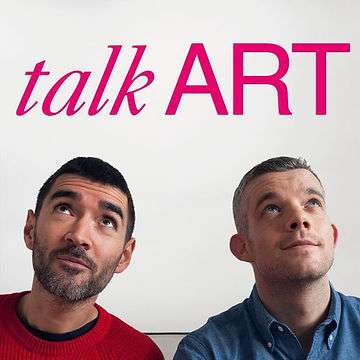 Actor Russel Tovey (you might remember him from Quantico) along with gallerist Robert Diament host this fun podcast. Leading artists, curators, gallerists, come in and discuss their work and also share stories of their personal lives and experiences that have shaped their artworks. The duo manages to bring in wit, humour and curiosity through their interviews and on some occasions call in their close friends, who to our luck, are big names in the world of acting, music and journalism. Their list of speakers will leave you excited to press that play button. Guests spend time talking about their morning routines, what changes they want to see in their industry, and appreciate their contemporaries in engaging discussions tying the entire podcast together with their humility and pazazz.
You can follow them @TalkArt to get a peak at the artworks discussed in each episode.
The Lonely Palette by Tamar Avishai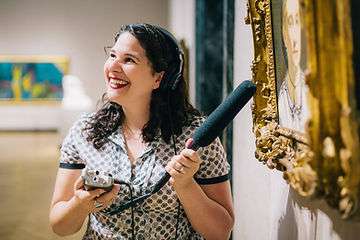 Have you ever visited a museum or gallery with a friend and stood in front of an artwork discussing what you think about it, all the possible reasons why it was created, what it meant to the artist and how much it would cost? Then you are going to love Avishai's podcast, 'The Lonely Palette'. Tamar is an art historian turned finance administrator turned independent radio producer! With the curiosity to peek into the minds of passersby, Tamar interviews guests while they stand in front of artworks at museums, asking them their opinions. While some might find this intimidating, Avishai delves into the history behind the particular artwork with the excitement in her voice, equipped with her very own anecdotes that explain the movements, social context, and history behind the piece of work.
The podcast gives you a guided tour of galleries Avishai visits and the different kinds of visitors that come through. So don't forget to que it on your playlist!
Art Detective With Dr. Janina Ramirez

If you don't mess around with your podcasts and are an ardent fan of history, culture and art then this is the podcast for you! Dr. Ramirez has spent her academic career delving into the intricacies of history and medieval studies to bring you this compelling podcast with History Hit Network. So you know she's not playing around. She delivers you a package of art neatly wrapped in history and touches on many topics such as culture, politics, religion. The podcast brings to life artworks through colourful discussions about the time in which these works were created and highlights the when and why's of the pieces in discussion.
Dr. Ramirez is polished in her delivery, clear of her theory and really does remind you why art stands the test of time and solidifies it as a practice that only grows.
What Artists Listen To?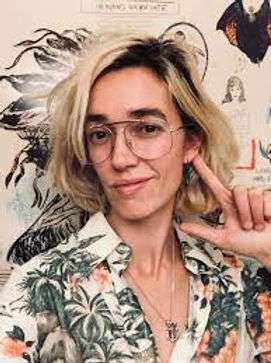 Most of us have the idea that artists isolate themselves in their studios, pondering over life's truths with a pencil in their hand and a glass of wine on their tables. We might be correct about the glass of wine, but they do like to party, and when they party, it's most definitely a dance party!
Pia Pack, an artist herself, takes us through the immediacy of our daily to do lists juggling a metropolitan life similar to the rest of us, and tells us "Hey, we artists live the same lives you do" ,or well, listen to the same music. Giving us a peek into the backstage playlists of our favorite contemporary artists, 'What Artists Listen To' gives you a soundtrack to the talented artists she interviews on her show.
The Art Newspaper by Ben Luke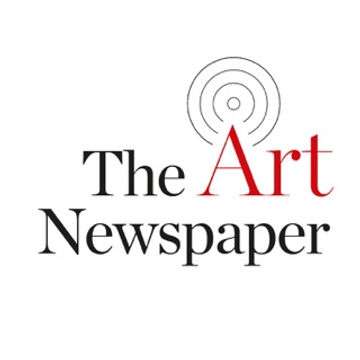 If you're familiar with The Art Newspaper you will know that they have an excellent list of art podcasts by some very talented speakers, delving into topics that are fascinating in its curation. Winning by a quick slight is The Art Newspaper Podcast by Ben Luke. But for this week's list of podcasts we are talking about one of the many podcasts to choose from and it is hosted by Ben Luke. The art critic and podcast host discusses in depth developments and trends in the art world. Ranging from topics such as ethics of museum sponsorship, the mystery of Leonardo da Vinci's $450m Salvator Mundi painting, he brings in guests such as Art Basel's director Marc Spiegler to discuss the effects of coronavirus on the art market. His podcast has had a fantastic lineup of guests that included David Hockney, Shirin Neshat, Tracey Emin, Ai Weiwei and many more!
With all of these podcast suggestions, we hope that we helped you boost your podcast game. It's fairly easy to find a podcast that best suits you and we've given you a list of ones that you can start with. It's as simple as searching for the app on your phone. (iPhone users have Apple Podcasts while the rest of the Android world can download independent streaming apps such as Castbox, Overcast and Google Podcasts.) As we move towards the intentional consumption of information, we hope that these suggestions made starting your podcast journey slightly easier.
Tell us your favorite podcasts, and we can add them to our list! We'd love to hear what our readers are listening to!