There is no better way to introduce a visitor to a region's people, history and culture than through visual art. Which is why many of the world's airports often house incredible artwork. Next time you're frustrated with long lines and flight delays, don't forget to appreciate some of these amazing artworks in 'plane' view— they may just soothe your frayed nerves and distract you from your pre-flight jitters.
While traveling during the holiday season, one of our biggest pet peeves is being stuck in an airport on Christmas or New Year's Day. These amazing artworks make that holiday wait a little more insightful and a lot more enjoyable. All I want for Christmas is to see one of these amazing artworks in person.
Changi Airport, Singapore
Created by artists and programmers from the German design studio Art+Com, Kinetic Rain is a moving installation located in Terminal 1 of Changi Airport. The installation has two identical segments, each consisting of 608 suspended raindrops made from lightweight aluminum. The raindrops are connected to a computer-controlled system, which allows them to move independently, creating unique and impressive visual sequences. Not only does Kinetic Rain allude to the tropical climate of Singapore, but given its location in an airport, the installation aligns well with the theme of being airborne.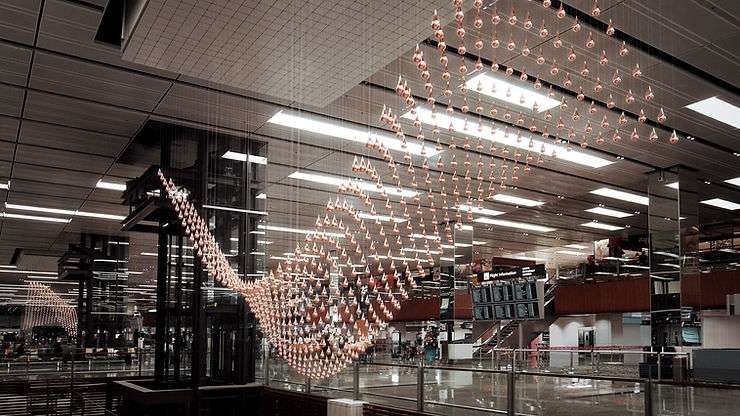 Indira Gandhi International Airport, Delhi
What strikes you first as you arrive at Delhi International Airport is a 100-meter-long and 30-meter-high mural, consisting of large copper discs amongst a series of nine gigantic sculptures of mudras (traditional hand gestures). A combined effort by the Indian industrial design firm Incubis Consultants, infrastructure company GMR, and Jaipur-based designer Ayush Kasliwal, the mural Nine Mudras is a reference to the secular yet culturally rich history of India.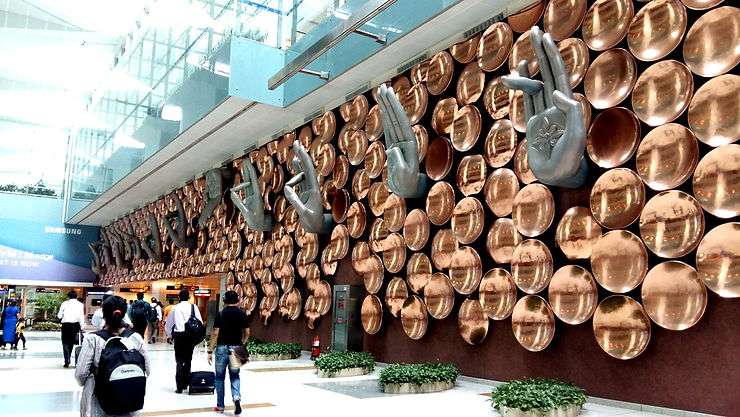 San Francisco International Airport
A large netted sculpture designed by artist Janet Echelman, Every Beating Second is located in Terminal 2 of San Francisco International Airport. The piece is composed of three separate structures hanging from the ceiling of the terminal, each connected to a skylight. The title of the piece refers to a line by beat poet Allen Ginsburg, and not only references the city's cultural history and prominence in the Beat Poetry movement, but Every Beating Second also implores rushed airport goers to take a moment and be more present. Just make sure you don't get so captivated that you miss your flight!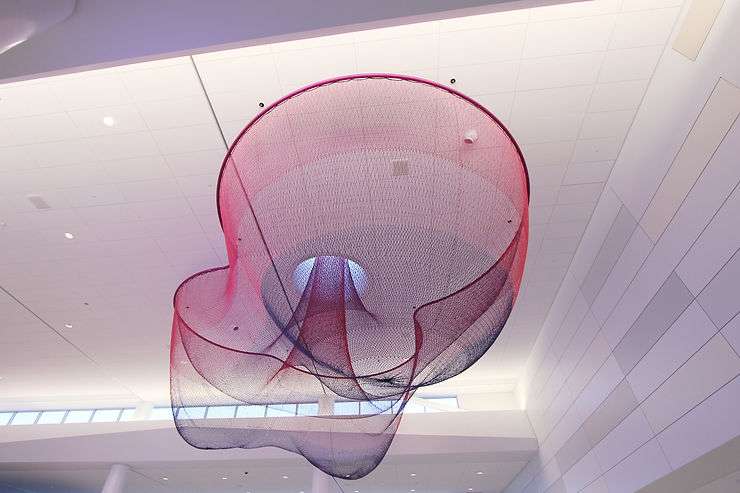 Denver International Airport
Situated at the entrance to Denver International Airport, 32 feet tall fiberglass sculpture Blue Mustang is the first thing you see when you arrive and the last thing you see before you leave Denver. The 9000-pound sculpture was created by the widely recognized artist Luis Jiménez, who tragically died during its construction. Although some have deemed the sculpture 'demonic', the vibrant blue colour and glowing red eyes are actually meant to represent the 'wild' spirit of the old American West.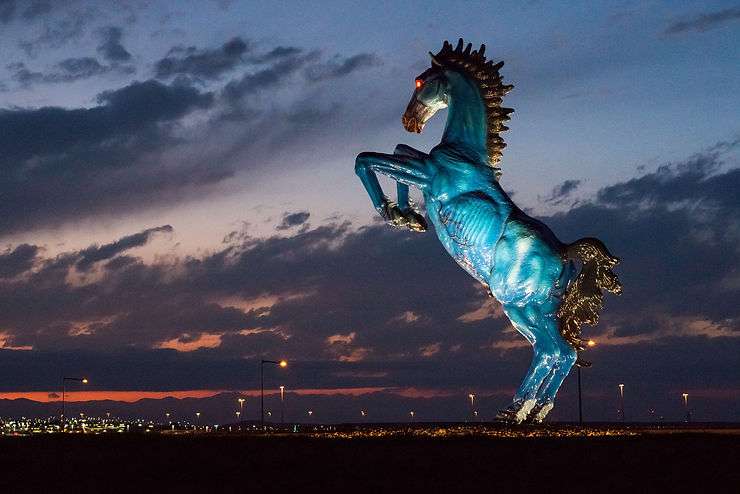 Schiphol Airport, Amsterdam
In 2002, Rijksmuseum became the first art museum in the world to open a new branch at an airport. The small museum exhibit at Schiphol Airport consists of 8-10 paintings of the Dutch Golden Age and anyone flying in and out of Schiphol Airport is welcome to view these paintings.