Photobooks have always been a large part of India visual culture and classic interior design, layered as coffee table placements, photographers like Steve McCurry, Prabuddha Dasgupta, and Dayanita Singh have gained strong prominence for their expansive and unconventional collection of photobooks.
Experimental photo-binding techniques, the allure of analogue printing and the freedom to express and cultivate a distinct visual narrative has given rise to an emerging wave of young artists whose experimentation with the once one-dimensional photobook has given rise to the popular sub-culture of self publishing in India today.
Artists are rethinking and reintroducing photobooks in diverse scales and themes, making use of the autonomy of self publishing. Serving as a visual diary for the thoughts of many, photobooks are inviting us to take an intimate look at the multiple narratives that are emerging from each genre. This growing community of artists and collectives are exploring the facets of self-publishing and are responding to an urgent excitement to share their work — whether as a result of a serendipitous change or as an informed critical practice — with collectors, artists and lovers of a well-crafted visual aesthetic. As for the readers, photobooks open up a space for interrogating our own opinions and ideas, giving us a front seat to experience the sometimes critical and inspiring stories that are laid bare.
Building new worlds for artistic appreciation and independence, Art Fervour spoke to 3 such independent publishers, artists and collectives in India who are laying the foundation for an exciting and burgeoning art scene that has sparked a fresh interest in photography and art.
This November, we are featuring one artist each week and highlighting their work as we dip into their practice and ask them to share a list of photobooks that we need to have on our shelves!
Kaamna Patel; Editions JoJo
Visual artist and bookmaker, Kaamna Patel began her career as an assistant to fashion photographer Farrokh Chothia and has since been publishing and creating important and evocative work under her alias and publishing house JoJo.
Her interests in semiotics and subtle rhetoric interrogation can be seen in her widely acclaimed "In Today's News", published under JoJo. Exploring the peripheries of photographic representation and its consumption within the history of documentation, JoJo is now a recognised name expanding its activities to the management and curation of a public photobook library in Mumbai. Kaamna curated an edition of Papertrail, a series of pop-up photo book libraries and reading rooms across India along with Chennai Photo Biennale Learning Lab and others. She is currently an ambassador, adjunct faculty and member of the Board of Trustees at the Paris College of Art and is a large part of the growing community of art practitioners whose global voice has a distinct criticality and tenderness.
We Recommend A Few Of Kaamna Patel's Published Photo Books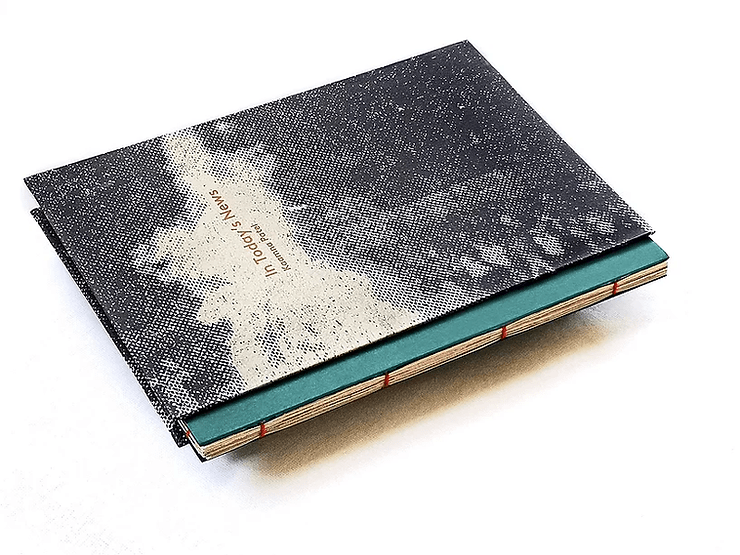 1) "In Today's News : Alpha Males & Women Power"
By Kaamna Patel; Editions JOJO
What began as an exercise of collecting and saving Instagram stories eventually prompted Patel to view the flurry of mainstream media with a critical lens. The title of the photobook, taken from a headline she found in a newspaper "In Today's News", is a glaring evidence to the machismo of media portrayal and the gendered roles the country continues to command. Made from a type of Japanese binding of using unbleached, uncoated paper called Yotsume Toji, the book is a culmination of newspaper images which when placed together reveal the prevalent patriarchal narrative that runs through popular media.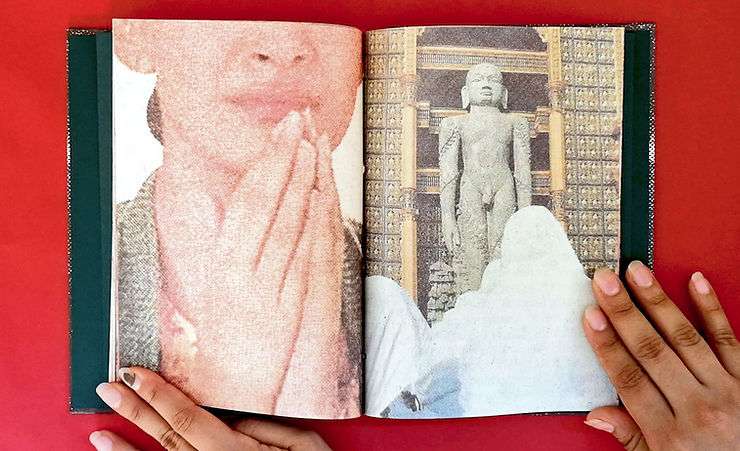 Laying bare the dominant ideologies in this particular moment in history, the photobook points to irrational gender expectations and patriarchal news reportings; giving us a chance to view mainstream imagery with the dissociation we require to evaluate the ideologies we seem to encourage.
You can view or purchase her book here.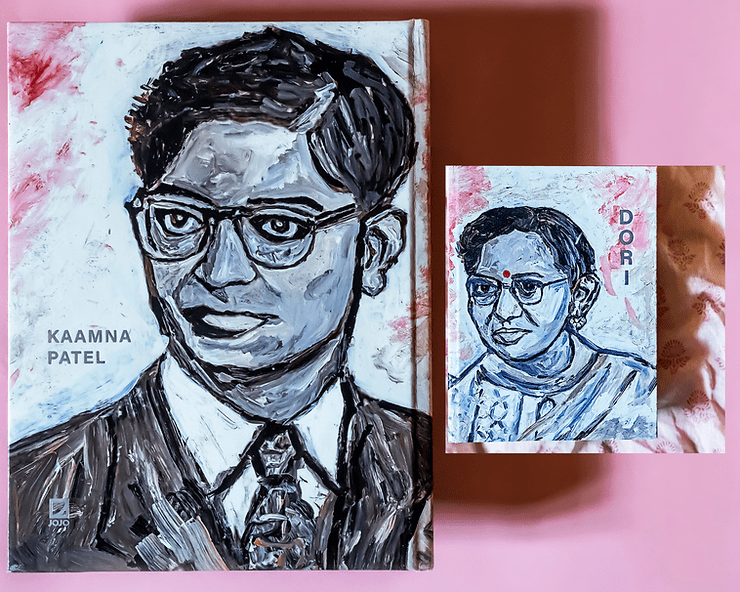 2) Dori By Kaamna Patel; Editions JOJO A love story between two childhood friends, Dori is a personal account and exploration into a close familial relationship of Ba and Dada, Kaamna's own grandparents. Dori threads through their relationship, filled with exchanges, conversations and photos that celebrate their gentle love and relationship across the years. Paired by their parents in Gujarat, Dori traces their story beginning at ages 3 & 5 respectively and is a gentle celebration of the affections we see growing up.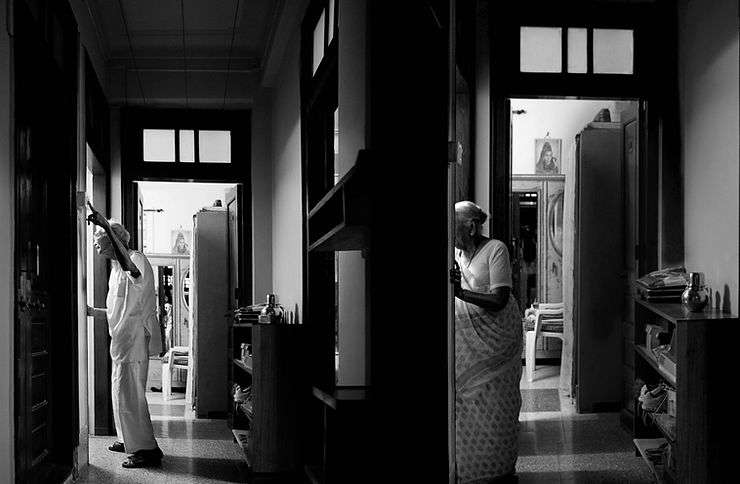 The photobook can largely be called a joint effort – Patel's aunt painted the cover of the book while others helped her translate speech from Gujarati. A family archive and a testament to the relationship they share, Dori explores love through the ages with a tenderness and a playful touch that reminds us of the bonds that tie us together.
You can view and purchase her book here.
Kaamna Patel Recommends Her Selection Of Photo Books For Our Readers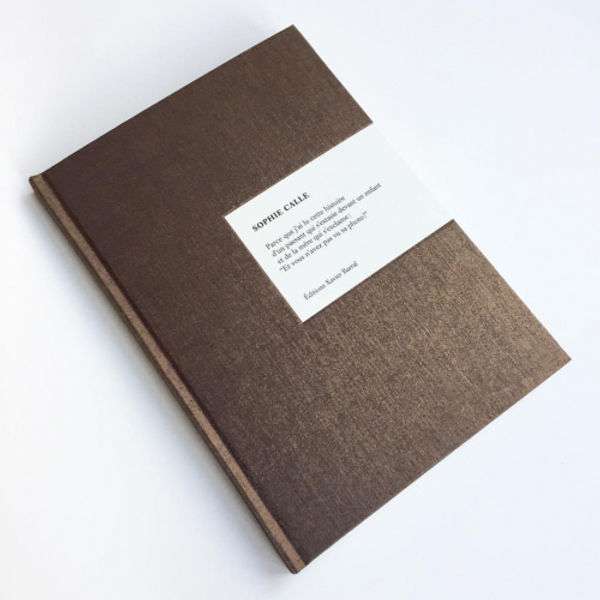 3) Because / Parce Que
By Sophie Calle; Éditions Xavier Barral
Because — the answer to the proverbial question — "Why this?"
Can emotions ever be communicated fluently through language?
French artist, Sophie Calle plays with this question in her photo-project "Because". Pairing photo and poetry, the accompanying effect of her work has a profound effect on the viewer.
Parce que je suis là sur le pont… "because I'm here on the bridge". Calle's work has cemented her as a mistress of both writing and photography. She plays with her practice and invites viewers to join in on the fun. Images fall out, move around and are mysteriously placed near pages of text but it is our own intentional placement and reading of both image and text that colour our understanding of her work.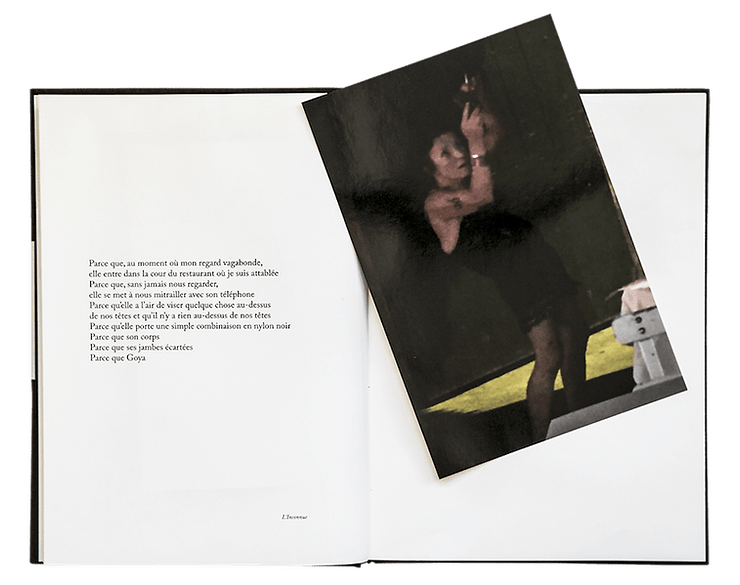 Calle's raison d'être for her photobook is reminiscent of an event 35 years ago where Denis Roche discusses the origins of his photographs at a conference sans its display, only to reveal the image with the audience for the exact duration of the photo's shutter speed. Dedicating the book to Roche, Calle's personal life finds its way into her work and her book is characterised by its tactile lush cover.
Many artists would like their work to speak for itself, and Calle's nonchalant genius doesn't remain hidden for her audience with this one.
You can view or buy her book here.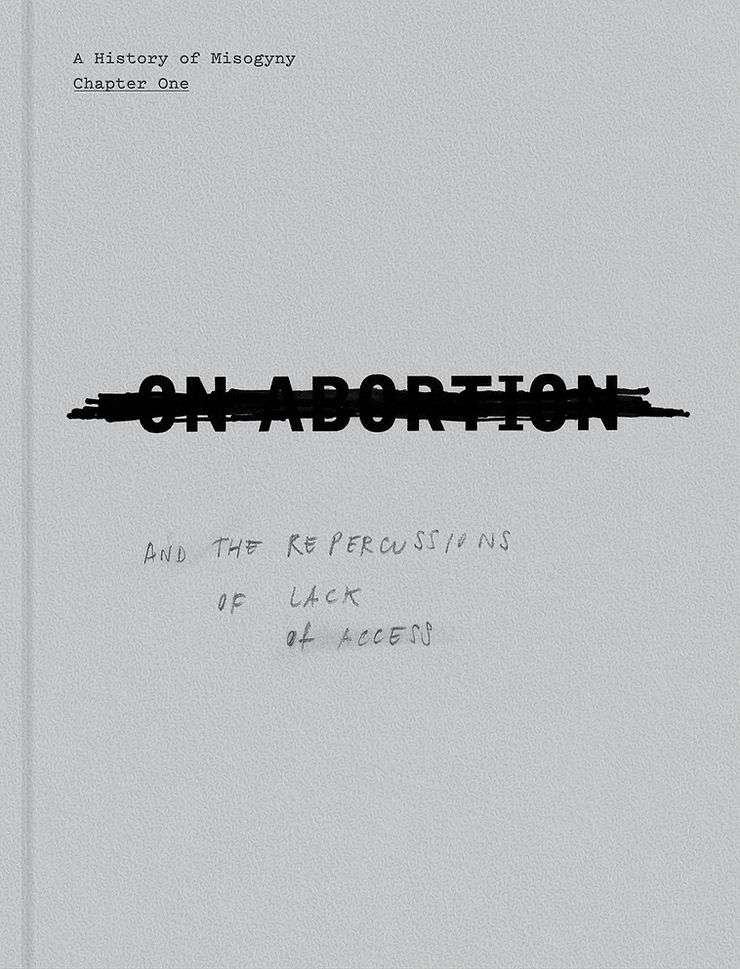 4) On Abortion
By Laia Abril; Dewi Lewis
Winner of the Paris Photo/Aperture Photobook of the Year in 2018, "On Abortion" is part of a longstanding visual research project titled A History of Misogyny. Abril tackles the contentious debate of abortions by playing with histories, ephemera, visual intruments and stories creating this exception and provocative work.
Abril is known to explore and visualise opinion bending topics from bulimia and death to the asexual community and virtual sex performers to name a recent few. A research led practice that one sees as a sort of activism, Abril always maintains an empathetic female gaze that humanises the subjects in her work.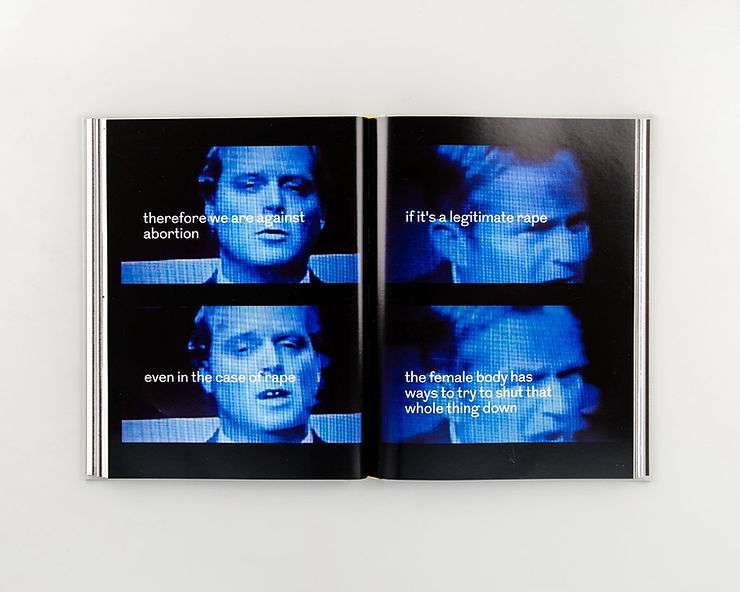 The artist's intention is clear. Her work tries to "visualise the comparison between the present and the past, so we understand that we have always to be conscious that things are not as certain as we think". Addressing the resistance to free and safe access to aboration, On Abortion shares stories that reflect on the suffering of illegal abortions — the blatant health risks and the stigma of behind hushed —the cases of illegal abortion are visually represented in stories gathered from around the world.
You can buy her book here.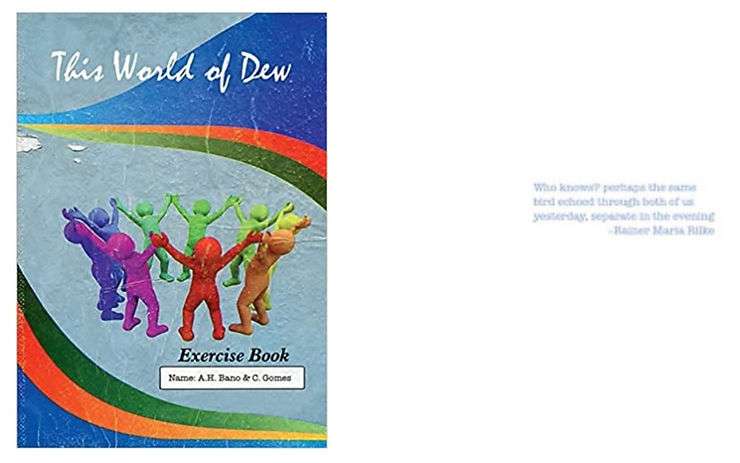 5) This World of Dew Chandan Gomes and A.H. Bano; PHOTOINK For artist Chandan Gomes, a commissioned project for a commercial hospital turned into an unusual journey to find the artist behind a series of intimate childlike drawings.
Chandon's book is a juxtaposition of ghosts and his own acceptance of mortality. Frequenting the institution multiple times, Gomes caught sight of a book of mountain drawings with no mention of its owner. Revealing each layer of the story on consistent inquiry, Gomes traced the drawings back to a young girl who lived in the institution's hospice during her last few years. The tale behind the inception of "This World of Dew " is an emotional journey; a result of Gomes' attachment and curiosity towards Aini, the girl whose drawings he chanced upon.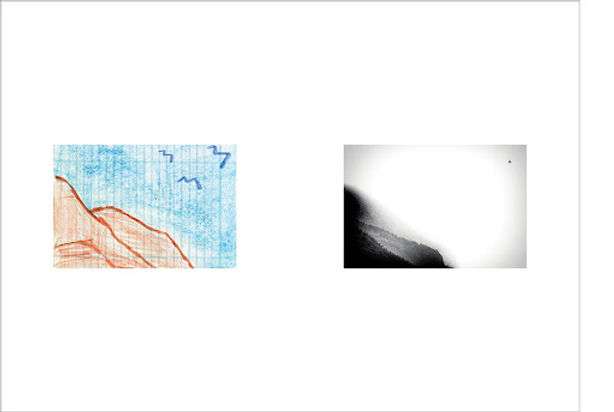 In a touching tale of human connection, memory and life's ephemeral moments, "This World Of Dew", a series of photographs of grand mountain ranges accompanied by drawing of Aini, is a totem to Aini's life, a young girl from the family of daily wage labourers whose love for drawing and acceptance of life's unexplained events traversed her existence to find itself in the artists lap.
You can catch a preview of the book here.
Stay tuned as we feature a new artist collective, independent publishing house and curatorial practice next week!